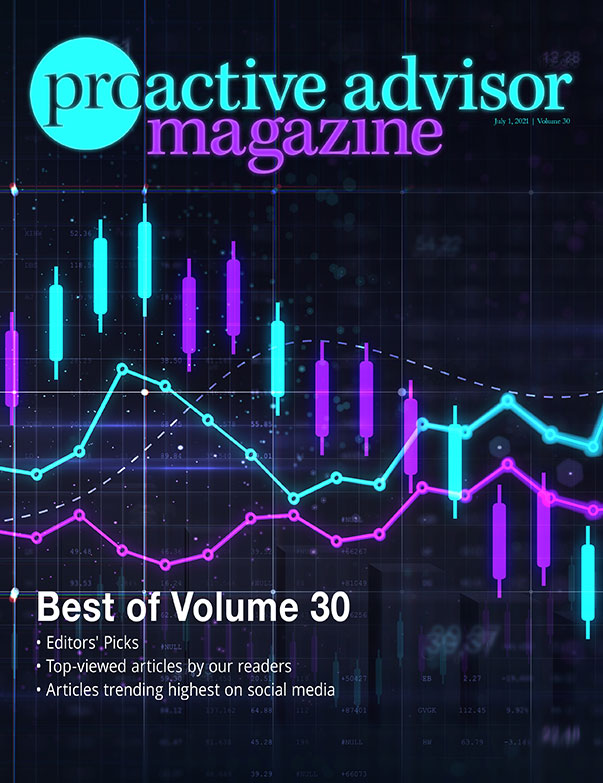 The Best of
Proactive Advisor Magazine:
Volume 30
Have you missed any of our recent top articles? Here's your chance to catch up with Proactive Advisor Magazine's "Best of Volume 30."
Please scroll down to view our Editors' Picks, our Top Viewed articles, and pieces Trending On Social Media.
Behavioral psychology research often talks about the power of "visualization." In the case of behavioral finance, it is a way of reinforcing for clients the importance of discipline and risk management.
We often say that to judge an active manager's performance, you need to evaluate it over at least an entire market cycle. That usually takes years, but 2020 represented a rare exception.
Financial advisor Frank A. Leyes discusses how understanding his clients' definition of "true wealth" provides valuable context in shaping their financial-planning process.
Benjamin Barbour, founder of Fountainhead Wealth Advisors, implements a financial-planning process that is "designed to organize, simplify, and optimize all the crucial pieces of a client's financial life."
Learn how advisor Marc D'Elia uses his membership in one of the largest business networking organizations to maintain a consistent flow of client referrals.
The pandemic has not changed the secular disinflation fundamentals that have been around for decades. These are still in full force. Post-summer, expect to see the inflation chatter quiet down.
McKinsey explores meaningful changes to the wealth-management industry over the next ten years, citing evolving customer segments, technological advances, and shifting competitive dynamics.
Bond investors are facing the worst combination of rate moves. Actively managed strategies with relatively low stock and bond correlations may present a viable alternative to bonds.
There is a big difference between the availability of financial information and how that translates to behavior. What are some of the ways advisors employ an effective educational focus in their practices?
First Trust says the Fed is highly accommodative, there are trillions of dollars on the sidelines, vaccinations continue, and the economy is expanding. They remain bullish on the equity market.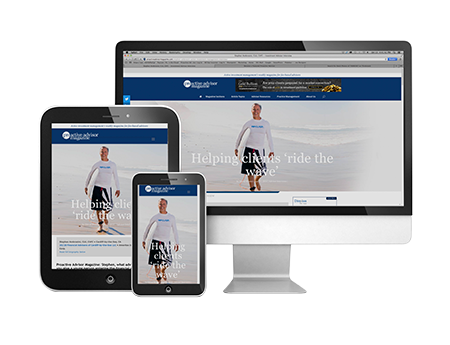 Subscribe to Proactive Advisor Magazine
Get the latest best practices in active money management from experienced advisors and industry experts in your inbox every week. Subscribe at no cost today to get access to thought-provoking articles on topics such as portfolio risk mitigation, dynamic asset-allocation strategies, managing client expectations, and initiatives for business growth.
Financial advisor Luis Padilla focuses on 10 distinct client-relationship principles, which form the foundation of his firm's mission.
Jim Herzog, Clint Braswell, and Bill Drexler are part of an advisory team with many years of experience and deep financial knowledge. They strive to guide clients in "achieving their lifetime dreams."
A binary trading relationship has emerged between SPHB (S&P 500 High Beta ETF) and SPLV (S&P 500 Low Volatility ETF). An active rotation strategy using the two ETFs can deliver excess return.
Clients can be as fearful of losing gains as they are of portfolio drawdowns. Defense should begin with a comprehensive investment policy statement that spells out sound risk-management principles.
James Hamer has "four to six touches" with a prospective client before a first meeting. He believes that understanding a client's background and affiliations is critical in starting to build a relationship.
Social Media for Advisors
Become a featured proactive advisor