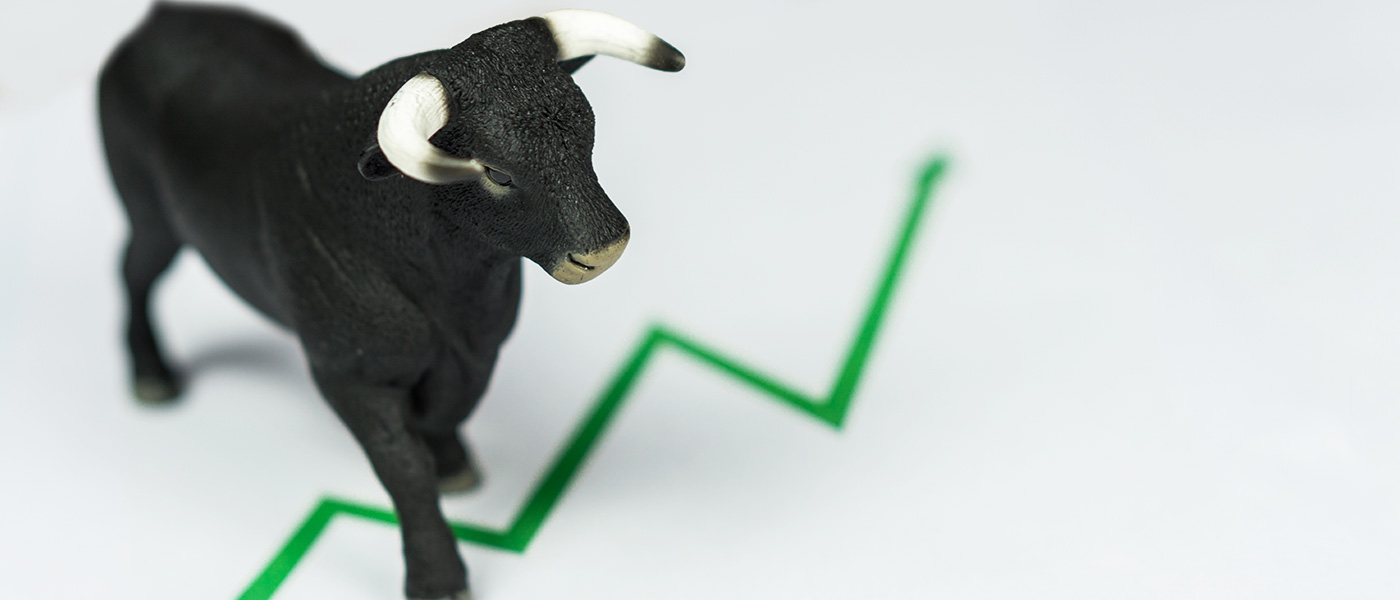 Editor's note: Brian Wesbury is chief economist at First Trust Advisors LP. He and his team prepare a weekly market commentary titled "Monday Morning Outlook." This article was first published on April 19, 2021.
The S&P 500 fell almost 35% between mid-February and mid-March 2020, during the initial stages of the pandemic. It bottomed at roughly 2,224 during the nationwide strategy of shutting down for "15 days to slow the spread." Because this was not a normal recession, and the market went into the shutdown undervalued, we believed stock prices would recover as business returned to more normal levels.
By Thanksgiving 2020, even though the U.S. economy was still producing less than it had pre-pandemic, the stock market had fully recovered and gone to new highs. On Nov. 27, 2020, with the S&P 500 at 3,638, we set a year-end target for 2021 at 4,200, which was 15.4% higher. As of the close of trading on Friday [April 16], the S&P 500 was at 4,185, only 0.4% below our year-end target, with more than eight months to go before year-end.
Looking back, there are a number of things that pushed the market to this point. Technology and communication helped the world adjust to shutdowns, big-box stores stayed open, the government disbursed trillions of borrowed dollars, a vaccine was invented in less than a year, the money supply exploded, and the Federal Reserve cut short-term interest rates to roughly zero and committed to keeping them there. Because of all this, profits have soared.
Looking forward to year-end 2021
With real GDP growth of more than 6% this year and S&P 500 earnings expected to grow by at least 27%, we think stocks will easily bust through our original target by year-end, and so we are raising our year-end target to 4,500, which is 7.5% higher than the Friday close. The Dow Jones Industrial Average, which we originally projected would hit 35,000 by year-end, should hit 36,750 instead.
Some investors and analysts are skittish about further gains in equities. The price-to-earnings (P/E) ratio on the S&P 500 is 32.6 (based on trailing earnings)—high by historical standards. And the total market capitalization of the S&P 500 has reached about 175% of GDP.
But technology companies have expanded more rapidly than they would have because of the pandemic. These stocks have had an outsized impact on stock indexes and many have very high P/E ratios. We can divide the S&P 500 into the S&P 10 and the S&P 490. Valuations of each part have diverged.
Also, persistently low interest rates make higher P/E ratios more sustainable as future profit growth is worth more with a lower discount rate.
Meanwhile, looking at market cap relative to GDP has its own problems, in addition to not adjusting for lower interest rates. First, it's a stock versus a flow—a net worth versus an income. Second, GDP was artificially low last year due to COVID. Third, corporate profits are already high relative to GDP and set to move even higher in the year ahead.
Q4 2020 GDP AND 2020 SUMMARY BY QUARTER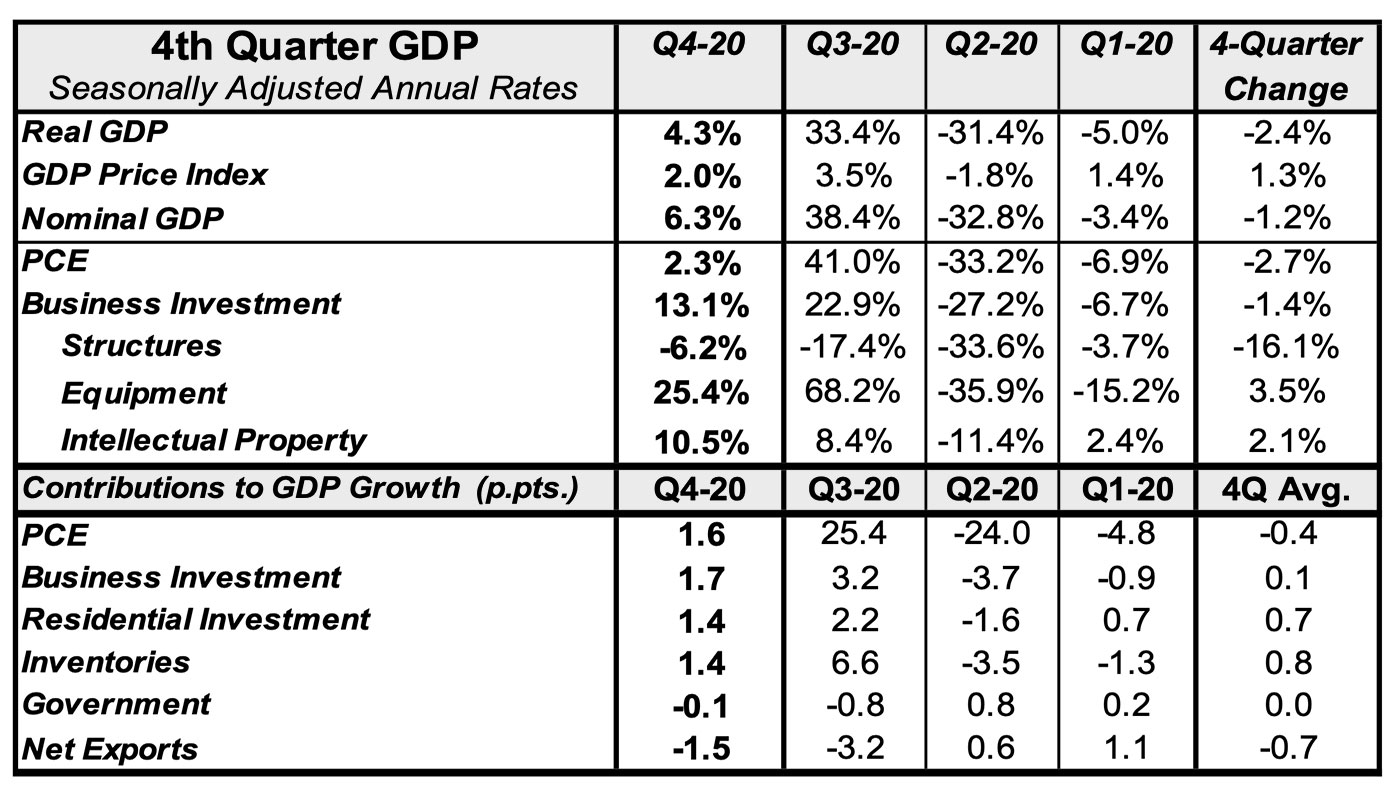 Source: First Trust, Bureau of Economic Analysis
Analyzing the market's fair value
As always, we rely on our Capitalized Profits Model. The model takes the government's measure of economywide profits from the GDP reports, discounted by the 10-year U.S. Treasury note yield, to calculate fair value. If we use a 10-year Treasury yield of 1.6% to discount profits, then our model suggests the S&P 500 is substantially undervalued. But this is because the Federal Reserve is holding the entire interest rate structure at artificially low levels. Using these rates distorts valuations.
Using fourth-quarter profits, it would take a 10-year yield of about 2.4% for our model to show that the stock market is currently trading at fair value. And that assumes no further growth in profits.
With the Fed committed to holding rates down, it would take an upside surprise to already very strong growth forecasts to push the 10-year Treasury yield above 2.4% anytime soon. And if it does happen, it would likely be accompanied by even faster profit growth that lifts our model's estimate of fair value. That's why we are comfortable with a year-end target of 4,500 for the S&P 500.
While the market won't move in a straight line, and a correction is always possible, as the economy opens up, those sectors of the market that fell behind in the past year (because of shutdowns and limited global trade) will be a source of strength.
The Fed remains highly accommodative, there are trillions of dollars of cash on the sidelines, vaccines have reached over 50% of Americans, and the economy is expanding rapidly. Some valuations have been stretched, but the market as a whole remains undervalued. As a result, we remain bullish and are lifting our targets.
The opinions expressed in this article are those of the author and do not necessarily represent the views of Proactive Advisor Magazine. These opinions are presented for educational purposes only.
This is an edited version of an article first appearing at www.ftportfolios.com. This report was prepared by First Trust Advisors LP and reflects the current opinion of the authors. It is based upon sources and data believed to be accurate and reliable. Opinions and forward-looking statements expressed are subject to change without notice. This information does not constitute a solicitation or an offer to buy or sell any security.
First Trust Portfolios LP and its affiliate First Trust Advisors LP (collectively "First Trust") were established in 1991 with a mission to offer trusted investment products and advisory services. The firms provide a variety of innovative financial solutions, including UITs, ETFs, CEFs, SMAs, and portfolios for variable annuities and mutual funds. www.ftportfolios.com

Steven Heiman • Wichita, Kansas​Cooper Malone McClain Inc.Read full biography belowProactive Advisor Magazine: Steve, how do you see your role in working with clients?​While I work with many clients on their total financial picture, I see myself as more of an...

Top-performing financial advisory teams know that success is an ongoing process. They seek out opportunities to learn and share with each other, implementing best practices and effective drivers of growth.[dropcap style="font-size: 60px; color:...

​espite the threats emanating from the banking sector last week, equity markets handled the uncertainty with surprising weekly strength. Amid heightened volatility, the S&P 500 registered a weekly gain...

Michael Kuczinski, CLU, ChFC, RICP, CFP • Millstone Township, NJ Total Wealth Enhancement Group LLC • Garden State Securities Inc.he majority of our clients are within 10 years of either side of retirement....