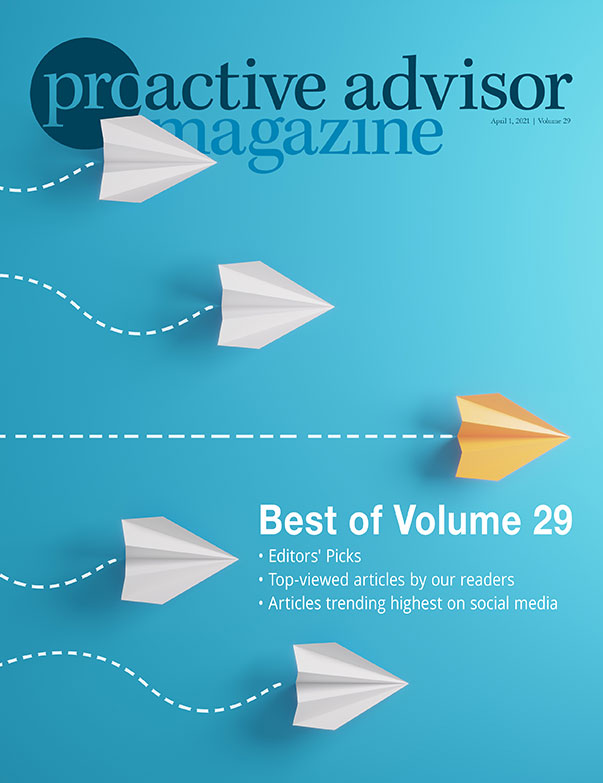 The Best of
Proactive Advisor Magazine: Volume 29
Have you missed any of our recent top articles? Here's your chance to catch up with Proactive Advisor Magazine's "Best of Volume 29."
Please scroll down to view our Editors' Picks, our Top Viewed articles, and pieces Trending On Social Media.
David Wood, senior vice president at St. Pedro & Associates, offers clients a holistic planning process and customized solutions when they are faced with making important financial, business, and life decisions.
Financial advisors need to be more relevant than ever in the lives of their clients. How advisors "frame" their practice is an important first step in creating a valued advisor-client relationship.
2020 provided an analogy for an important lesson—the value of sticking to your plan. Clients are more willing to follow an investment plan if their portfolio incorporates actively risk-managed strategies.
Success with ESG/SRI-focused clients will likely depend more on choice architecture, framing, and mental-accounting skills than on complex portfolio-construction techniques.
Richard F. Grant Jr., founder of RFG Capital Management, shares how clearly communicating key operating principles to prospects helps set his independent RIA firm apart.
Despite the move up in the 10-year U.S. Treasury yield, corporate credit indicators point to historic money availability. This supports our game plan of adding equity exposure on meaningful pullbacks.
The 60%/40% mix worked historically, but bonds may no longer perform well. We believe an alternative can be found in 60% equities, 30% rising-dividend equities, and 10% bonds.
One of the cumulative breadth indicators that we monitor is cumulative volume breadth (CVB). When CVB makes a new all-time high ahead of $SPX, $SPX should follow.
When clients measure progress against personal benchmarks — not some media-inspired number — it helps them maintain realistic expectations for long-term growth within their investment plans.
We saw some wild numbers for NASDAQ share volume earlier this year, much bigger than anything in recent years. This pointed to the possibility of a speculative "blow-off" market top on the horizon.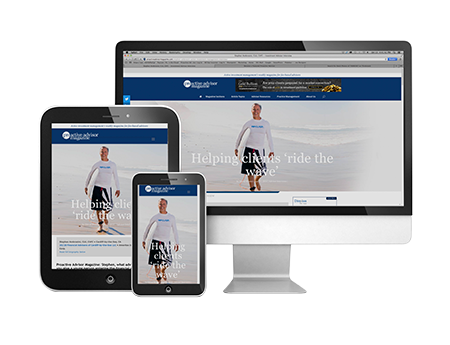 Subscribe to Proactive Advisor Magazine
Get the latest best practices in active money management from experienced advisors and industry experts in your inbox every week. Subscribe at no cost today to get access to thought-provoking articles on topics such as portfolio risk mitigation, dynamic asset-allocation strategies, managing client expectations, and initiatives for business growth.
We typically think of the market as a constant battle between bulls and bears. Analyzing oscillator structures can reveal who is in charge—or that sometimes neither side is in charge.
Robert Ziegler sees himself as both a financial advisor and educator. He wants clients to understand what he is recommending and why—and to "build a sense of personal ownership of their financial plan."
Learn how Paul Walker, partner at Parable Financial Network, uses his experience and a deep understanding of his clients' life goals to help them be successful in different life stages.
Financial advisor Eric McGough says, "We want to make sure our clients' financial needs are met with care, expertise, and an understanding of their unique circumstances and individual goals."
Stephen Franklin believes teaching makes him a better financial advisor. In his graduate-level and retiree courses, he must convey complex financial ideas simply and make a strong connection with his students.
Social Media for Advisors
Become a featured proactive advisor