I have been an independent financial advisor since 1984 and have always had a passion for continually building my knowledge base in seeking to benefit my clients. I have successfully pursued several courses of study, leading to industry designations, as well as formal coursework in areas such as business management, international financial and global markets, and securities analysis.
My love of education motivated me to want to give back in my own way to aspiring financial and business students and the retirement community in our area.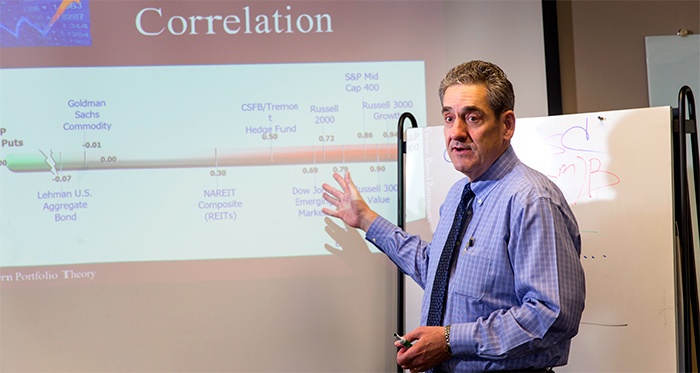 I have been teaching financial concepts at Bellarmine University in Louisville for 10 years, and it is the joy of my life. Bellarmine is one of the premier private universities in the southeast. (I may be biased!) I teach undergraduates when asked but primarily instruct graduate students. I am an instructor for the graduate certificate program in financial planning during the fall semester each year. This program is approved by the CFP Board. I teach two of the six courses covering general financial-planning principles, ethics, and investments.
I also teach six to eight enrichment courses each year for retirees through the School of Continuing and Professional Studies. These courses cover the full spectrum of issues that impact the retirement years from a financial, tax, protection, and estate perspective. I place these broadly under the title of "The Wisdom-Based Retirement." They are a joy to teach not only because I specialize in this area and enjoy keeping the curriculum fresh and current, but because the retired learners bring such rich life experience into the classroom. Their questions and comments help drive the content and keep me continually motivated.
I have also met many dedicated professionals who return to the rigor of the classroom to advance their careers and the interests of those they serve. I am humbled to have played a minor role in their development. I have enjoyed the company, and classroom contributions, of hundreds of students and active senior adults who bring energy into the learning environment and have blessed me far more than I have enriched them.
Teaching, I believe, helps me be a better financial advisor. In my opinion, the model used by much of the financial-services industry is greatly flawed—gather some facts, do some analysis, and make some changes. I enjoy taking the same approach in professional practice that I do in the classroom. I would be lost in either setting without a whiteboard and the ability to stand up, move around, wave my arms a bit, and make a passionate connection with the learner. I believe that all people are fully capable of making sound decisions—even in the complex world of high finance—if they learn important financial concepts and can clearly grasp the implications of the choices they face.

Place a career-long emphasis on personal continuing education.
Give back to the community by providing financial education courses.
Disclosure: Securities offered through LPL Financial, member FINRA/SIPC. Investment advice offered through KPP Advisory Services LLC, a registered investment advisor. KPP Advisory Services LLC and Kentucky Planning Partners are separate entities from LPL Financial.
This article first published in Proactive Advisor Magazine on Sept. 13, 2018, Volume 19, Issue 9.
Photography by Chris Cone

Steven Heiman • Wichita, Kansas​Cooper Malone McClain Inc.Read full biography belowProactive Advisor Magazine: Steve, how do you see your role in working with clients?​While I work with many clients on their total financial picture, I see myself as more of an...

Top-performing financial advisory teams know that success is an ongoing process. They seek out opportunities to learn and share with each other, implementing best practices and effective drivers of growth.[dropcap style="font-size: 60px; color:...

​espite the threats emanating from the banking sector last week, equity markets handled the uncertainty with surprising weekly strength. Amid heightened volatility, the S&P 500 registered a weekly gain...

he calendar year 2022 was difficult to navigate for most asset classes. To put it in perspective, it was the first calendar year on record that saw the S&P 500 Index and U.S. 10-year Treasury bonds both...