The Federal Reserve raised rates by three-quarters of a percentage point (75 basis points, or bps) on June 15, the most at any meeting since 1994 and exactly the move Chairman Jerome Powell was dismissive about in early May after the last meeting. As a result, the target for the federal funds rate is now 1.50%–1.75%, and it's headed higher. At the post-meeting press conference, Powell made it clear that the Fed doesn't expect 75-basis-point rate hikes to become "common," but a rate hike in the range of 50 to 75 bps should be expected at the next meeting in July. 
FED FUNDS TARGET RATE (%)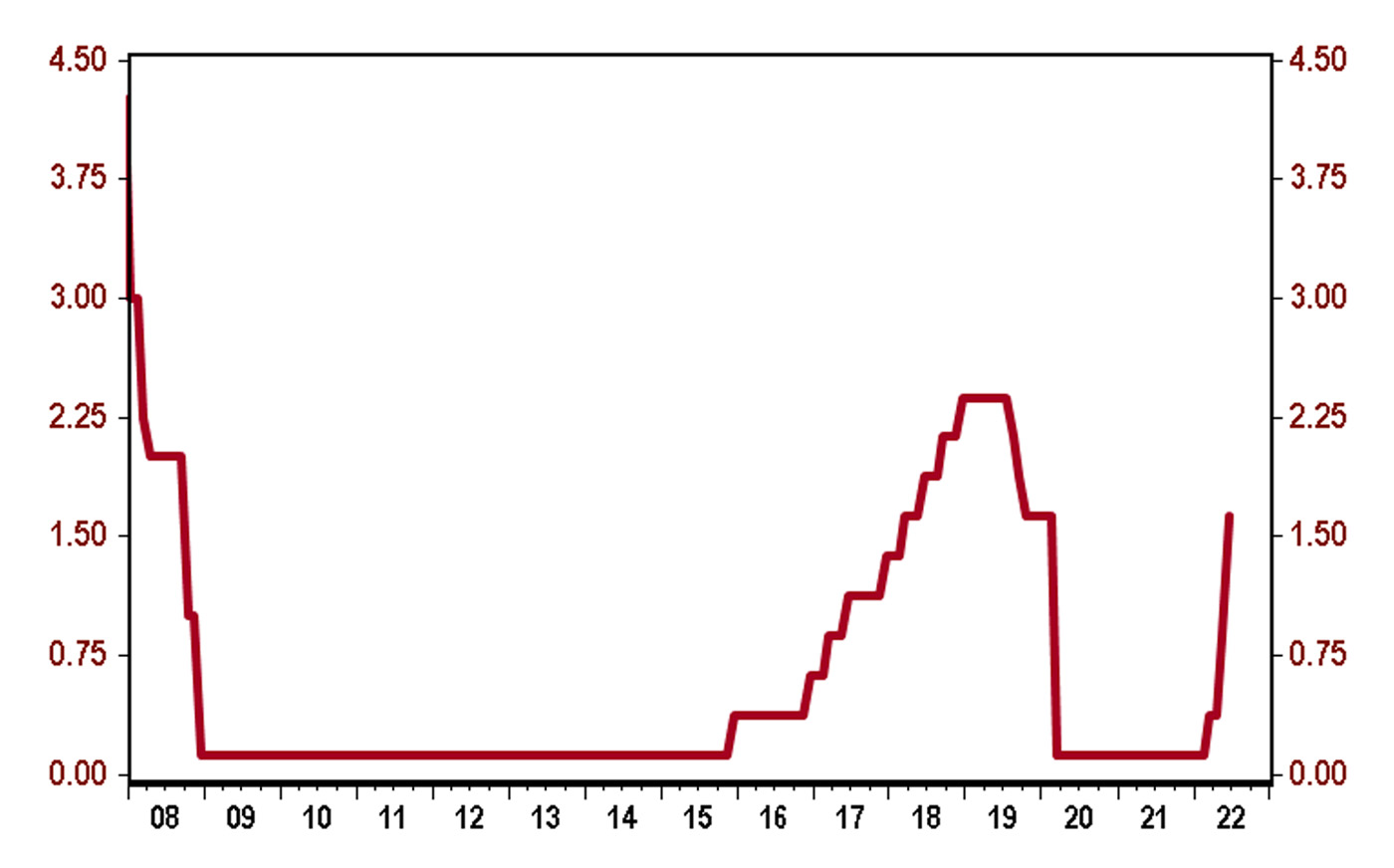 Sources: Federal Reserve Board, Haver Analytics
The "dot plot" from the Fed, which is released every three months and shows the path monetary policymakers expect the funds rate to take, shows a much steeper pace of rate hikes than the dot plot released back in March. Earlier this year, the dot plot suggested the funds rate would finish 2022 around 1.875%; now the Fed suggests it will finish around 3.375%. That's an additional 150 bps. What is perhaps more important is that every single Fed policymaker thinks the funds rate will finish this year above 3.00%. For 2023, the median policymaker projection is that the funds rate will finish at 3.625%, before gradually starting to decline in 2024 and beyond.
Notably, the Fed downgraded its real GDP growth forecast for this year to 1.7% versus a prior estimate of 2.8%. Growth in 2023–2024 was revised down slightly. Meanwhile, the Fed increased its estimate for PCE (personal consumption expenditure) inflation this year, to 5.2% from 4.3%, but slightly revised down its forecast for inflation in 2023–2024. We believe the Fed's inflation forecasts for 2023 and 2024, 2.6% and 2.2%, respectively, are ridiculously low. On net, the Fed downgraded its expectations for nominal GDP growth (real GDP growth plus inflation), which is hard to square with increasing the path for short-term interest rates unless it's seen as a major admission of past policy mistakes and that the Fed knows it is well behind the inflation curve.
Also of note: The Fed removed language from its last statement in May that it expects the "labor market to remain strong." This is consistent with the new Fed economic projections, which show that the unemployment rate, now 3.6%, should finish the year at 3.7% and then go up 0.2 percentage points in each of the next two years. However, it could also be a hint that the Fed knows fighting inflation may eventually take a set of policies that generate a recession.
In our view, the next important date to watch for the Fed is not the next meeting in late July. It's June 28, when the Fed releases figures on the M2 measure of the money supply for May. M2 declined in April, but we think that may have been related to very high tax payments that month. Wrestling inflation back down will require a persistently slow pace of M2 growth for at least the next couple of years. With regard to quantitative tightening, the Fed will stick to its current schedule of reducing the balance sheet by $47.5 billion per month until September, when that pace will double.
There was one dissent at today's meeting, from Kansas City Bank President Esther George, who preferred an increase of 50 bps rather than 75 bps.
The bottom line is that it's good the Fed is now more aware of the enormity of the inflation problem it has created, although it is still too optimistic about how quickly it will get it back under control. It's now serious about raising rates. Another big step would be to start to release money supply figures weekly, like it used to, so everyone can see the progress it's making in closer to real time.
Editor's note: Brian Wesbury is chief economist at First Trust Advisors LP. He and his team prepare a weekly market commentary titled "Monday Morning Outlook," as well as frequent research reports. Proactive Advisor Magazine thanks First Trust for permission to republish an edited version of this commentary, which was first published on June 16, 2022.

The opinions expressed in this article are those of the author and do not necessarily represent the views of Proactive Advisor Magazine. These opinions are presented for educational purposes only.

Financial advisor Ken Lubkowski says working with his OSJ gives him the flexibility to shape his practice, offering timely support in many areas.
First Trust Portfolios LP and its affiliate First Trust Advisors LP (collectively "First Trust") were established in 1991 with a mission to offer trusted investment products and advisory services. The firms provide a variety of innovative financial solutions, including UITs, ETFs, CEFs, SMAs, and portfolios for variable annuities and mutual funds. www.ftportfolios.com




Financial advisor Ken Lubkowski says working with his OSJ gives him the flexibility to shape his practice, offering timely support in many areas.