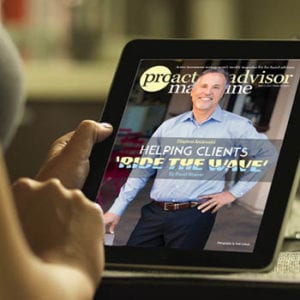 Proactive Advisor Magazine is dedicated to promoting and educating the advisor community on active investment management through original, leading-edge content. Distribution reaches a wide audience of financial professionals who advise clients on investments and portfolio management. Each issue features an experienced investment advisor who offers insights on active money management, client service, and investment approaches. Additionally, Proactive Advisor Magazine offers an up-close look at topics with current relevance to the field of active management.
Proactive Advisor Magazine is available at no charge. We are committed to sharing our knowledge base in order to promote active investment management.
Subscribe to Proactive Advisor Magazine and we'll send you a link for each issue, every week.
Provide leading-edge content that informs investment advisors about the benefits of dynamic, risk-managed investing
Share the knowledge base of thought leaders and successful practitioners who are changing the world of active management
Build and support relationships with the advisor community