Will markets find a 'soft-landing' catalyst?
Will markets find a 'soft-landing' catalyst?

Editor's note: Tony Dwyer, chief U.S. portfolio strategist for Canaccord Genuity, and his colleagues author a widely respected monthly overview of economic and market conditions, technical factors, and future market outlook called the "Strategy Picture Book." The following provides an excerpt from their Sept. 5, 2023, report.
The market has spent the last six weeks trying to figure out if "good news is bad news" or if "bad news is good news." The near 5% drop in the S&P 500 (SPX) in early August created an environment ripe for an oversold bounce when only 10% of the SPX components were trading above their 10-day moving average.
The sharp correction that led to the oversold condition was from fear of higher rates with better-than-expected economic data in early August, while the rebound since has been fueled by hopes of no more hikes on the back of weaker economic data. Frankly, the violent moves in both directions for opposite reasons over such a short time make clear that investors have no idea what comes next and reinforce our view that when the road is muddy, don't jerk the wheel.
Our key driver to become more fundamentally positive is a significant drop in rates
We continue to believe the main reason for an economic recovery from a soft landing or recession has been lower absolute interest rates in U.S. Treasurys (UST) that improve the outlook for money via lower mortgage and corporate rates. In the two modern-era soft-landing scenarios of 1966 and 1995, there was a significant and sustainable drop in the 10-year UST yield that kick-started renewed growth (Figure 1). In the current environment, the opposite has been true, with the UST, mortgage, and corporate rates hovering near the cycle high.
FIGURE 1: THE 1995 'SOFT LANDING' HAD A CATALYST THAT DOESN'T EXIST TODAY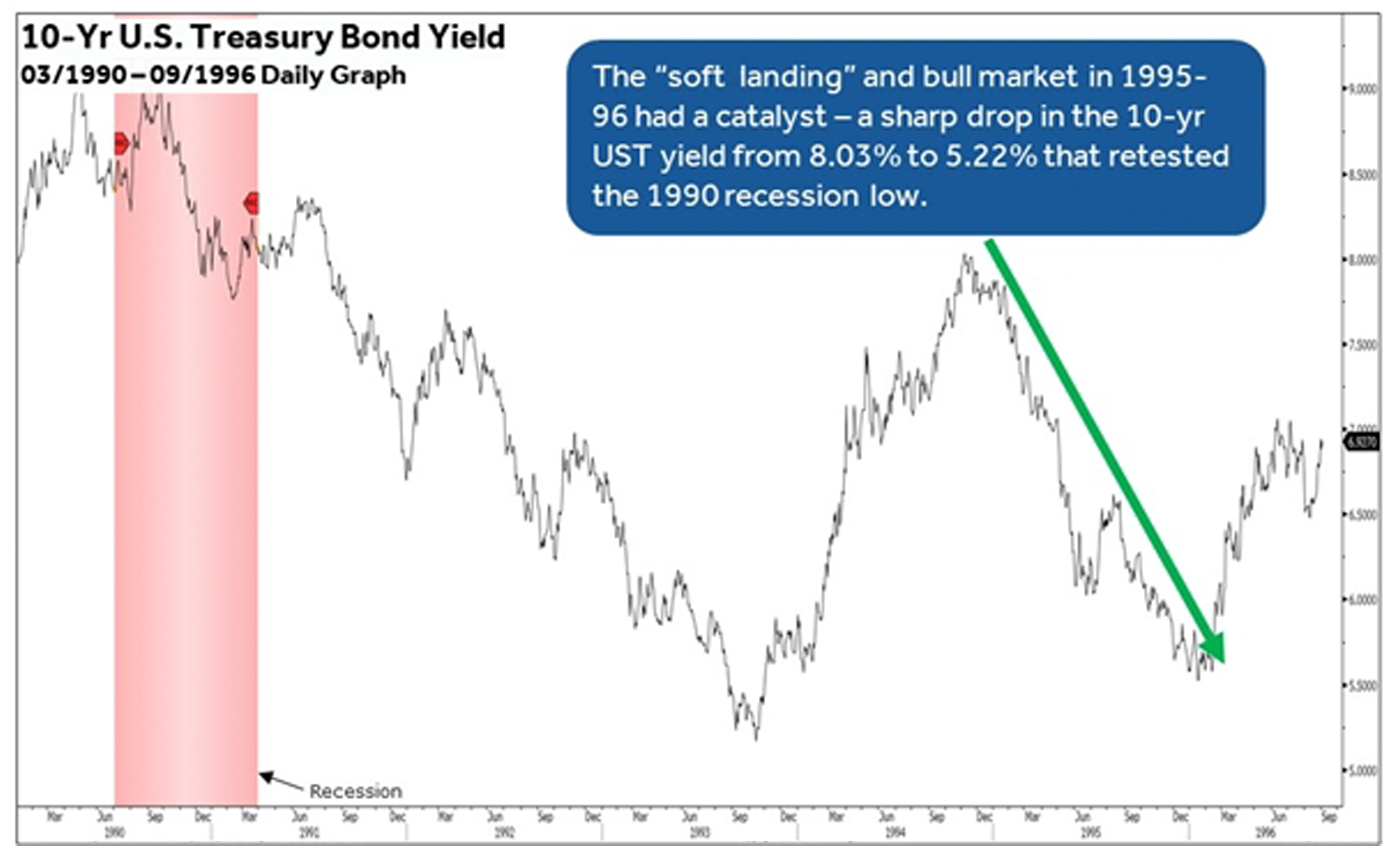 Sources: Bloomberg, Canaccord Genuity
Not the time to force it from an investment perspective
We are in a seasonally weak period for equities, the market has cycled from near-term oversold to overbought, our core fundamental thesis remains on recession watch (Figure 2), and we are fast approaching earning season.
FIGURE 2: LEADING ECONOMIC INDICATORS ARE SIGNALING RECESSION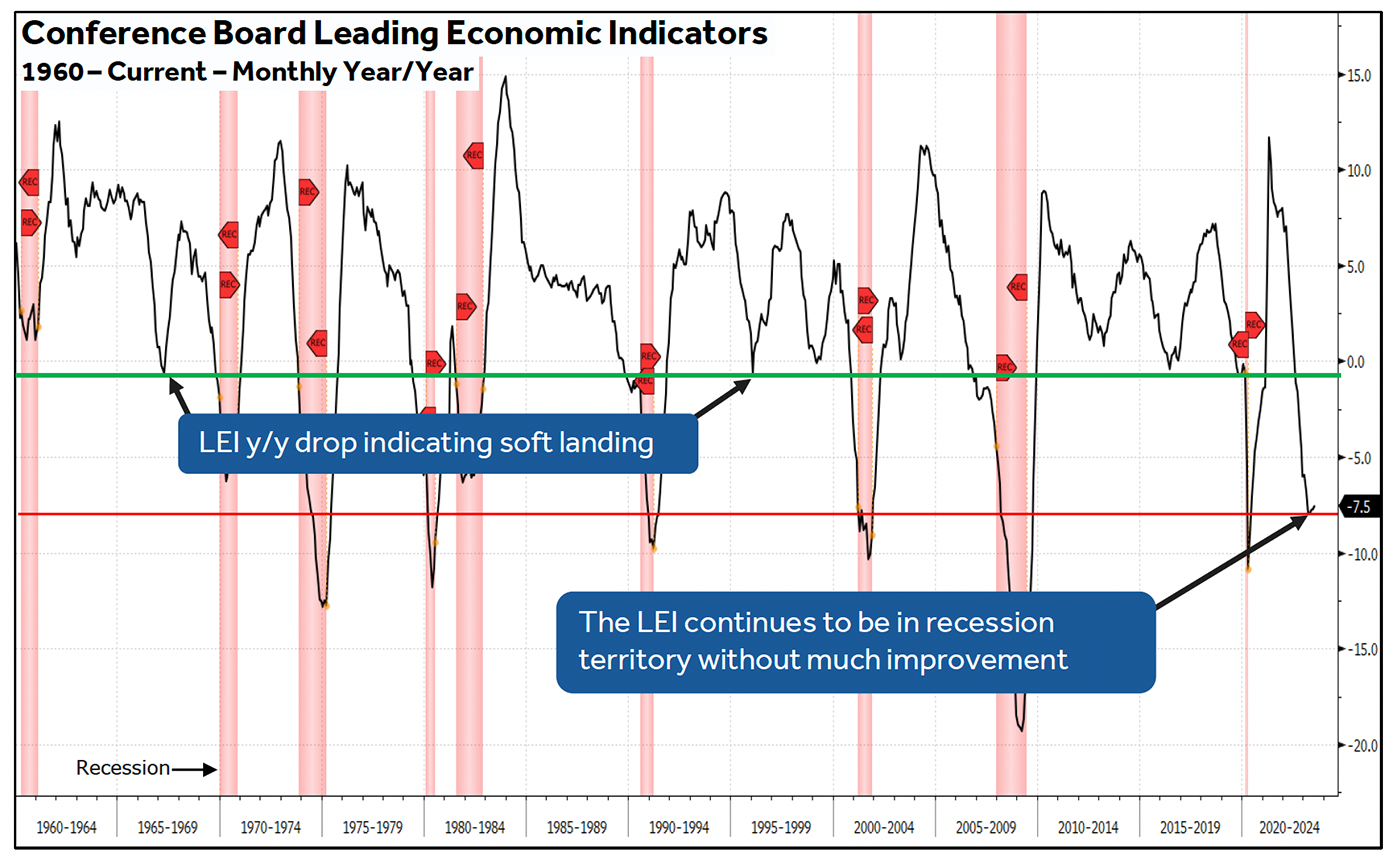 Sources: Bloomberg, Canaccord Genuity
We simply don't feel the need to jump into this guessing game and would stay "light and tight" until there's a significantly improved outlook for money (Figure 3), especially with the risk-free rate on the six-month U.S. Treasury bill yield at 5.53%. This is roughly equivalent to the SPX earnings yield of 5.4% using the current 2024 Refinitiv consensus EPS estimate of $247 per share (see Figure 4 for EPS estimates).
To become more fundamentally positive, we need to see a significant and sustainable drop in (1) U.S. Treasury rates, (2) speculative-grade corporate debt yield, and (3) the average 30-year fixed-rate mortgage—which takes more time.
FIGURE 3: MONEY SUPPLY REMAINS HISTORICALLY NEGATIVE BUT INFLECTING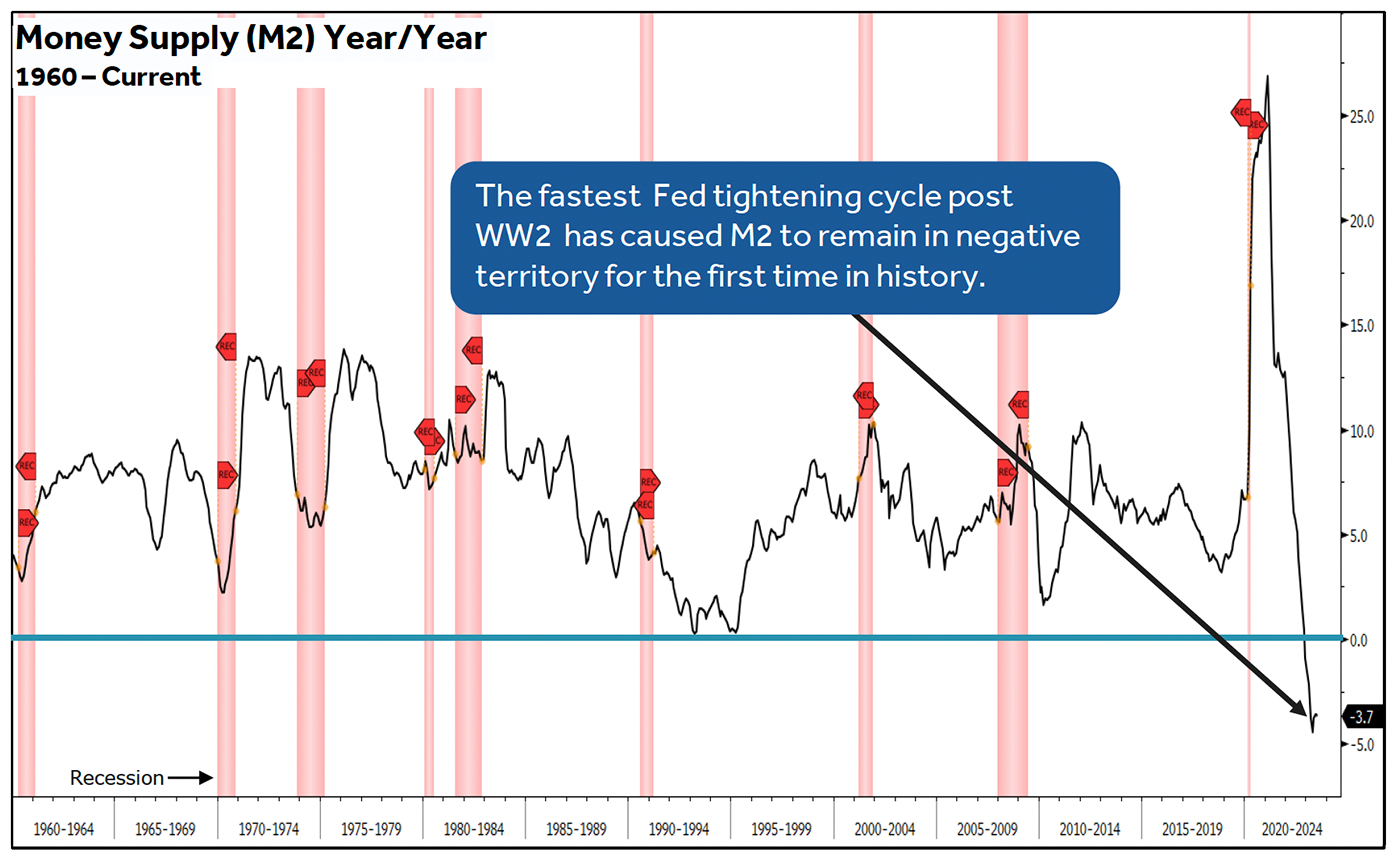 Sources: Bloomberg, Canaccord Genuity
FIGURE 4: EARNINGS OUTLOOK—CONSENSUS SPX EPS SHOULD PROVE TOO OPTIMISTIC

Sources: Canaccord Genuity, Refinitiv/LSEG, I/B/E/S

The opinions expressed in this article are those of the author and the sources cited and do not necessarily represent the views of Proactive Advisor Magazine. This material is presented for educational purposes only.

Tony Dwyer is the head of the U.S. Macro Group and chief market strategist at Canaccord Genuity. He also sits on the firm's U.S. operating committee. Mr. Dwyer joined Canaccord Genuity in 2012 and is known for the practical application of macroeconomic and tactical market indicators. Mr. Dwyer was previously equity strategist and director of research at Collins Stewart and a member of the firm's executive committee. Mr. Dwyer is a frequent guest on many financial news networks. canaccordgenuity.com