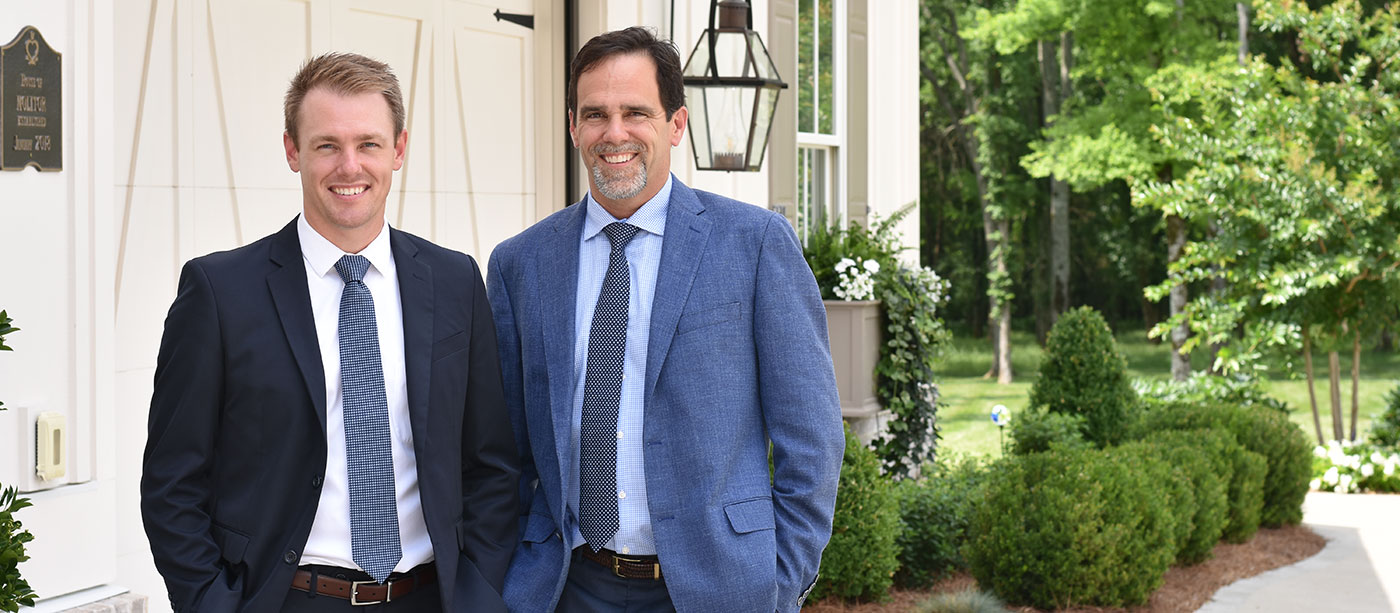 Parker (left) and Chad Molitor at their family's Tennessee farm.
Editor's note: Chad and Parker Molitor are a father-son team specializing in wealth management and retirement planning at RAI Advisors in Murfreesboro, Tennessee. Since 1996, Chad Molitor has worked with retirees and those nearing retirement to help grow and preserve their retirement assets, including all types of investors "from the novice to the more experienced." His son, Parker, joined RAI Advisors in 2012, and they have forged a very effective team approach in business development, financial and investment planning, and serving the overall needs of their joint clients.
Here they provide perspective on how the relationship came about and how they work together.
​Parker Molitor: My father, Chad, has been in the advisory business for over three decades. Early on, I was sure it was a career I would like to pursue. He introduced me to investing when I was in high school, and I studied business and finance in college. I was a paraplanner intern my senior year for a large Mass Mutual office called Capital Financial Group. After graduation, I started working in their planning department, supporting numerous advisors. Our group would analyze the data provided by advisors in a case-management role, developing comprehensive financial plans that covered everything from cash flow and debt management to insurance, risk-management strategies, and investments. I think this experience was invaluable in my growth in the industry, and the mentorship and training I received were excellent.
Once my father and his partner saw that I was serious about the business and the depth of my training, they extended an offer to join RAI Advisors. I joined the firm in 2012. We have eight advisors, a terrific support staff, and a well-rounded approach to the advisory business. My father and I are unique in the firm, as we work as a team with most clients. I think we complement each other and can bring different strengths to each client relationship. While my main focus is on portfolio design and asset management, we are both deeply involved in understanding each client's financial needs and objectives and in the development of comprehensive financial plans.
Chad Molitor: Having my son, Parker, join our firm and work with me has made my job all the more satisfying personally and professionally. I think my overall experience in the industry, early background in the insurance industry, and specialization in retirement planning provide good synergy with Parker's focus on the investment side of the business. While we both handle all aspects of client relationships and financial planning, coming at the process from different backgrounds and perspectives is, I think, very beneficial to clients.
We use each other as sounding boards and generate client solutions together. More often than not, both of us are in each initial client meeting together and most review sessions. That helps to provide valuable continuity in client relationships. One of us should always be available to handle a client's questions or requests. We work closely on client development, handling virtual and in-person informational presentations together. During the pandemic, we developed a joint client introductory and capabilities video that has been well received.
Most importantly, we both share a tremendous passion for the business and for helping our clients move forward on a path toward achieving their wealth-building and retirement-income objectives. I like to use the word "sizzle" to describe the atmosphere we find in our meetings with clients. It sizzles for clients when we get in the conference room together and share ideas about how to safeguard their wealth and grow it at the same time. We just love this process. It is wonderful to see the light bulb turn on for clients as we review the many wonderful tools and solutions we can offer to help them meet their financial goals.
Disclosure: Securities and advisory services offered through LPL Financial, a registered investment advisor. Member FINRA/SIPC.
Photography by Ricky Berry

Now, more than ever, advisors should formulate a succession plan—or at least explore the multiple options available for an economically sound and client-focused exit plan for the future.The COVID-19 pandemic has spurred a wave of financial advisors calling it quits,...

It's not about missing the best or worst days of the market; it's about staying with a disciplined investment plan for the long run.ne fail-safe sign of individual investor uneasiness in the financial market...

With more than 99% of S&P 500 companies having reported, the Q2 earnings season has wrapped up in an impressive fashion. Key metrics for Q2 2021, according to FactSet, include the following: "Earnings Scorecard: For Q2 2021 (with more than 99% of S&P 500...

September has a reputation for being the worst month of the year for the stock market. And that is deserved. Since 1960, the average September return is -0.59%. The only other month with a negative average return for the same period is June, which has had an average...