Last week's report on retail sales was stronger than expected, according to CNBC, which noted,
"Consumer spending held up well in July as inflation slowed, with retail sales turning in a stronger-than-expected showing for the month, the Commerce Department reported Tuesday.
"The advanced retail sales report showed a seasonally adjusted increase of 0.7% for the month, better than the 0.4% Dow Jones estimate. Excluding autos, sales rose a robust 1%, also against a 0.4% forecast. Both readings were the best monthly gains since January."
Statista provided the following broader analysis, stating that most of the sales gains were attributable to rising costs:
"U.S. retail sales grew stronger than expected in July in yet another sign of robust consumer spending. According to advance estimates from the U.S. Census Bureau, total retail and food services sales—including spending at stores, online and in restaurants—amounted to $696.4 billion in July, up 0.7 percent from June and 3.2 percent from July 2022.
"While retail sales have been surprisingly resilient throughout the inflation crisis, it's important to note that consumer prices also grew by 3.2 percent in July, meaning that virtually all of the year-over-year increase is attributable to higher prices. Looking at retail sales in constant 1982-84 dollars, spending was virtually unchanged compared to July '22, while climbing 0.6 percent compared to June.
"As the following chart shows [Figure 1], much of the increase in retail sales since the beginning of 2021 can be attributed to rising prices, as shoppers are simply getting less bang for their buck. However, even adjusted for inflation, consumer spending has looked surprisingly robust in the face of surging prices. Between January 2021 and July 2023, monthly retail and food services sales (adjusted for seasonal variations, holiday and trading day differences) have increased by 22 percent. Adjusted for CPI inflation, sales have climbed by just 6 percent over the same period and have virtually flatlined since March 2021."
FIGURE 1: U.S. MONTHLY RETAIL AND FOOD SERVICES SALES (ACTUAL AND INFLATION-ADJUSTED)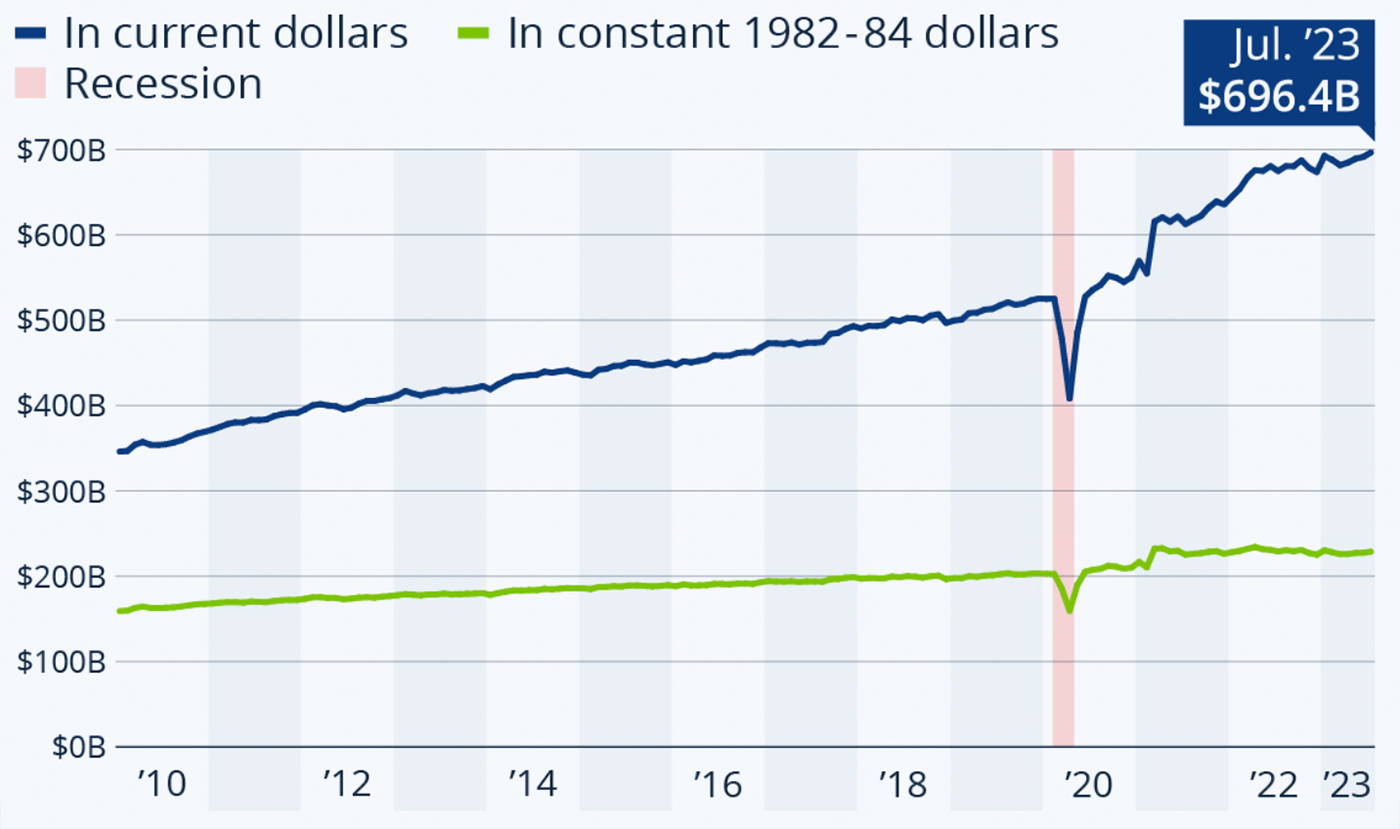 Sources: Statista, U.S. Census Bureau
First Trust provided the following perspective, with some pessimism on whether consumers will continue to spend at the current year-over-year rate:
"'Core' sales, which exclude the most volatile categories of autos, building materials, and gas stations, and are important for estimating GDP, rose 1.1% in July, were revised higher for prior months, and are up 6.2% from a year ago. Even if unchanged in August and September, these sales will be up at a 7.0% annual rate in Q3 compared to the Q2 average. However, we think consumers are continuing to dip into COVID savings, which were boosted by temporary and artificial government stimulus payments, in order to maintain recent spending levels. This cannot last, and these extra 'stimulus savings' should run out by year end. In the last twelve months, overall retail sales are up 3.2%, basically matching inflation meaning 'real' retail sales are unchanged. Our view remains that the tightening in monetary policy since last year will eventually deliver a recession in the next twelve months."
Outlook on back-to-school spending
FactSet notes that despite the inflation-adjusted "flatlining" of consumer sales since April 2022 when adjusted for inflation, the back-to-school period should show robust spending:
"The back-to-school period might have something to say about where the economy is headed over the second half. According to the National Retail Federation, this year's back-to-school season is expected to feature record spending across all channels. Back-to-school retail sales are forecast to total $41.5 billion, easily surpassing last year's $36.9 billion figure and the all-time high-water mark of $37.1 billion notched in 2021—when families were flush with cash. Back-to-college spending, meanwhile, is seen as reaching $94 billion, a stunning $20 billion above last year's sum. …
"Among the various categories, electronics are forecast to see the largest sequential percentage jump while the clothing & accessories and shoes areas might actually drop compared to year-ago figures. Both the need for supply replenishment and style upgrades were echoed in the NRF's survey, while inflation is another contributing factor to the spending surge. And maybe Barbenheimer will spark extra splurges on toys, too.
"So, expectations are lofty—even more so when you consider that US retail sales have done a whole lot of nothing over the past several quarters. According to the Census Bureau, advance retail sales have been hovering around $600 billion on a seasonally adjusted basis since early 2022. Account for a rising CPI, and real retail sales have been trending lower.
FIGURE 2: HIGH HOPES FOR SCHOOL SPENDING THIS SEASON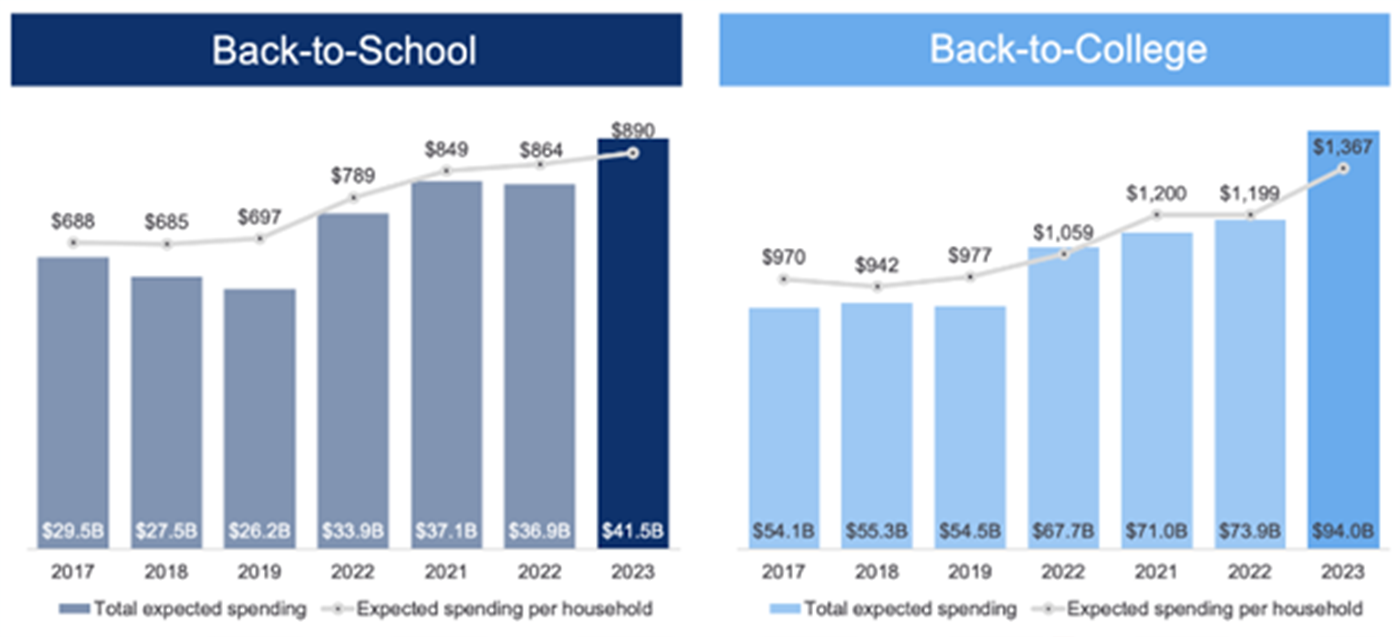 Sources:FactSet, National Retail Federation (NRF)
The opinions expressed in this article are those of the author and the sources cited and do not necessarily represent the views of Proactive Advisor Magazine. This material is presented for educational purposes only.