10 practice secrets from 'the best in the business'
10 practice secrets from 'the best in the business'

How successful financial advisors have reframed their wealth-management business.
Have you wondered how top financial advisors and wealth managers are able to continuously grow their client base, assets under management, and revenues while solidifying long-term relationships with clients?
Ray Sclafani is the founder of ClientWise, a premier coaching company exclusively serving the financial-services industry. A professional certified coach and the holder of a master's certification in neuro-linguistics, Mr. Sclafani leads a firm that has trained thousands of financial advisors in advanced practice management principles and methodologies to achieve more consistent success. He says these principles are based on years of studying and analyzing the best practices of financial firms of all sizes—both here and abroad.
In his 2016 book, "You've Been Framed," Sclafani tackles the opportunities financial advisors have "to create change by the way in which they conduct their practices." He says that "financial advising is a noble profession" that is capable of not only impacting the current generation of clients that financial advisors work with but also "carries forward through multiple generations."
The core thesis of the book explores how financial advisors "are framed." According to the introduction to the book, "The frame is the perspective outsiders have of your company. It may be accurate or false. Positive or negative. But if you haven't actively nailed down what your business stands for—and what differentiates it from competitors—you're likely reducing profits, talent, and the longevity of your firm."
"You've Been Framed" outlines a process by which financial advisors can take control of their firm's "frame" to attract prospects into their pipeline, win the next generation of clients, and deepen their businesses so they can "thrive long into the future." While the book is very worthwhile to read in its entirety, Sclafani has also distilled its message down to 10 core principles into a webinar version he calls, "What the Best in the Business Don't Want You to Know."
He says,
"Top-performing advisors—or those whom I call the 'best in the business'—can change on the fly and know how to adjust. They shift, modify, and improve as circumstances and contexts change, and they are improving all the time. These advisors are not afraid to reframe when needed; in fact, they know they will fall behind, maybe even fail, if they don't. …
"The only way to win is to adjust, and the best in the business don't want you to know that they are masters at adapting to changing circumstances. What's more, they are also very good at empowering those around them—on their teams and in their firms—to adjust, too. Another way to think about it is as a willingness to reframe. Reframing is really about getting a read on where your clients are today and making adjustments to give them the value they desire and deserve. It's about assessing the characteristics of today's world and refining your business to serve clients in this emerging context."

Here, in shorthand form, are Ray Sclafani's 10 core principles, or "secrets," that begin to outline a road map toward success by using "21st-century wealth-management practices."
Top 10 Secrets of 'The Best in the Business'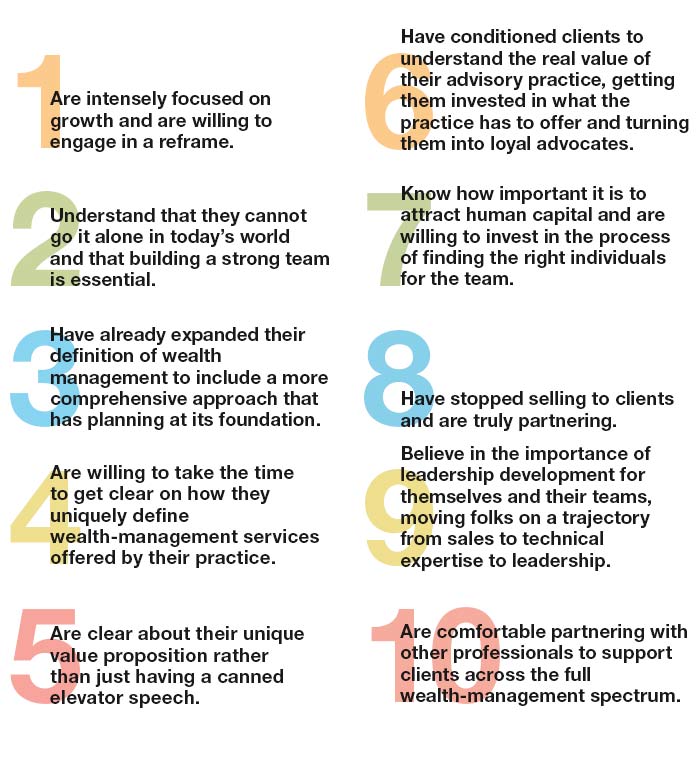 TABLE 1: FIVE PRACTICE REFRAMES FOR THE 21ST CENTURY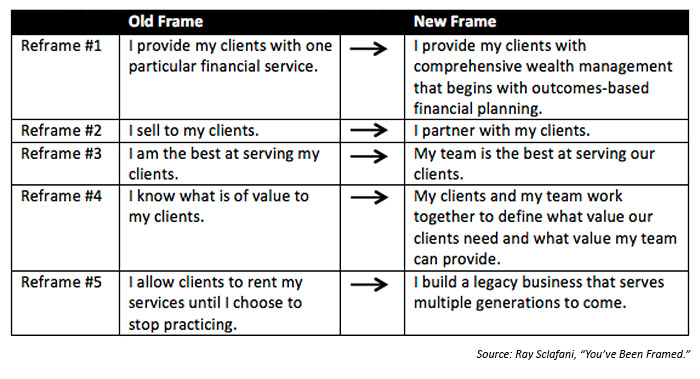 What's possible when you do this?
"These practice strategies, growing out of an awareness of the particular needs of the Baby Boomer generation, are driving unusual success in a handful of specialized advisory practices. What is interesting to observe is that the platforms and business models can be vastly different from each other, but the results can be equally powerful provided these common characteristics are employed:
"Did you know that in one national discount brokerage house there are over 35 FAs [financial advisors] who each bring in over $75 million in new retail assets annually? Not all of the advisors in this model generate these results, but the few who do are consistently receiving high-quality referrals throughout the year.
"Did you know that in one national asset-management firm there are over 30 FAs who each bring in over $100 million in new retail assets annually? In this model an FA with 7 or more years of service is expected to generate this level of new business every year.
"And these are just two examples of 'The Best in the Business' who have engineered their practices to be uniquely appealing to the Baby Boomer generation. The platforms are different, the value propositions they offer the market are different, the business models of their respective firms are different, but the new client acquisition results are similar. Dozens of uniquely successful people find their way to these advisors every year, driving a robust and predictable growth curve for these practices."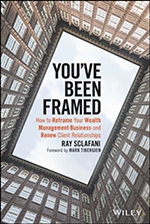 The opinions expressed in this article are those of the author and do not necessarily represent the views of Proactive Advisor Magazine. These opinions are presented for educational purposes only.
Proactive Advisor Magazine wishes to thank Ray Sclafani and ClientWise for permission to use webinar and website material and excerpts from the book, "You've Been Framed." Cover image by Corbis Images/Getty Images. Mr. Sclafani's book, published by John Wiley & Sons, Inc. in 2016, can be obtained at www.wiley.com or at Amazon.
This article first published in Proactive Advisor Magazine on April 19, 2018, Volume 18, Issue 3.

David Wismer is editor of Proactive Advisor Magazine. Mr. Wismer has deep experience in the communications field and content/editorial development. He has worked across many financial-services categories, including asset management, banking, insurance, financial media, exchange-traded products, and wealth management.