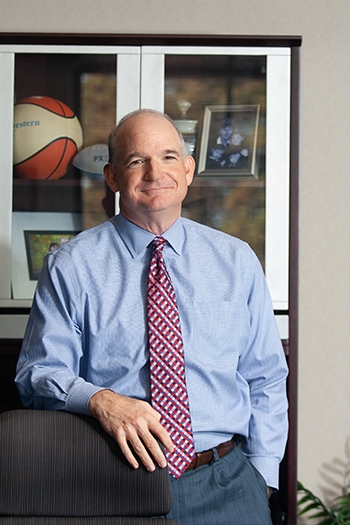 I am a wealth management advisor and co-founder of Resolute Wealth Partners, located in Greenwood Village, Colorado. I have been in the financial-services industry for over three decades and have spent my entire career with Northwestern Mutual.
I currently wear two hats. After working closely with another advisor for a couple of years, we formalized that relationship in 2019 and created Resolute Wealth Partners. This is in line with Northwestern Mutual's increased focus on ensemble teams, where advisors with compatible values and business philosophies come together to share resources and build on each other's strengths, all with a client-oriented focus. My second role is having managerial responsibility for Northwestern Mutual's Greenwood Village office, overseeing areas such as real estate, operations, staff, and training for an office with about 20 advisors.
Throughout my career, I have had the opportunity to guide many young advisors entering the business. Northwestern Mutual is known for its excellence in training and personal development, and I am proud to take part in that process. Beyond our formal training program, I also enjoy sharing some more informal insights with younger advisors. Part of what I share with them is how everything they do, say, and present "speaks to clients." Here are some of the specific examples that I share:
Say "please" and "thank you," and do what you say you will do—when you say you will do it.

Dress professionally. If you're going to manage someone's $2 million portfolio, it doesn't just matter how smart you are. It also helps to look the part and take pride in your appearance.

Have a professional office space—nice and clean; but not too nice. Opulence suggests high fees.

Be on time, every time. I hate waiting for other people, so I feel awful whenever I make someone wait for me.

Overcommunicate—with your team and with your clients. Don't assume saying something once is enough.
Be responsive, very quickly. At the very least, respond to a client's question the same day—even if you're not prepared to give them a full answer yet. They want their question acknowledged.

Be present in your meetings. Convey that nothing else in the world matters more right now than what your client has to say.
Remember: You're playing with clients' real marbles here. Take everyone's financial plan seriously. This is not an academic exercise. This is the culmination of a client's lifetime of earnings.
Disclosure: Eric McGough uses Resolute Wealth Partners as a marketing name for doing business as a representative of Northwestern Mutual. Resolute Wealth Partners is not a registered investment advisor, broker-dealer, insurance agency, or federal savings bank. Northwestern Mutual is the marketing name for The Northwestern Mutual Life Insurance Company, Milwaukee, WI, (NM) (life and disability insurance, annuities, and life insurance with long-term care benefits) and its subsidiaries. Eric McGough is an insurance agent of NM; provides investment brokerage services as a registered representative of Northwestern Mutual Investment Services LLC, a subsidiary of NM, registered investment adviser, broker-dealer, and member FINRA and SIPC; and provides investment advisory services as an advisor of Northwestern Mutual Wealth Management Company, Milwaukee, WI, a subsidiary of NM and federal savings bank. This publication is not intended as legal or tax advice. Financial representatives do not give legal or tax advice. All investments carry some level of risk. No investment strategy can guarantee a profit or protect against a loss.
Certified Life Underwriter (CLU), Chartered Financial Consultant (ChFC), and Retirement Income Certified Professional (RICP) are registered trademarks of The American College.
Photography by Diane Huntress

Joseph St. Pedro • Royersford, PASt. Pedro & Associates Inc. • Securities America Inc.Read full biography belowProactive Advisor Magazine: Joe, talk about your personal background and how your career has evolved. I was born and raised in the Azores islands, which...

In creating a portfolio, it is important to reflect varying frames of reference. This can be achieved by using diversified asset classes in multiple risk-managed strategies that focus on different time periods.[dropcap style="font-size: 60px; color:...

Overview of June 2021 existing home sales Existing home sales increased 1.4% in June to a 5.860 million annual rate, just below the consensus expected 5.900 million. Sales are up 22.9% versus a year ago. Sales in June rose in the Midwest, Northeast, and West, but...

n the Proactive Advisor Magazine article "Bonds are not carrying their weight. Looking for an alternative?" from earlier in 2021, we pointed out that bonds contributed just 15% to the return of a traditional...