President Biden did not hold back in remarks regarding the oil industry on June 10, saying, in part,
"We're going to make sure that everybody knows Exxon's profits. … Exxon made more money than God this year. … One thing I want to say about the oil companies, they talk about how we have, they have 9,000 permits to drill. They're not drilling. Why aren't they drilling? Because they make more money not producing more oil."
When contacted for a response, ExxonMobil replied via email to industry publication Rigzone,
"We have been in regular contact with the administration, informing them of our planned investments to increase production and expand refining capacity in the United States. …"
Following those remarks, according to MarketWatch, the administration followed up with formal communication to the oil industry:
"Biden in letters to major U.S. oil refiners called on them to 'take immediate actions to increase the supply of gasoline, diesel and other refined product,' adding that he recognizes that some of the companies already have done exactly that.
"'I understand that many factors contributed to the business decisions to reduce refinery capacity, which occurred before I took office. But at a time of war, refinery profit margins well above normal being passed directly onto American families are not acceptable,' the president wrote in the letters, which the White House released Wednesday, saying they went to Marathon, Valero, Exxon Mobil, Phillips 66, Chevron, BP, and Shell."
"Biden asked the companies to provide Energy Secretary Jennifer Granholm with explanations for any reductions in refining capacity since 2020, along with 'concrete ideas that would address the immediate inventory, price and refining capacity issues in the coming months.'"
Energy industry earnings and revenue growth
The energy industry was significantly impacted by the effects of the COVID pandemic, experiencing a difficult 2020. With oil prices and demand coming back in 2021, the energy industry's revenues and profits rebounded strongly.
According to FactSet's end-of-year and Q4 analysis for 2021,
"The Energy sector is reporting earnings of $30.1 billion for Q4 2021 compared to a loss of -$0.1 billion in Q4 2020. Thus, a year-over-year growth rate is not being calculated for the Energy sector due to the loss reported by the sector in Q4 2020. Higher year-over-year oil prices are contributing to the year-over-year improvement in earnings for this sector, as the average price of oil in Q4 2021 ($77.10) was 81% above the average price for oil in Q4 2020 ($42.70). …"
"The Energy sector is reporting the highest (year-over-year) revenue growth rate of all eleven sectors at 89.5%. … At the sub-industry level, all five sub-industries in the sector are reporting (or have reported) double-digit (year-over-year) growth in revenues: Oil & Gas Exploration & Production (147%), Oil & Gas Refining & Marketing (103%), Integrated Oil & Gas (86%), Oil & Gas Storage & Transportation (55%), and Oil & Gas Equipment & Services (12%)."
Revenue growth for the Energy sector was just over 64% for 2021, leading all major sectors by far.
FIGURE 1: S&P 500 SECTOR REVENUE GROWTH (CALENDAR YEAR 2021)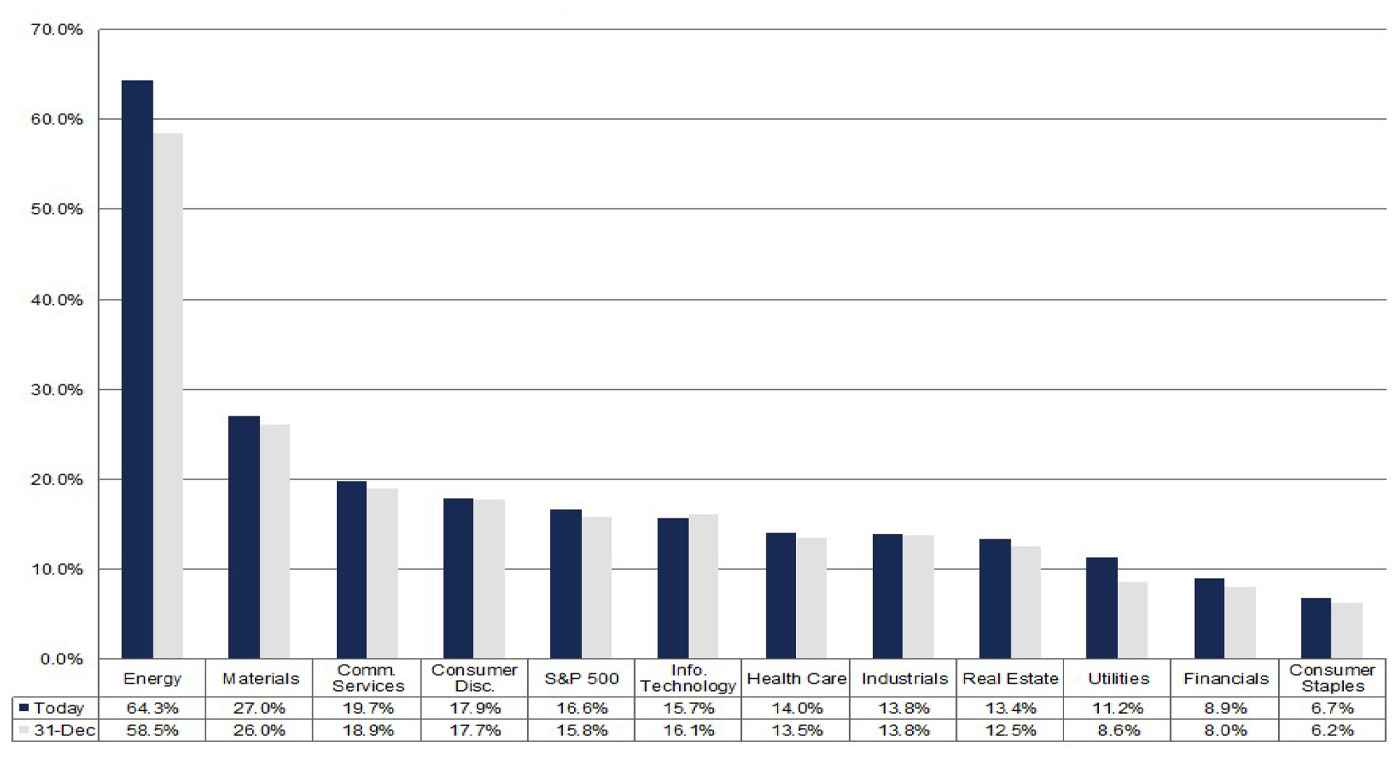 FactSet noted on June 17 that the Energy sector continues to benefit strongly in 2022 from rising oil prices:
"The Energy sector has recorded the largest percentage increase in estimated (dollar-level) earnings of all eleven sectors since the start of the quarter [Q2 2022] at 31.8% (to $49.9 billion from $37.8 billion). As a result, the estimated (year-over-year) earnings growth rate for this sector has increased to 213.1% from 137.6% during this time.
"This sector has also witnessed the largest increase in price (+1.1%) of all eleven sectors since March 31. Rising oil prices are helping to drive the increase in expected earnings for this sector, as the price of oil has increased by 17% since March 31 (to $117.58 from $100.28). Overall, 18 of the 21 companies (86%) in the Energy sector have seen an increase in their mean EPS estimate during this time."
FIGURE 2: S&P 500 SECTOR ESTIMATED EARNINGS GROWTH (Q2 2022)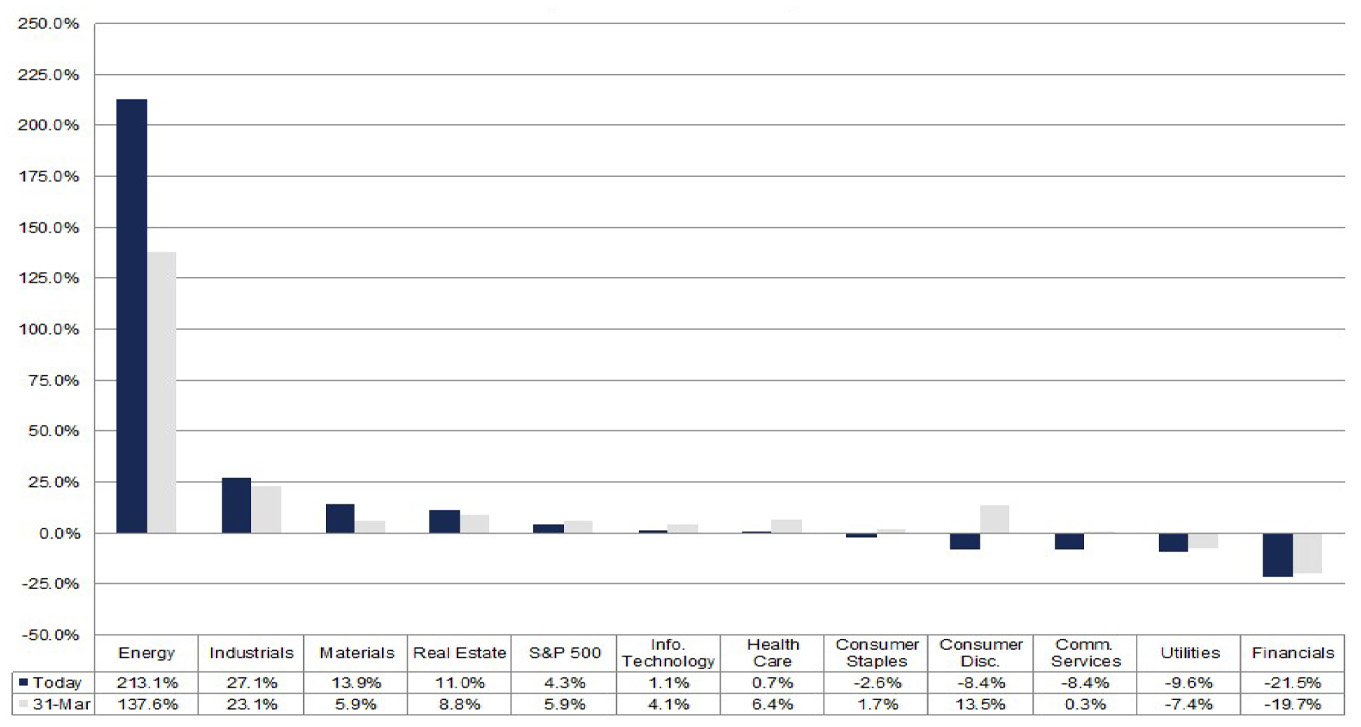 While there is little doubt that major energy companies have recently seen profits soar, the oil industry points out that revenues and earnings have fluctuated wildly over the past several years—driven by the volatile pricing of crude oil.
The editor of Oilprice.com noted on June 18,
"… ExxonMobil reported losses in four of the past ten quarters, including a whopping $20.1 billion loss in December 2020. That's what can happen when you don't control the price of the product you sell. …
"Oil companies aren't reaping huge profits because they are gouging consumers, and their high profits aren't driving inflation. The high profits and soaring inflation are both a result of high oil prices, and oil companies have little influence over that."
And the American Petroleum Institute (API), a trade group for the oil and natural gas industry, "called for the president to do more," reports MarketWatch:
"'While we appreciate the opportunity to open increased dialogue with the White House, the administration's misguided policy agenda shifting away from domestic oil and natural gas has compounded inflationary pressures and added headwinds to companies' daily efforts to meet growing energy needs while reducing emissions,' said the API's president and CEO, Mike Sommers, in a statement. 
"'I reinforced in a letter to President Biden and his Cabinet yesterday ten meaningful policy actions to ultimately alleviate pain at the pump and strengthen national security, including approving critical energy infrastructure, increasing access to capital, holding energy lease sales, among other urgent priorities. Ahead of his travel to the Middle East next month, we urge the President to prioritize unlocking U.S. energy resources—that are the envy of the world—instead of increasing reliance on foreign sources.'"

Quantitative analyst Rob Hanna discusses implied versus realized volatility and how their relationship may have impacted VIX levels the past two years.



Quantitative analyst Rob Hanna discusses implied versus realized volatility and how their relationship may have impacted VIX levels the past two years.

Financial advisor Ken Lubkowski says working with his OSJ gives him the flexibility to shape his practice, offering timely support in many areas.