While retirement may be an uphill climb for many, Jay Blanchard applies active management to prepare his clients for the inevitable hills and valleys of investing.
Proactive Advisor Magazine: Jay, you left the Air Force as a captain and specialist with satellite communications. Does anything from that experience apply to your work as an advisor?
Here is what I tell clients: "I'm an old Air Force officer. I did get to fly, though I wasn't a pilot. The Air Force teaches the importance of emergency training first. We were taught how to exit the aircraft very quickly in case of emergency or even to eject. Investments are much like that in that we always need to be prepared with contingency plans in case of tumultuous times in the economy or the markets."
Well, you don't start thinking about what to do when the wings are on fire in a jet … you should know that already. Same thing with investments in terms of having active strategies that are already prepared to react to changes in market conditions.
Over the last 13 years we have had two 50% crashes in the market. There is no reason to think that cannot happen again, no matter how well the market is behaving today—and especially with many big, troubling issues here at home and abroad.
I am a proactive advisor and not one to sit and wait. We build into our strategies risk mitigation, which is especially important for the retirees and pre-retirees we primarily work with. People have been told over and over again that you cannot time the market. I believe part of that is true, in the sense that over a very long period of time the market will revert back to its historical averages and trends. But it is untrue that you cannot employ strategies to avoid risk and those major hits to your portfolio. Why wouldn't you use strategies that could do that on behalf of your clients?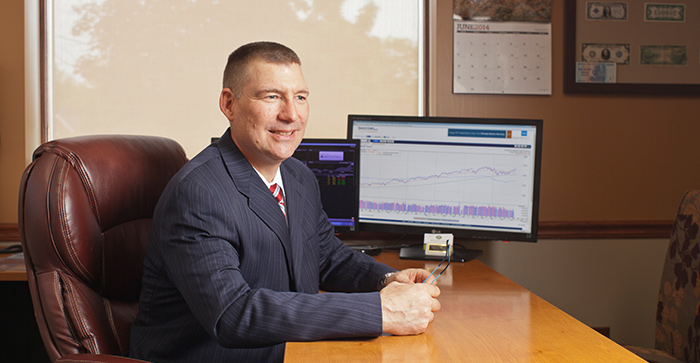 How did you first become interested in active management?
This has been a process that has occurred over many years. As you see from my background, I have always been very scientifically-minded and hyper-inquisitive. The investment world has been saying for years that "buy and hold" and traditional allocation models are the best solutions to investment management.
When you see the pain firsthand that has been inflicted on people's portfolios through these crashes, and the lingering aftereffects, how can a rational person accept that "solution" as the only answer? So I have sought out alternative tactical and risk-managed strategies over the years and have found some excellent third-party managers employing those strategies.
Can you talk about the process of introducing active management to clients?
Certainly, but let me qualify a few things first. We offer a holistic view of financial planning to clients, so that discussion does not happen in a vacuum. It is one part of a bigger discussion around planning issues having to do with a client's future needs, goals, and aspirations. And it has to take place within a deep dive into the very practical matters of taxation, college planning, expense management, long-term care, insurance, etc.
It is also colored by their appetite for risk and what makes the most sense in terms of allocations between the big buckets of strategic, tactical, and guaranteed investment strategies. I like to keep that discussion as jargon-free as possible, because what client can really relate to a phrase such as "tactical" investment strategies? But I treat clients as an equal partner, recognizing their intelligence and thoroughly discussing the differences between these three distinct approaches.
There is generally a role in most of our clients' portfolios for all three of these: longer-term core equity and bond strategies, highly adaptive risk-managed active strategies, and strategies that can offer a guaranteed income stream. It is all about managing client expectations and making sure we have the right pieces in place that will help them meet their overall needs.
Let's drill down on the tactical active strategies some more.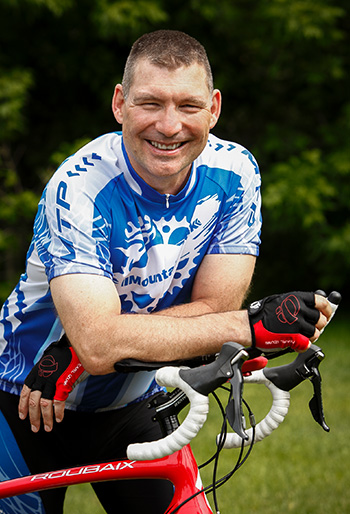 Sure. We will usually start by running a Morningstar analysis on their current investment portfolio and how that has performed over the last 10 years or so. We will also do something of a risk-return analysis on what they have been doing investment-wise.
This is pretty eye-opening, and just about every new client will never have seen anything like this before. I will also take them through some fundamental concepts of risk-return curves—using graphs—and explain how we utilize tactical active strategies to find the appropriate risk-return profile for a specific strategy or blend of strategies. This takes some time to explain, but it is a highly effective presentation. When they see where a combination of tactical strategies falls in terms of returns, with lower risk than they are now exposed to, that becomes clear as day from a conceptual standpoint.
I will also explain some statistics around the market's historical performance, showing the percentages of how often markets are in bull, bear, and sideways markets. Again, this is an eye-opener, and once they understand that, I will explain how the tactical strategies are formulated to perform under any market conditions—that we are employing third-party managers who do nothing but analyze and react to current market conditions.
This really starts making sense to clients, and I feel confident then that they will be open to exploring a variety of strategy combinations, depending on their specific needs. Setting the appropriate expectations and understanding of strategies becomes especially important when it comes time for client review meetings.
No matter what the overall market may be doing, we will have in place a well-diversified strategy combination, with each element doing what it is supposed to be doing. It is impossible to predict the future, or future returns, but I am firmly convinced that a well-diversified combination of strategies will perform the best, with managed risk, over market cycles.
Excellent, Jay. How do you get the word out to prospective clients?
Our firm, The Financial Guys, is very active in marketing in the Buffalo, New York, area. I help to line up guest speakers and occasionally appear myself on our radio show, which is the top-rated business talk show in western New York. This show focuses on personal finance, local economic issues, and topical national matters. It has been terrific for name awareness and lead generation, as well as providing a real service to the community. I also do a lot in terms of seminars and speaking engagements, and have a special interest in women's financial matters. I have developed an initiative called Wealth to Women that specifically addresses the needs of this audience. This fits in well with my overall philosophy and value proposition of empowering people to feel confident in their financial decision-making.
Disclosure: Securities and investment advisory services offered through NEXT Financial Group, Inc. Member, FINRA/SIPC. The Financial Guys LLC is not an affiliate of NEXT Financial Group, Inc.
Post-publication note: Mr. Blanchard has been registered with Peak Brokerage Services LLC since 2015.
Photography by KC Kratt