T​he housing sector was a huge and early beneficiary of the super-loose monetary policy of 2020–2021. But once the Fed started tightening, housing took the lead downward as well. This isn't a repeat of the 2006–2011 housing bust, but it will drag on. Don't expect any real recovery in housing until at least late 2023 or early 2024. Home sales and prices will continue to drag in 2023, particularly in the existing home market.
From May 2020 until June 2022, both the national Case-Shiller price index and the FHFA price index rose more than 40%. But since June 2022, Case-Shiller is down 2.4% and the FHFA is down 1.1%. The biggest declines so far have been out West, in San Francisco, Seattle, Phoenix, San Diego, and Las Vegas. But every major metropolitan area is down in the past three months—no exceptions.
FIGURE 1: UNITED STATES S&P CASE-SHILLER HOME PRICE INDEX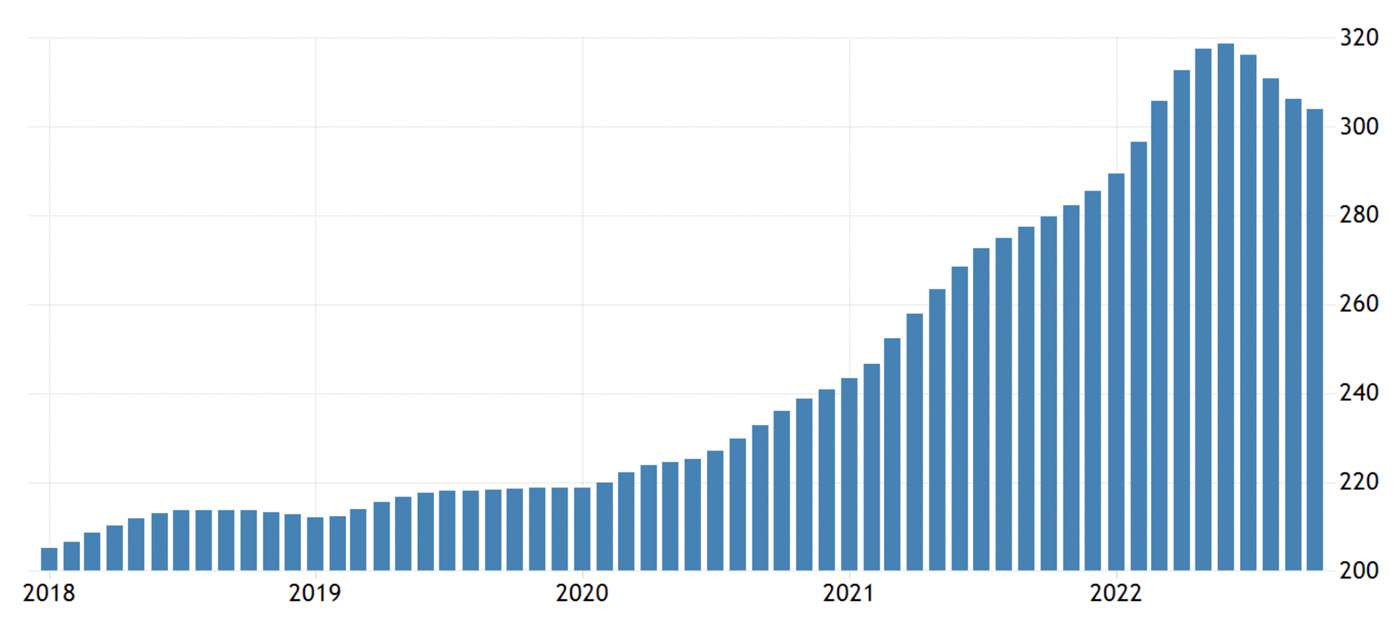 Sources: Trading Economics, Standard & Poor's
The drop in home prices should continue. Prices got too high relative to rents and need to fall more to better reflect rental values. We expect a peak-to-bottom decline in the 5%–10% range, but nothing like the 25% drop in 2006–2011. Why a smaller drop this time around? First, compared to the average of the past 40 years, home prices are already close to fair value when measured against construction costs. Second, there is no massive excess inventory of homes, unlike during the prior housing bust. And unlike during the subprime era, the vast majority of homeowners with mortgages are locked in at extremely low fixed rates, which means they will be very reluctant to sell.
The real effect of the change in interest rates is evident in the existing home market. Sales hit a 6.65 million annual rate in January 2021, the fastest pace since 2006. But, by November 2022, sales were down to a 4.09 million annual rate, a drop of 38.5% so far. Meanwhile, a decline in pending home sales in November (contracts on existing homes) signals another drop in existing home sales in December.
Existing home buyers have two major problems. The first is much higher mortgage rates, which means substantially higher monthly payments. Assuming a 20% down payment, the rise in mortgage rates and home prices since December 2021 amounts to a 52% increase in monthly payments on a new 30-year mortgage for the median existing home.
Second, it's hard to convince a current homeowner with a low fixed-rate mortgage to sell. If anything, it makes sense for them to ask for even more money if they'd have to take out a new mortgage elsewhere at a much higher rate. In other words, sellers should now want more for their homes, while buyers want to pay significantly less. This won't change soon, so expect existing sales to be even weaker in 2023 than last year.
New home sales are also down substantially since the COVID peak but should find a bottom sooner. The key is that with a new home, the seller is a contractor. Also, housing has been underbuilt in the previous decade. The average price of a new home will likely fall, but we need more of them. And more houses will likely be put in rental pools.
What's important to remember is that this business cycle isn't normal. COVID led to a massive surge in government stimulus, both monetary and fiscal, to fight widespread and overly draconian shutdowns. Housing is rarely a bright spot in recession years, and this year should be no different. But don't expect a catastrophe like the prior bust, and once a recession is over, housing will rebound much more swiftly than after the Great Recession in 2008–2009.
Brian Wesbury is chief economist at First Trust Advisors LP. He and his team prepare a weekly market commentary titled "Monday Morning Outlook," as well as frequent research reports. Proactive Advisor Magazine thanks First Trust for permission to republish an edited version of this commentary, which was first published on Jan. 3, 2023.
The opinions expressed in this article are those of the author and do not necessarily represent the views of Proactive Advisor Magazine. These opinions are presented for educational purposes only.

Financial advisor Ken Lubkowski says working with his OSJ gives him the flexibility to shape his practice, offering timely support in many areas.
First Trust Portfolios LP and its affiliate First Trust Advisors LP (collectively "First Trust") were established in 1991 with a mission to offer trusted investment products and advisory services. The firms provide a variety of innovative financial solutions, including UITs, ETFs, CEFs, SMAs, and portfolios for variable annuities and mutual funds. www.ftportfolios.com




Financial advisor Ken Lubkowski says working with his OSJ gives him the flexibility to shape his practice, offering timely support in many areas.