Overview of June 2021 existing home sales
Existing home sales increased 1.4% in June to a 5.860 million annual rate, just below the consensus expected 5.900 million. Sales are up 22.9% versus a year ago.

Sales in June rose in the Midwest, Northeast, and West, but remained unchanged in the South. The gain was due to both single-family homes and condos/co-ops.

The median price of an existing home rose to $363,300 in June (not seasonally adjusted) and is up 23.4% versus a year ago. Average prices are up 16.1% versus last year.
Existing home sales broke a losing streak in June, rising for the first time in five months due to modest gains in the supply of homes for sale and very strong demand.
The best news is that there are reasons to believe the worst of the inventory crunch is behind us. New home construction remains strong, and now that the pandemic seems to be ending and vaccines are widely available, it's likely that more sellers will feel comfortable listing their homes.
Both of these factors probably contributed to the 3.3% increase in inventories in May, which was also the fourth consecutive month of gains. Though inventories are still down 18.8% from a year ago (the most accurate measure for inventories given the seasonality of the data), that year-to-year rate of decline is slowing. The months' supply (how long it would take to sell today's inventory at the current sales pace) of existing homes for sale rose to 2.6 in June from May's reading of 2.5, though these readings remain near record lows.
FIGURE 1: NAR TOTAL U.S. EXISTING HOME SALES (THOUSANDS)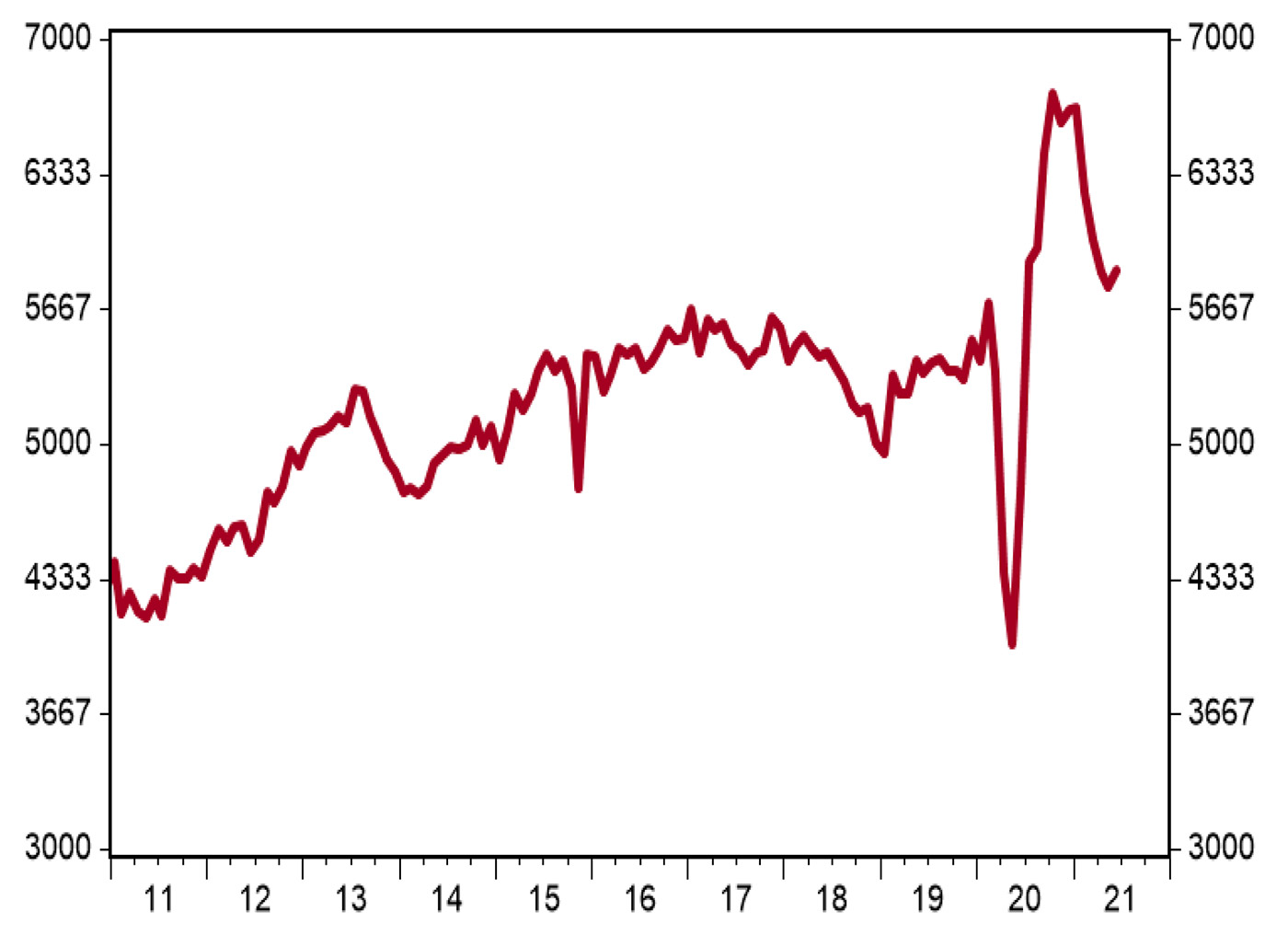 Note: Seasonally adjusted annual rate (SAAR)
Source: National Association of Realtors (NAR), Haver Analytics
Despite the ongoing shortage of listings, it looks like there is still significant pent-up demand from the pandemic, with buyer urgency so strong in June that 89% of the existing homes sold were on the market for less than a month.
The combination of strong demand and sparse supply has pushed median prices up 23.4% in the past year, the second-fastest rate (behind last month's report) on record going back to 2000.
FIGURE 2: PRICE TREND FOR EXISTING HOME SALES (IN U.S. $)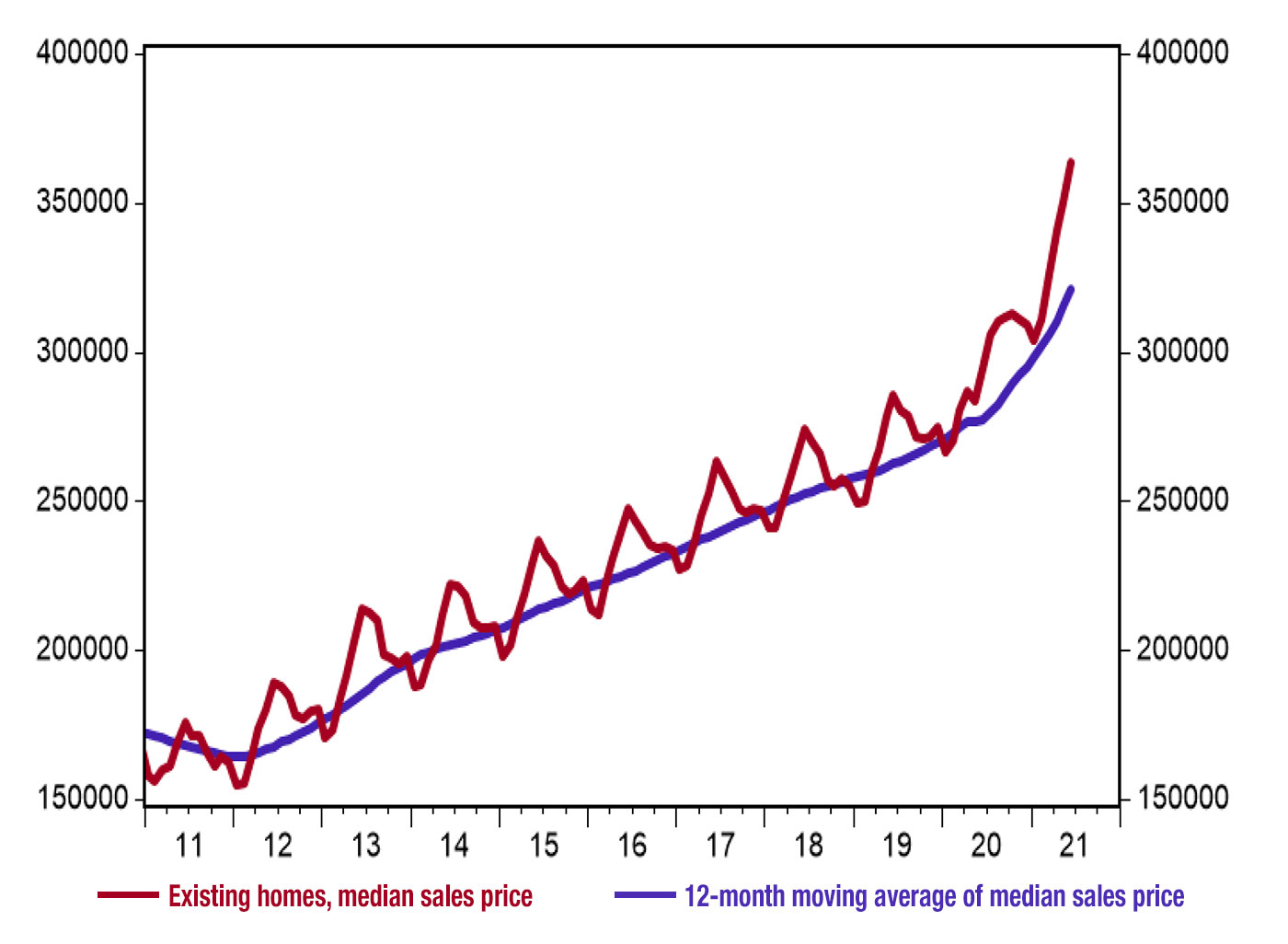 Source: National Association of Realtors, Haver Analytics
However, despite these issues, we expect sales in 2021 to ultimately post the best year since 2006.
Why?
First, more listings as the pandemic ends should help alleviate the worst of the supply crunch and help keep a lid on price growth.
Moreover, a trend toward work-from-home is likely to remain in place even as pandemic-related measures are eased around the country. That means people who were previously tied to specific locations, typically in urban areas, will have more flexibility, making more space in the suburbs an attractive proposition.
Finally, significant demographic tailwinds are coming together for home sales for the foreseeable future. Census Bureau population projections show that the key homebuying population of those 30–49 years old is set to grow significantly through 2039.
In other news, initial jobless claims unexpectedly rose 51,000 midmonth to 419,000. Continuing claims declined 29,000 to 3.236 million. We're not worried about the increase in initial claims, which are often buffeted by auto shutdowns at this time of year, but the federal government and its payments to individuals continue to hold back job gains. Meanwhile, the Kansas City Fed Manufacturing Index, which measures factory sentiment in that region, rose to a very strong reading of 30 in July from 27 in June.
TABLE 1: 2021 TRENDS FOR U.S. EXISTING HOME SALES BY REGION

Source: National Association of Realtors
The opinions expressed in this article are those of the author and do not necessarily represent the views of Proactive Advisor Magazine. These opinions are presented for educational purposes only.
Proactive Advisor Magazine wishes to thank Brian Wesbury, chief economist at First Trust Advisors LP, and his team for contributing this economic commentary. This article was first published on April 19, 2021.
First Trust Portfolios LP and its affiliate First Trust Advisors LP (collectively "First Trust") were established in 1991 with a mission to offer trusted investment products and advisory services. The firms provide a variety of innovative financial solutions, including UITs, ETFs, CEFs, SMAs, and portfolios for variable annuities and mutual funds. www.ftportfolios.com

Now, more than ever, advisors should formulate a succession plan—or at least explore the multiple options available for an economically sound and client-focused exit plan for the future.The COVID-19 pandemic has spurred a wave of financial advisors calling it quits,...

It's not about missing the best or worst days of the market; it's about staying with a disciplined investment plan for the long run.ne fail-safe sign of individual investor uneasiness in the financial market...

September has a reputation for being the worst month of the year for the stock market. And that is deserved. Since 1960, the average September return is -0.59%. The only other month with a negative average return for the same period is June, which has had an average...

David L. Rhodes, CFP, MBA • Bryan, TXThe Rhodes Financial Group • Cetera Advisor Networks LLCy background is somewhat unique for a financial advisor. In high school, I was always very interested in science...