Unfortunately for anyone who drives a car in the U.S., the price of crude oil has risen about 35% in the past three months. The price of West Texas Intermediate (WTI) crude oil has moved from about $68 per barrel to over $90 since the end of July. This will also have a significant impact on residents of the northern half of the country, as heating oil prices have also seen an uptrend.
The question now for many analysts is whether the price of crude will break $100 per barrel in 2023. The Guardian writes,
"Earlier this month, Saudi Arabia extended 1.3m barrels per day (bpd) of combined cuts to the end of the year, accelerating a drawdown in global inventories.
"Supply cuts by Russia to boost prices have also supported efforts by other Opec countries to push prices towards $100 a barrel.
"The International Energy Agency (IEA) warned last week that the ongoing supply cuts made by these two Opec+ leaders would create a 'significant supply shortfall,' which poses a considerable threat to ongoing price volatility."
FIGURE 1: CRUDE OIL WTI (NYM $/BBL) FRONT MONTH CONTRACT

Source: MarketWatch, data as of 9/18/2023
"Oil prices hit a 10-month high on Friday and posted a third weekly gain as supply tightness spearheaded by Saudi Arabian production cuts combined with optimism around Chinese demand to lift crude. …
"Oil prices are also on track for their biggest quarterly increase since Russia's invasion of Ukraine in the first quarter of 2022."
FIGURE 2: QUARTERLY PRICE TRENDS FOR BRENT CRUDE OIL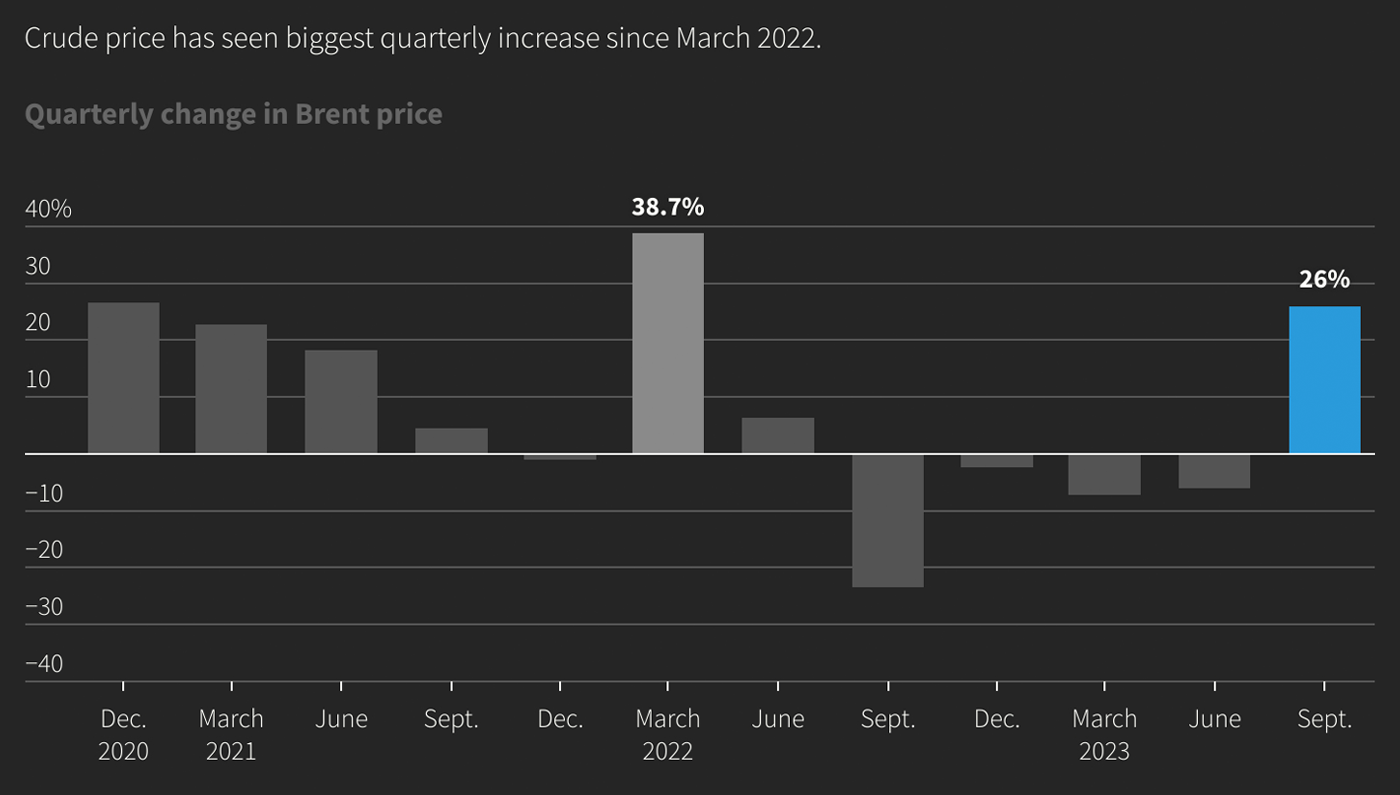 Source: Reuters, data as of 9/15/2023
Impact on consumer gasoline prices
AAA examined prices at the pump last week, noting,
"The national average for a gallon of gas rose by a nickel since last week to hit $3.85. The primary culprit is the surge in oil costs, which have jumped several dollars to hover around $90 per barrel.
 "'Oil costs are putting upward pressure on pump prices, but the rise is tempered by much lower demand,' said Andrew Gross, AAA spokesperson. 'The slide in people fueling up is typical, with schools back in session, the days getting shorter, and the weather less pleasant. But the usual decline in pump prices is being stymied for now by these high oil costs.'" 
FIGURE 3: NATIONAL GAS PRICE COMPARISON (2019–2023)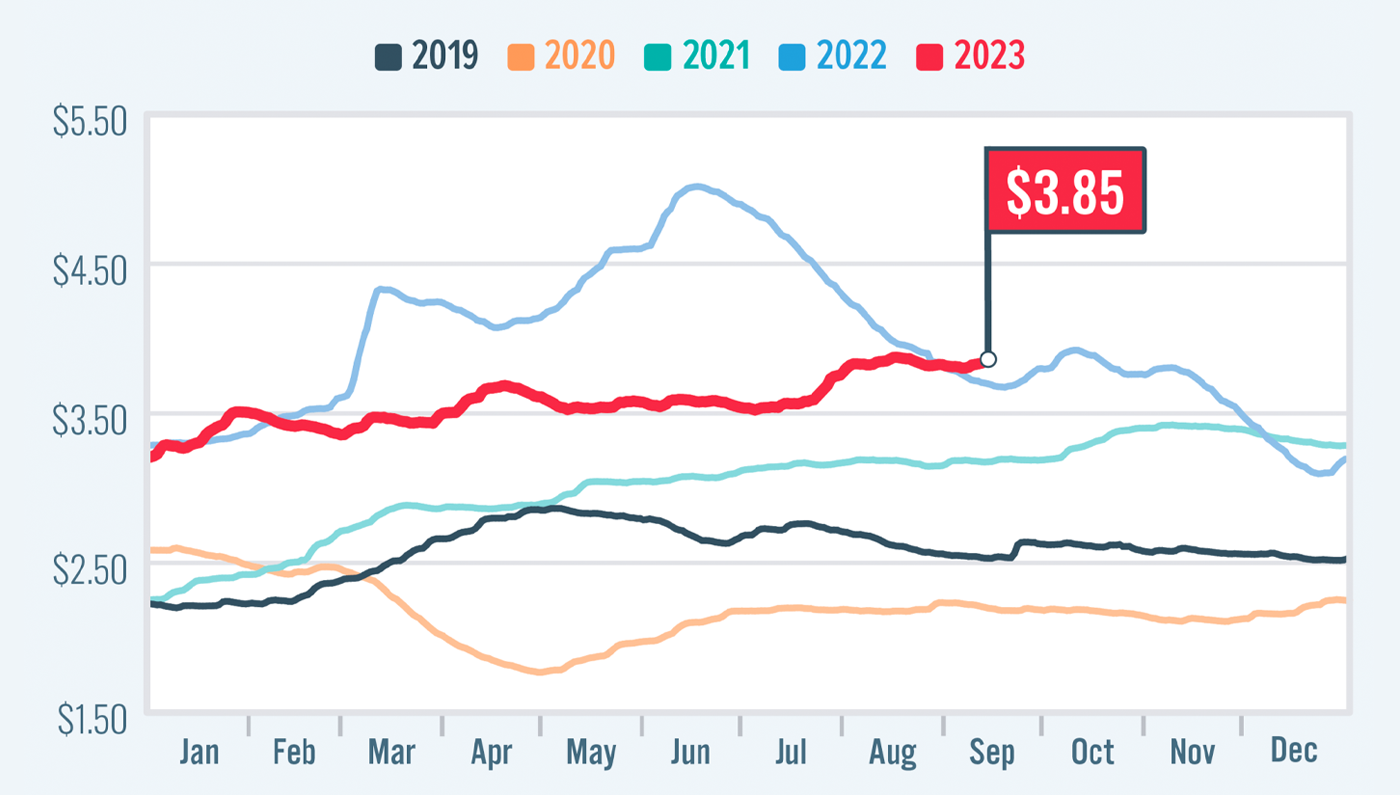 Note: Prices are per gallon for regular unleaded gasoline.
Source: AAA (GasPrices.AAA.com)
Heating oil's upward trend
"Heating oil prices in the US have been on the rise driven by concerns about supply leading up to the winter season. Planned maintenance at key refineries in North America is expected to reduce distillate fuel production by 120,000 barrels per day over the next six to eight weeks. The impact of these production cuts is anticipated to be particularly felt in the heating supply on the US East Coast, which accounts for 80% of the country's distillate consumption. Also, oil prices surged to an over ten-month high in anticipation of a widening market deficit in Q4."
FIGURE 4: HEATING OIL IS TRACKING CRUDE'S MOVE HIGHER (USD/GALLON)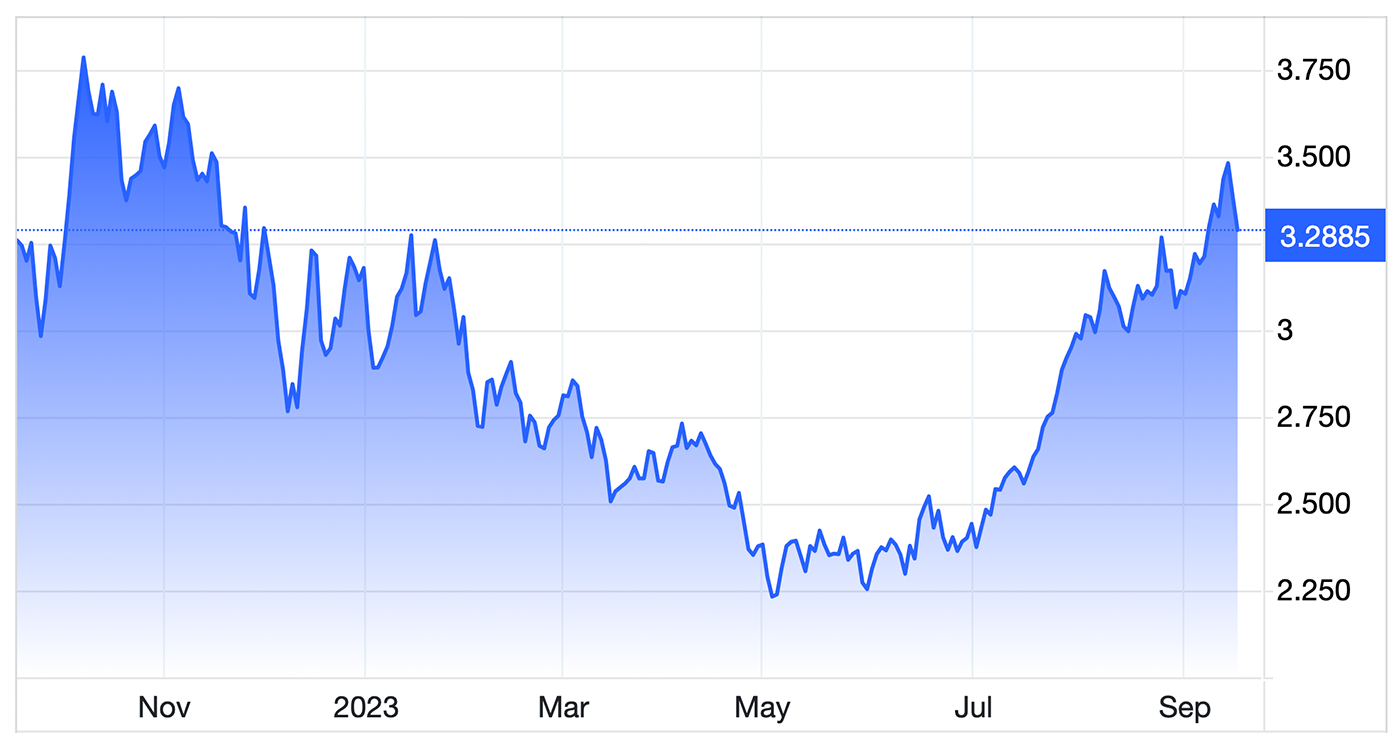 Source: Trading Economics, data as of 9/18/2023
Energy sector also trending higher
"From solely a technical perspective, the long-term chart of the Energy sector looks bullish. After the rally off the COVID lows, the sector has been trading in a sideways range for over a year now. While it briefly broke below its uptrend from the successful retest of the COVID lows, it quickly rebounded, and as shown in the one-year chart, has broken the string of lower highs that has been in place since late last year."
FIGURE 5: ENERGY SECTOR (LAST 12 MONTHS)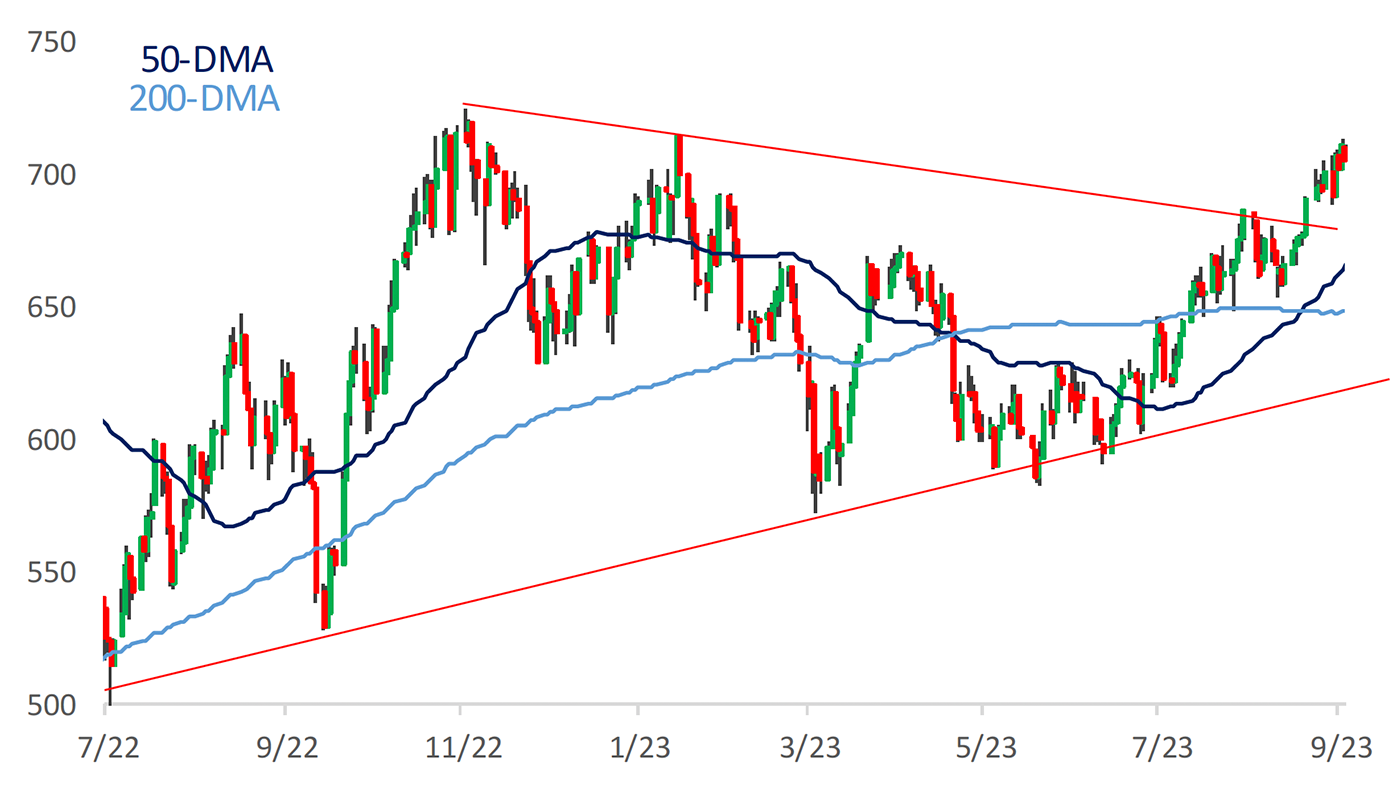 Source: Bespoke Investment Group
The opinions expressed in this article are those of the author and the sources cited and do not necessarily represent the views of Proactive Advisor Magazine. This material is presented for educational purposes only.