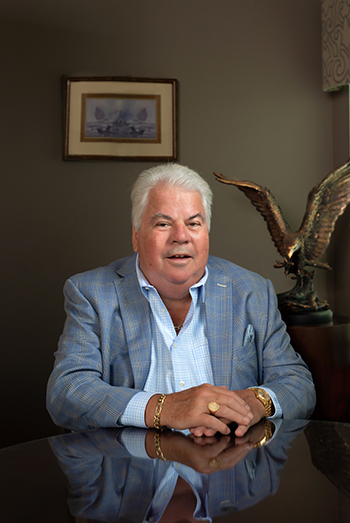 I believe many attributes distinguish our firm from a competitive standpoint.
We have a long history of success in serving clients in our area and a highly visible presence. In addition, our team members are active in a variety of civic and charitable organizations.
St. Pedro and Associates has a team of very experienced and knowledgeable advisors, a strong support team, a commitment to excellence in customer service, and sophisticated product and service offerings.
I think one of our biggest strengths and competitive differentiators is our investment management process. We can offer our clients a highly diversified approach to portfolio management using dynamically risk-managed and rules-based strategies.
We have explored and worked with a few different third-party managers over the years. However, we never devoted a great deal of client money to those providers because we were not truly satisfied with their performance. Their strategies did not always deliver on our expectations, and we could not justify the fees involved for lackluster performance.
That all changed a couple of years ago as we continued our due diligence on investment management firms. We found one that has a very different approach in our industry. They use rules-based and risk-managed strategies that can make portfolio adjustments based on the current market environment, as well as identify and react to trends of different asset classes and sectors.
Unlike actively managed mutual funds, their strategies can dramatically increase or decrease market exposure, use leverage if appropriate, or even use inverse positions in very poor market conditions. Each strategy has inherent risk-management rules, and that risk management is enhanced through a portfolio of diversified strategies.
Since many of our clients are near or already in retirement, risk management and asset protection are important priorities. We were especially pleased with the performance of this manager during the volatile market developments of 2020.
As the market plunged early in the pandemic and there were many unknowns, the strategies from this manager were able to reduce exposure and mitigate drawdowns significantly versus the broader market. But, perhaps most importantly, their rules were able to identify entry points for increasing market exposure and take advantage of improving market conditions during the remainder of the year.
Our clients were very pleased with this performance and especially the risk-management aspect during the worst of the market conditions. We have steadily increased many of our clients' portfolio allocations to these types of strategies. We consider it a competitive advantage to be able to offer this style of active investment management to our clients, especially at a fee structure that we think is very reasonable for the value this approach delivers.
Disclosure: Securities offered through Securities America Inc. Member FINRA/SIPC. Advisory services offered through Securities America Advisors. St. Pedro & Associates is not affiliated with the Securities America companies. Phone: (610) 792-2500.
Photography by Kelly O'Keefe