"There's a new AI bot in town: ChatGPT, and you'd better pay attention, even if you aren't into artificial intelligence.
"The tool, from a power player in artificial intelligence called OpenAI, lets you type natural-language prompts. ChatGPT offers conversational, if somewhat stilted, responses. The bot remembers the thread of your dialogue, using previous questions and answers to inform its next responses. It derives its answers from huge volumes of information on the internet. …
"This artificial intelligence bot can answer questions, write essays and program computers. …
"… And it's becoming big business. In January, Microsoft pledged to invest billions of dollars into OpenAI. A modified version of the technology behind ChatGPT is now powering Microsoft's new Bing challenge to Google search and, eventually, it'll power the company's effort to build new AI co-pilot smarts in to every part of your digital life. OpenAI has also announced a $20 per month ChatGPT Plus service that responds faster and gets new features sooner."
CNET says The New York Times is reporting that the ChatGPT service is now being used daily by about 30 million people.
And data analytics firm Statista says, "ChatGPT gained one million users just five days after launching in November of last year."
Statista compares this to other popular online services that it says have generally taken much longer to hit the one million user mark:
"Instagram is among those which come the closest. The popular social media service achieved one million users in just 2.5 months, albeit measured via downloads of the app. Spotify and Dropbox also achieved the feat quickly—in five and seven months, respectively, being services that like ChatGPT offer an immediate practical use. Apart from Instagram, social media services usually took a bit longer to gain one million users."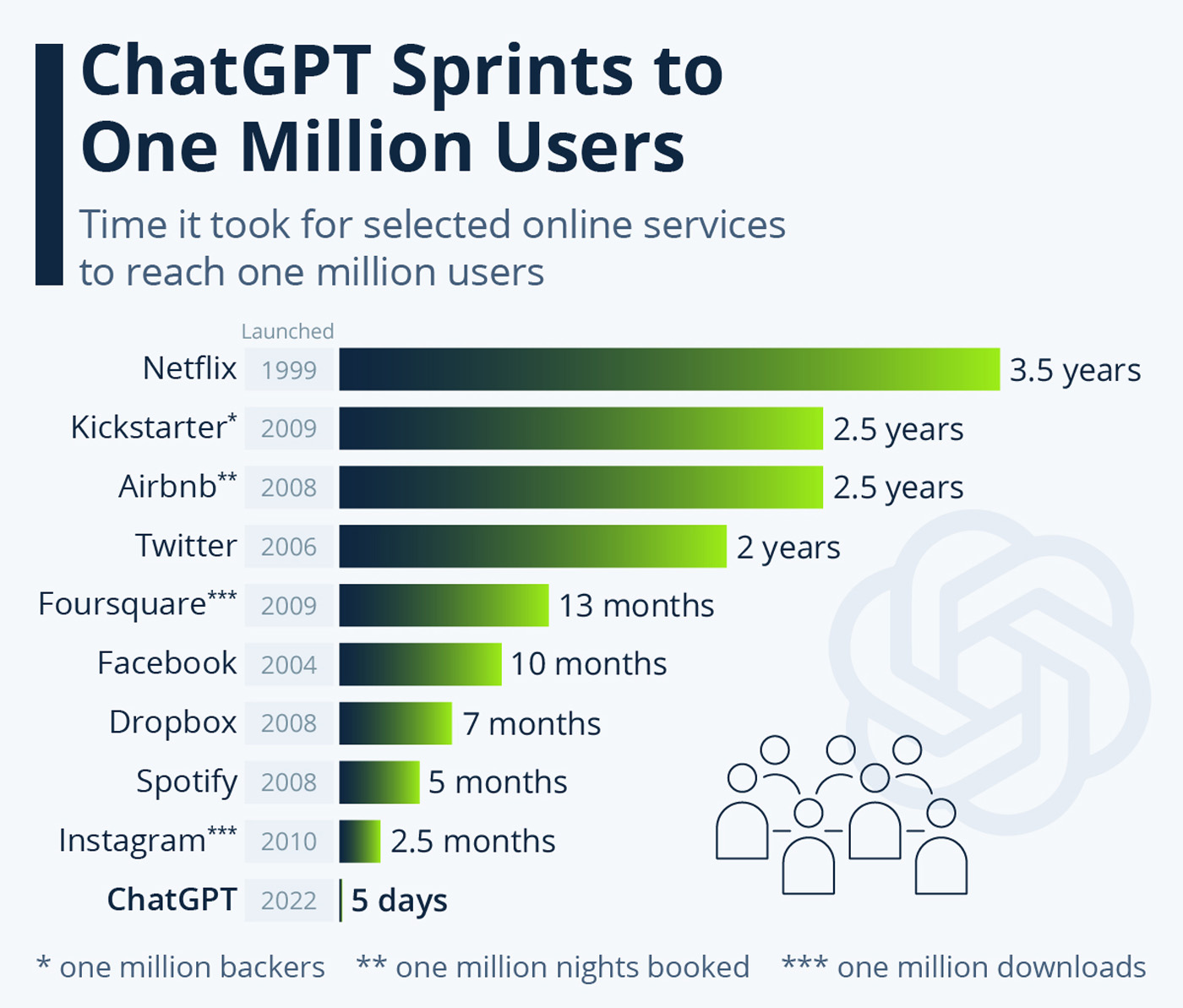 Source: Statista, company announcements via Business Insider and LinkedIn
Where are AI-assisted search and other applications headed?
CNET points out that the early forays into artificial intelligence date back to the 1950s, citing, "the famous 'Imitation Game' that computer scientist Alan Turing proposed in 1950 as a way to gauge intelligence."
AI-assisted applications have already permeated many industries for years and several aspects of the financial industry, including data mining, investment strategy development, "robo advising," and financial planning. (Please see our articles, "How AI is 'moving mountains' across the investment landscape" and "Is artificial intelligence the future of financial planning?")
But what is different at this point in time is the growing awareness of consumers related to AI and potential access to tools they can use on their own.
It is also creating new competition within the internet search space, with Google taking the challenge very seriously. ChatGPT triggered a "code red" emergency within Google, says CNET, citing The New York Times.
But Google has not been sitting on its hands in the space, with AI already used in its search functions. A recent news release (Feb. 6) from Google stated,
"… That's why we re-oriented the company around AI six years ago—and why we see it as the most important way we can deliver on our mission: to organize the world's information and make it universally accessible and useful. …
"… Two years ago we unveiled next-generation language and conversation capabilities powered by our Language Model for Dialogue Applications (or LaMDA for short).
"We've been working on an experimental conversational AI service, powered by LaMDA, that we're calling Bard. And today, we're taking another step forward by opening it up to trusted testers ahead of making it more widely available to the public in the coming weeks.
"Bard seeks to combine the breadth of the world's knowledge with the power, intelligence and creativity of our large language models. It draws on information from the web to provide fresh, high-quality responses. Bard can be an outlet for creativity, and a launchpad for curiosity, helping you to explain new discoveries from NASA's James Webb Space Telescope to a 9-year-old, or learn more about the best strikers in football right now, and then get drills to build your skills."
Barron's weighed in on AI developments in "Inside the AI frenzy," concluding, "The AI frenzy comes at a notable time for tech companies, which saw their stocks tumble in 2022. Growth has slowed, the market for IPOs has all but disappeared, and regulatory scrutiny is mounting. The tech sector could use a shot in the arm—AI may be about to deliver it."
Along with extensive analysis of the current AI environment, Barron's also referenced recent statements from the heads of Alphabet (Google), Microsoft, and Meta (FaceBook/Instagram):
"AI is the most profound technology we are working on today." –Alphabet CEO Sundar Pichai
"AI will fundamentally change every software category, starting with the largest category of all—search." –Microsoft CEO Satya Nadella
"AI is the foundation of our discovery engine and our ads business." –Meta CEO Mark Zuckerberg.
Barron's cited three categories of stocks that could reap benefits from the market's current AI focus:
Major search players "on the front lines": Microsoft (MSFT) and Alphabet (GOOGL).
The "arms dealers" in software and hardware: Nvidia (NVDA), Adobe (ADBE), Advanced Micro Devices (AMD), and IBM (IBM).
"Speculative bets" in the AI space: C3.ai (AI), SoundHound AI (SOUN), BigBear.ai Holdings (BBAI), and BuzzFeed (BZFD).
Bloomberg recently provided an analysis of the 2023 performance of several stocks in the speculative category.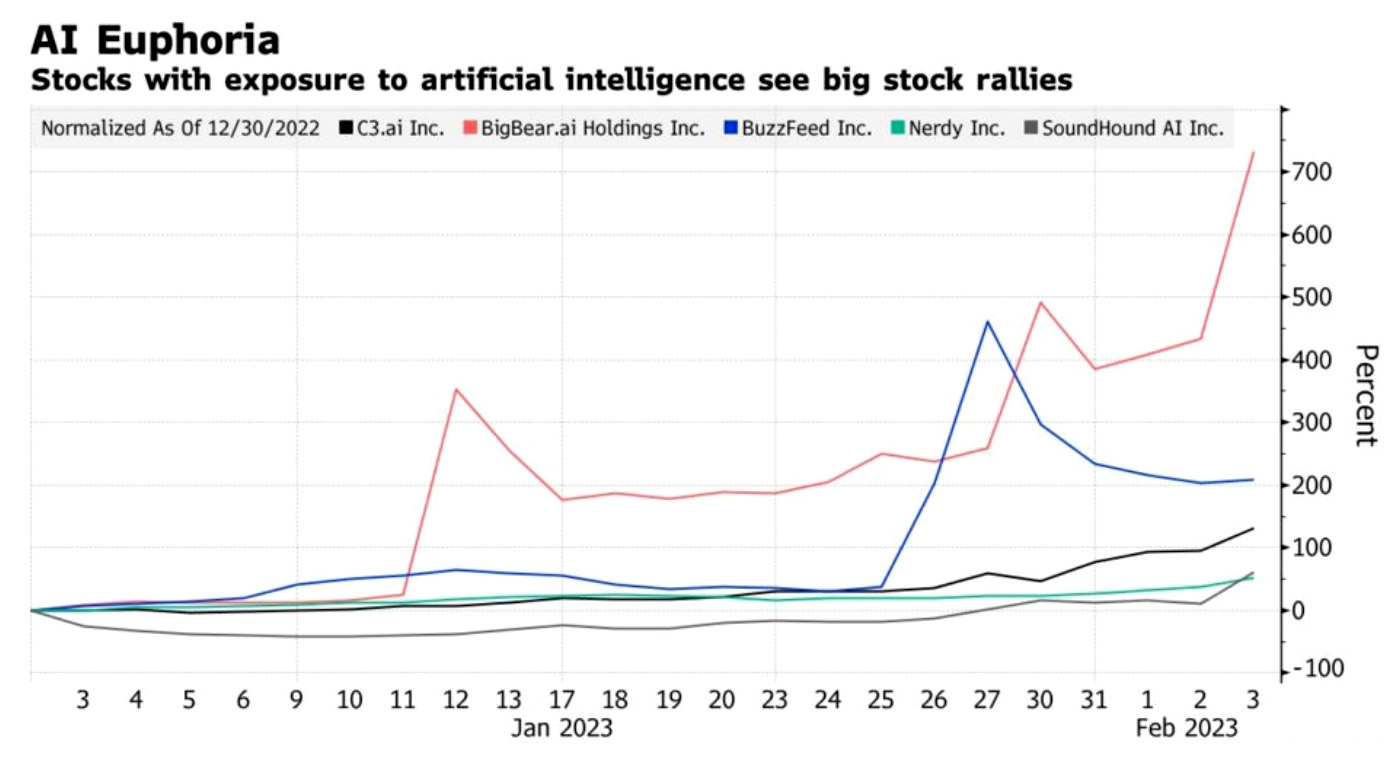 he calendar year 2022 was difficult to navigate for most asset classes. To put it in perspective, it was the first calendar year on record that saw the S&P 500 Index and U.S. 10-year Treasury bonds both...