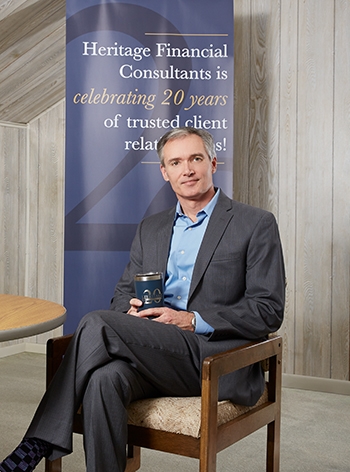 Before entering the advisory field, I spent about 10 years in the communications field, working for my own company and others. I also worked in public relations for the state of Delaware and as a public information officer for a local school district.
Looking back, I feel my experiences in communications, education, and the public sector were all very valuable in contributing to my skill set as a financial advisor. Developing sound financial solutions is one part of the equation in guiding clients. Effectively teaching and communicating financial concepts to clients is, in many ways, just as important.
I consider myself a financial advisor by profession and an educator at heart. My job is to help my clients understand the various major financial aspects of the world that may impact them, as well as the pros and cons of different approaches to handling them. If I've done my job well, our clients will understand what I'm recommending and why—and build a sense of personal ownership of their financial plan. I want our relationship to be a partnership, where they see me as a peer offering valued guidance and knowledge.
What has always been at the forefront for me when building my practice is to make sure I understand my clients and their families as well as I know the solutions I am proposing. Beyond their risk tolerance, I want to know how they feel about each option under discussion. What struggles or opportunities might their family face in the coming five, 10, or 20 years? Do they foresee an aged parent moving in with them? Will a child need significant financial support for college? Does one of the spouses work in a high-risk field that may affect their income if they become injured? Do they have a child with special needs who might require a trust?
Also, I want to know what goals or joys in life they hold meaningful. Do they plan on charitable giving? Is it important to help a new college graduate afford a car or apartment? Is one of their dreams to have a vacation home? Do they wish to help grandchildren with educational expenses? I believe our role as advisors is to be a partner with our clients through the hills and valleys, sharing the burdens when we can and sharing in life's celebrations when they occur.
My practice focus is on retirement, investment, and family legacy planning, and I am committed to helping our clients develop detailed avenues to financial freedom. The most gratifying comment I receive from clients is when they say, "I wish I had met you sooner." I am always moved by hearing a heartfelt thank-you from a client. It means that I did more than educate or provide a solution. It means I helped them in their day-to-day life.
Disclosure: Robert G. Ziegler is a registered representative of Lincoln Financial Advisors Corp. Securities and investment advisory services offered through Lincoln Financial Advisors Corp., a broker-dealer and a registered investment advisor. Member SIPC. Insurance offered through Lincoln affiliates and other fine companies and state variations thereof. Heritage Financial Consultants is not an affiliate of Lincoln Financial Advisors Corp. CRN-3367637-121120.
Photography by Deirdre Ryan

Steven Heiman • Wichita, Kansas​Cooper Malone McClain Inc.Read full biography belowProactive Advisor Magazine: Steve, how do you see your role in working with clients?​While I work with many clients on their total financial picture, I see myself as more of an...

Top-performing financial advisory teams know that success is an ongoing process. They seek out opportunities to learn and share with each other, implementing best practices and effective drivers of growth.[dropcap style="font-size: 60px; color:...

​espite the threats emanating from the banking sector last week, equity markets handled the uncertainty with surprising weekly strength. Amid heightened volatility, the S&P 500 registered a weekly gain...

he calendar year 2022 was difficult to navigate for most asset classes. To put it in perspective, it was the first calendar year on record that saw the S&P 500 Index and U.S. 10-year Treasury bonds both...