As Treasury Secretary Mnuchin leads the Trump administration's effort to forge an agreement with Congress on another pandemic relief bill, the employment picture remains bleak for many Americans.
Data analytics firm Statista wrote at the end of last week,
"Roughly 30 million Americans fear for their livelihood as Congress has yet to find a compromise on extending the weekly supplement to regular unemployment benefits due to expire this weekend. As part of the CARES Act, the Federal Pandemic Unemployment Compensation program (FPUC), which provides an additional $600 per week to individuals who are collecting regular jobless benefits, has proven highly effective in keeping affected households afloat during the past few months, and it is widely feared that millions of workers will no longer be able to pay their bills or serve their debt once that bonus is taken away.
"According to data published by the U.S. Department of Labor on Thursday, more than 30 million Americans currently receive unemployment benefits, 17 million through regular state programs and another 13 million through the federal Pandemic Unemployment Assistance program, which is available to individuals who are self-employed or who otherwise would not qualify for regular unemployment compensation. As the majority of those 30+ million are said to qualify for the weekly $600 bonus, economists are warning that consumer spending could fall off a cliff in case the program expires without an adequate follow-up solution in place."
FIGURE 1: AMERICANS RECEIVING UNEMPLOYMENT BENEFITS BY CATEGORY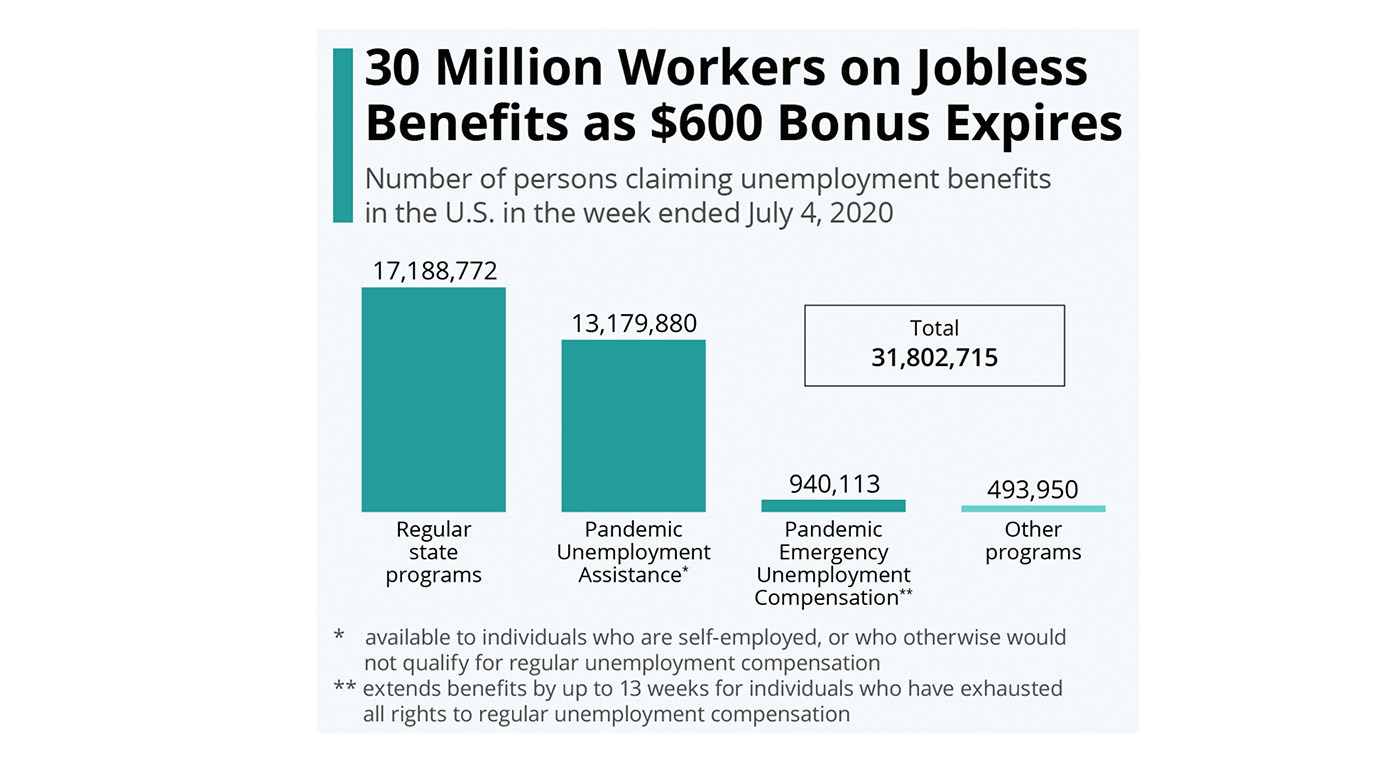 Sources: U.S. Department of Labor, Statista
Including those people claiming unemployment benefits, the COVID-19 pandemic has financially impacted nearly 50% of U.S. households for a variety of reasons.
Statista notes,
"A survey by Bankrate and YouGov has shown that almost half of U.S. households have suffered a decline in income due to the coronavirus pandemic. Only 45 percent of respondents in the late-June survey said that their household income had not been negatively affected, while 6 percent declined to answer. …
"Recovery from these income losses seemed far away, according to respondents. 19 percent of those negatively affected said it would take a year or more for them to bounce back, while another 18 percent thought that it would take between 6 months and a year. 4 percent said that they would never financially recover from this."
FIGURE 2: 49% OF U.S. HOUSEHOLDS CLAIM FINANCIAL IMPACT FROM COVID-19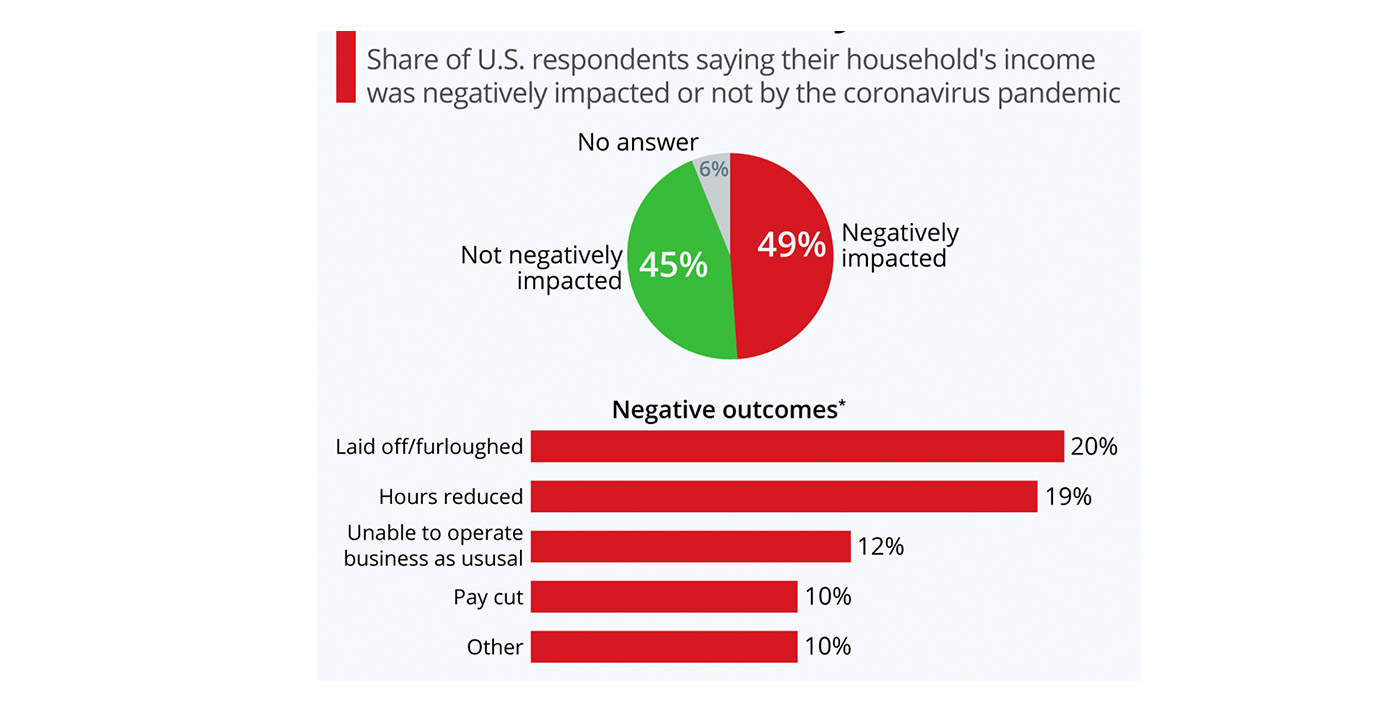 * Multiple answers possible.
Sources: Bankrate/YouGov, Statista. Survey conducted June 18–23, 2020.
The good news is that the CARES Act has provided essential income to millions of Americans and has had a profound effect on consumer spending and the economy.
"Without the extra income provided by PUC [Pandemic Unemployment Compensation] payments—and the expansion of eligibility for jobless benefits to freelancers and the self-employed through Pandemic Unemployment Assistance, which has roughly doubled the number of Americans getting support—the total amount of pay received by employed and unemployed workers through their jobs and from regular unemployment insurance would have been 6% lower in May than in February. That would have been the biggest decline in worker pay since the Great Depression. Instead, employee compensation plus jobless benefits was 3.5% higher in May than in February. …
"While consumer spending on services is still far below previrus levels, the V-shaped recovery in retail spending on goods was possible only because of the massive increase in incomes for Americans in the bottom of the distribution. Spending by higher-income Americans has recovered far less. Economists at the JPMorgan Chase Institute and the University of Chicago found that jobless Americans are responsible for the bulk of the consumption recovery, with employed Americans still spending significantly less than before the pandemic."
FIGURE 3: ENHANCED UNEMPLOYMENT BENEFITS BOOSTED WORKER PAY
AND CONSUMER SPENDING

Note: January 2019 = 100; data on pay through May, data on spending goes through June.
Sources: Bureau of Economic Analysis, Census Bureau; Barron's calculations