O
ur two Florida offices are located near Sarasota. It is a very attractive area for retirees, and we tend to focus on that target segment. Most of our new retirement-planning clients come to us from one of three avenues in our prospecting strategy: (1) a referral by current clients, (2) a referral from our third-party professional relationships, or (3) through educational events.

As a wealth management advisor, I offer comprehensive financial planning as well as investment management. I tell clients that we will look at all areas of their financial lives. Investment management is an important part of what we do, but it is only one piece of what our practice has to offer. We also look at liability management, tax planning, risk management, legacy planning, retirement income strategies, and charitable solutions. In a nutshell, we look at the entire financial picture for clients. I believe this full-service approach contributes a great deal to client satisfaction and the willingness of our current clients to recommend our firm to friends, associates, or family.
Our third-party relationships include attorneys, accountants, realtors, and mortgage officers at banks and mortgage companies. We clearly explain our services to highly regarded practitioners in each of these areas and try to implement cross-referrals where appropriate. We have found that when people are considering retiring to our area, they may spend a good amount of time exploring the area first. When they are ready to make the transition to both retirement and a new location, these third-party professionals are often consulted. People need to update their wills and trusts, purchase a home, discuss matters with a tax professional, and perhaps take out a new mortgage. With our relationships, we are well-positioned if a retiree or retired couple also would like to consult with a financial advisor.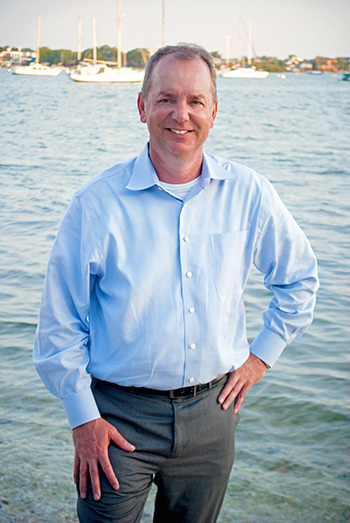 The third piece of our prospecting strategy for retirement-planning clients is related to financial education. On a monthly basis, our firm offers clients a luncheon and the opportunity to be educated on a variety of financial topics. The presenter might be me, one of the other members of our firm, or one of the third-party professionals we have a relationship with. We cover areas such as legacy planning, tax planning, or investment risk management.
We are fortunate to have a great office layout with a meeting room that can comfortably accommodate 75 people around tables. Our presentations are not sales pitches and are informal in nature, where people can ask questions and interact with the presenters. The only thing we ask is that our clients please consider inviting a friend or family member to come to the presentation. This is usually pretty successful, as our clients have generally developed a great deal of trust in our people and our services. We develop many qualified leads from new people who attend the presentations and want to learn more about our firm and what we might be able to do for them from a financial perspective.
Disclosure: Securities offered through LPL Financial, member FINRA/SIPC. Investment advice offered through Independent Financial Partners (IFP), a registered investment advisor. AWA Investment Advisors and IFP are separate entities from LPL Financial.
Post-publication note: As of this update (April 2021), Mr. Aiken is affiliated with Private Advisor Group LLC.
This article first published in Proactive Advisor Magazine on May 4, 2017, Volume 14, Issue 4.
Photography by Juleah Aiken