D​espite the threats emanating from the banking sector last week, equity markets handled the uncertainty with surprising weekly strength. Amid heightened volatility, the S&P 500 registered a weekly gain of 1.4% and the NASDAQ Composite was up an impressive 4.4%. Only the Dow suffered a minor loss, dropping 0.15%.
The equity market's large swings both up and down last week were reflected in a spike in the VIX (Cboe Volatility Index). Barron's wrote this past weekend,
"The Cboe Volatility Index, or VIX, jumped to nearly 30 points this past week, after spending most of the prior three months hovering around 20. The sudden spike has pushed the Cboe VVIX Index—yes, there's an index for the volatility of volatility—to levels not seen in a year, after falling to its lowest reading in more than seven years in early March. It's enough to give any investor whiplash, especially because the risks are so hard to quantify and could go either way.
"'For much of last year, volatility was elevated, but the risks were somewhat "known" (chiefly inflation and recession),' wrote Christopher Jacobson, a strategist at Susquehanna International Group. 'Now, the introduction of the banking crisis has created a new unknown, which could ultimately mean a sharper increase in volatility (if worse than expected) or a quick reprieve (if fears prove unfounded).'"
FIGURE 1: VIX SPIKES AS BANKING CONCERNS DRIVE MARKET HEADLINES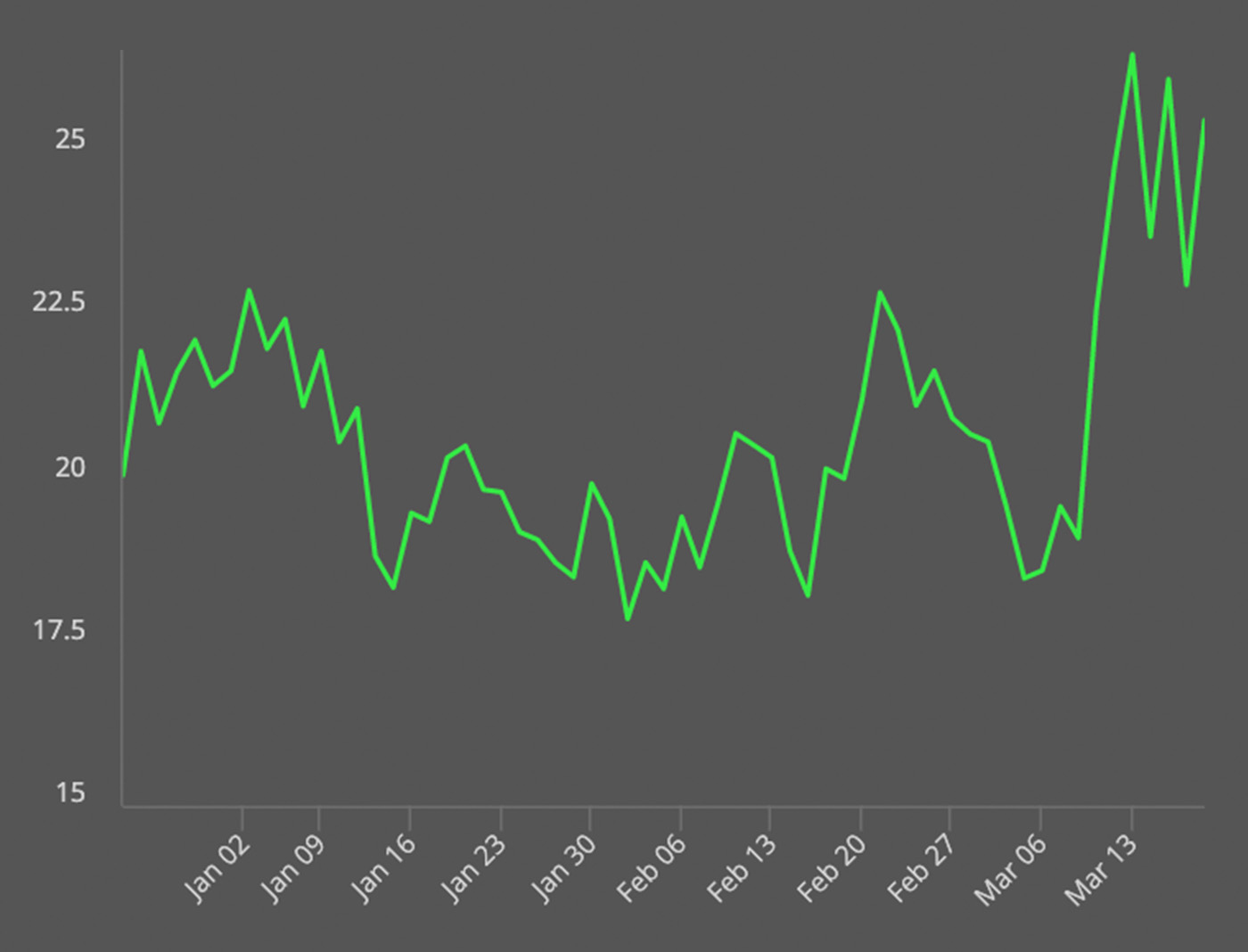 Last week was highly surprising to many in terms of the market's ability to withstand the troubling news out of the banking sector. Wealth management firm Nerad + Deppe wrote,
"Now that we're a week and a half into a banking crisis, our main observation is that the price action for the S&P 500 is either demonstrating tremendous resiliency or tremendous stupidity! Hey, beauty is indeed in the eye of the beholder.
"From a resiliency perspective, the S&P 500 closed Wednesday, March 8 at 3,992.01 and here we are, seven trading days later, with a now defunct Silicon Valley Bank and Signature Bank, with almost all regional banks seemingly on life support, and the S&P 500 is only down -1.88% on a closing price basis dating back to March 8. By contrast, the S&P 500 Financial Sector (SPF) is down -11.52% over the same time period and the SPDR S&P Regional Bank ETF (KRE) is down a whopping -24.71% the last seven days. We find this divergence where the S&P 500 snoozes through a collapsing financial sector totally astounding."
Three charts capture significant trends during banking uncertainty
MarketWatch recently presented several charts that highlighted the unusual nature of last week's market action. Three of those are highlighted here.
MarketWatch noted,
"Investors are seeking succor from this week's U.S. stock market volatility in shares of some of the most established technology companies in the wake of the collapse of California's Silicon Valley Bank where many startup businesses banked. … The Nasdaq Composite Index outperformed the Dow Jones Industrial Average by 4.45 percentage points this week, its largest weekly outperformance since March 20, 2020, according to Dow Jones Market Data."
FIGURE 2: NASDAQ OUTPERFORMANCE VERSUS DOW INDUSTRIALS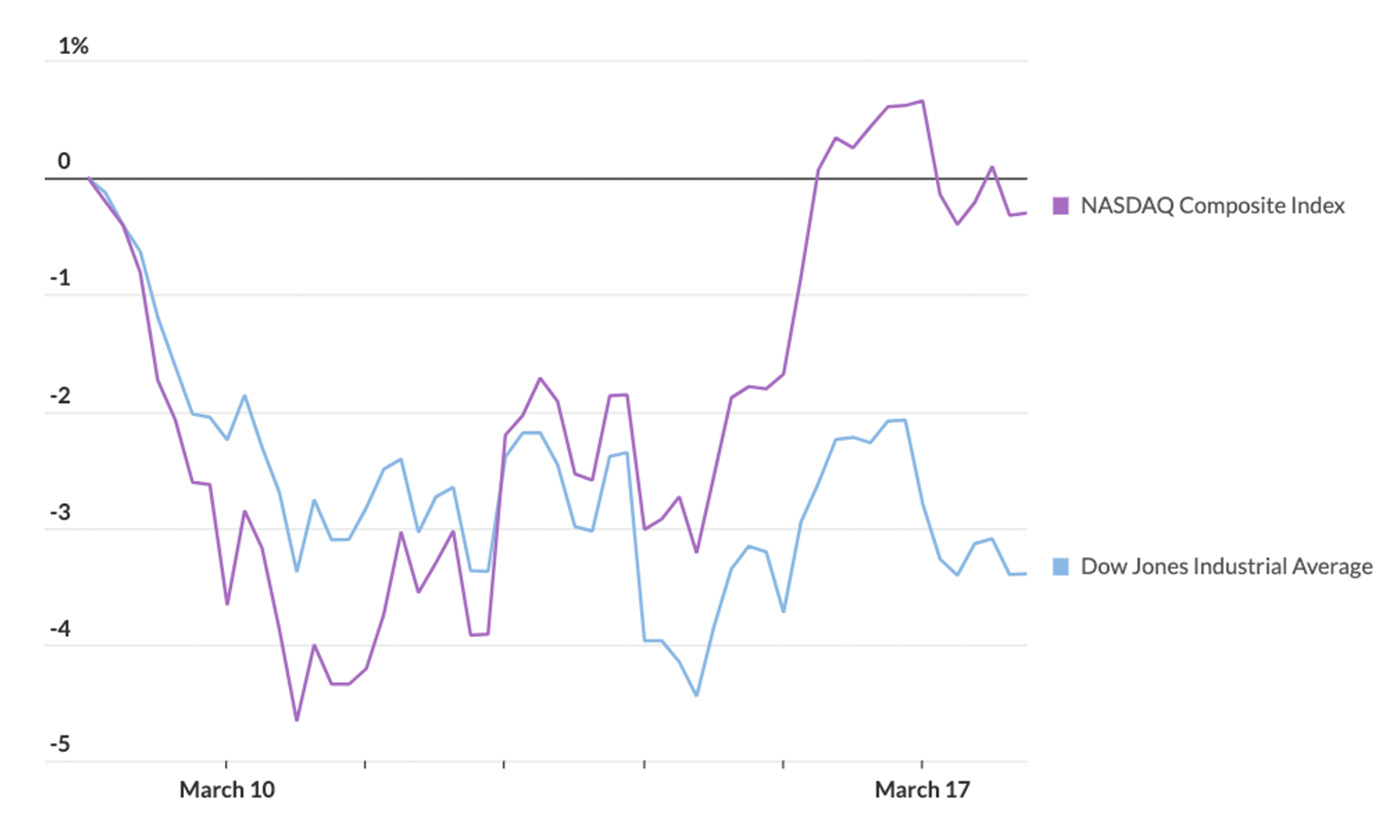 Sources: MarketWatch, FactSet
Gold attracted many investors during the banking turmoil, says MarketWatch, which reported,
"Gold prices surged 8.1% in the past seven trading days, finishing at their highest levels in 11 months on Friday and booking their best weekly gain in nearly three years, according to Dow Jones Market Data. Fears of potential further stress in the banking sector weighed on investors' sentiment, bolstering the safe-haven appeal of the yellow metal."
FIGURE 3: PRICE TREND FOR APRIL 2023 GOLD FUTURES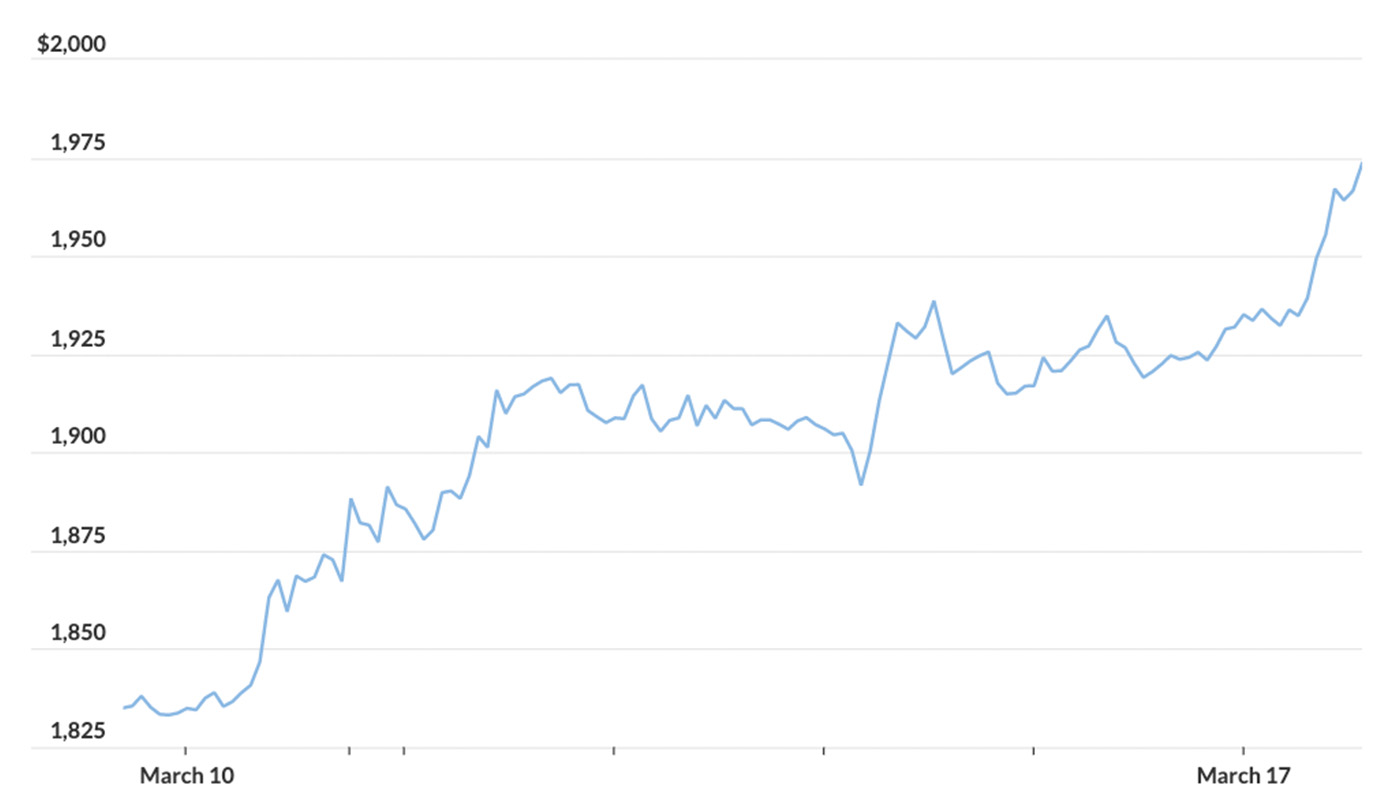 Sources: MarketWatch, FactSet
Bitcoin and other cryptocurrencies rallied, as MarketWatch observed:
"Bitcoin has long been viewed with skepticism by the financial establishment, but its supporters have argued it represents an alternative to the traditional banking system. … Following the failures of SVB and Signature Bank, bitcoin rallied over 20% in the past nine sessions, to trade at $26,750.50 on Friday (March 17)."
FIGURE 4: BITCOIN PUTS IN A SIGNIFICANT RALLY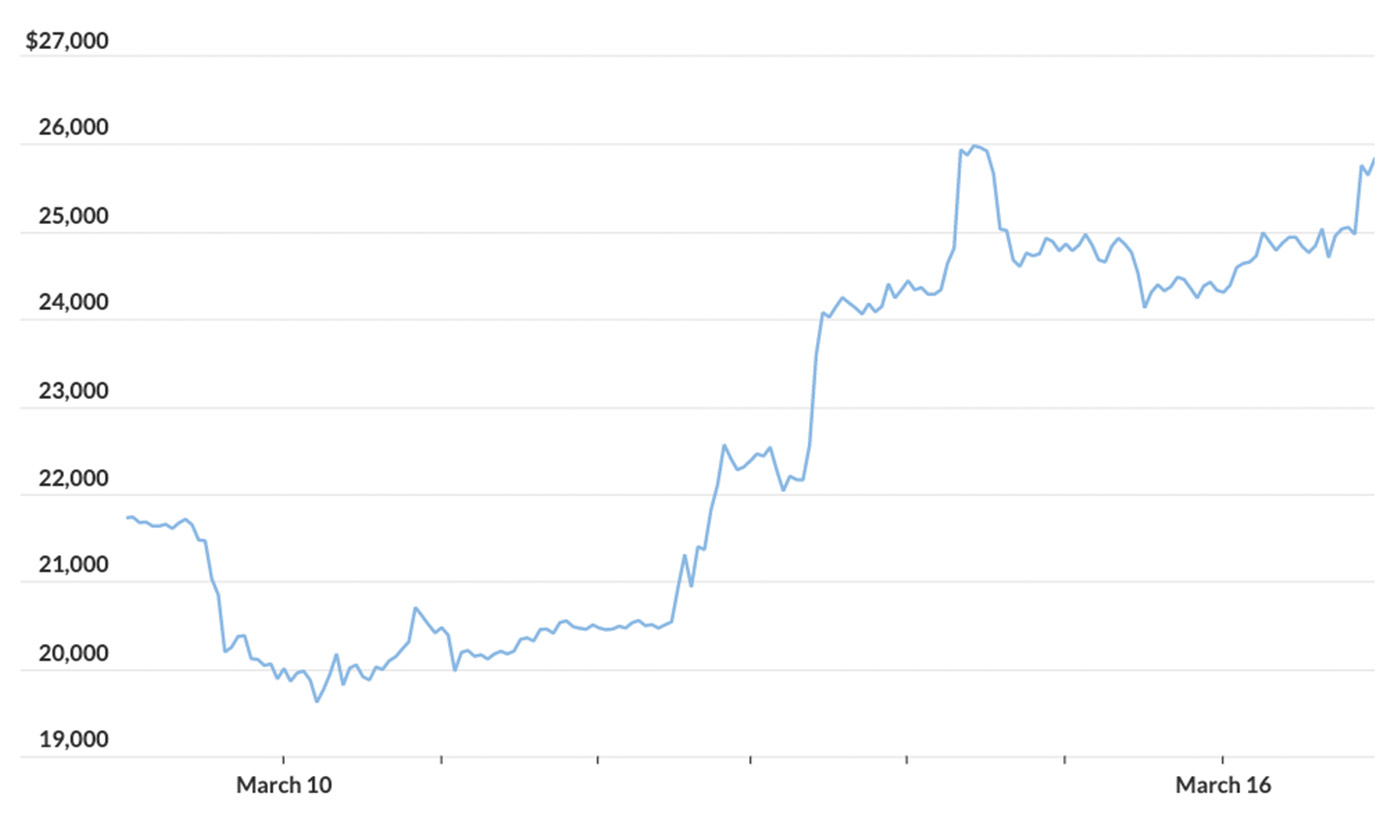 Sources: MarketWatch, CoinDesk

Quantitative analyst Rob Hanna discusses implied versus realized volatility and how their relationship may have impacted VIX levels the past two years.