Through May 18, the small-cap sector of U.S. equities had been on a tear, up nine out of 11 trading days and well ahead of the S&P 500 and Dow Jones Industrial Average (DJIA) in year-to-date performance.
In fact, the Russell 2000 broke out to new all-time highs that week, moving out of a trading range that had been in place since late January.
FIGURE 1: RUSSELL 2000 ONE-YEAR PRICE TREND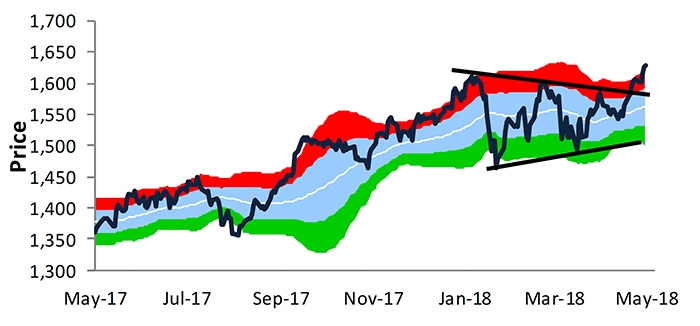 Source: Bespoke Investment Group, data through 5/18/18
As of last Friday, May 25, small-cap equities were still significantly outperforming the S&P 500 and the Dow, though trailing the NASDAQ 100.
TABLE 1: YEAR-TO-DATE PERFORMANCE OF MAJOR INDEX ETFS (%)

Source: Market data through 5/25/18
Bespoke Investment Group pointed out the week of May 14 that "the long-term chart for the Russell 2,000 looks just as impressive. … With a long uptrend channel in place and a breakout occurring this week, traders are now looking for another leg higher."
FIGURE 2: RUSSELL 2000 OVER THE LAST THREE YEARS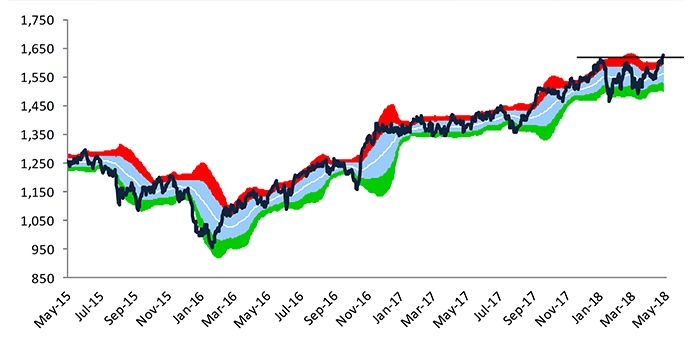 Source: Bespoke Investment Group, data through 5/18/18
What are some possible reasons for the small-cap outperformance?
MarketWatch recently cited several factors:
"Heavier domestic revenue exposure, which insulates them (small caps) from headwinds such as rising bond yields, a stronger U.S. dollar, and trade tension."
Tax cuts and deregulation over the past year, which "should disproportionately benefit" the group.
Small-cap stocks "are seen posting earnings growth of 46.3% over the coming quarter. That's more than twice the 19.1% growth rate expected for components of the S&P 500."
"88.5% of stocks in the small-cap S&P 600 index have come up with their earnings. Total earnings for these companies went up 21.4% on 9.7% higher revenues, with 60.5% beating EPS estimates and 72.2% beating revenue estimates."
Bespoke Investment Group adds an optimistic note on the overall performance of small-cap stocks relative to the broader market:
"We've talked a lot over the years about the 'leading' nature of small caps. Small caps are generally thought to be a leading indicator for large caps. So, if small caps start to break down before large caps, it's a bearish signal. And if small caps start to break out before large caps, it's a bullish signal."
However, columnist Mark Hulbert recently challenged this assertion at MarketWatch. Hulbert says, "The bulls need to remember that the Russell 2000 represents less than 10% of the total market cap of the entire U.S. stock market. That's a small tail to wag a big dog."
According to his analysis and that of Ned Davis Research, small-cap stocks hit their peak after the broader market more than 50% of the time in 29 bull-market tops since 1926.

Mary Lyons • Dallas, TX The Wealth Woman • Personal Economics Group Read full biography below Proactive Advisor Magazine: Mary, talk about your background and how you became a financial advisor. I grew up in a supportive family that had strong role models and...

The old Wall Street adage "Sell in May and go away" has some strong support in the data, but probably not in the way most investors think. An excerpt from the book "Why Bad Things Happen to Good Investments," by William T. Hepburn, explains why and shows that November...

Editor's note: Tony Dwyer, U.S. portfolio strategist for Canaccord Genuity, and his colleagues author a widely respected monthly overview of market conditions, technical factors, and future market outlook called the "Strategy Picture Book." The following provides an...

Stephen Baldino • Warwick, NY Baldino & Perry Associates Inc. • Cetera Advisor Networks LLC or most of my career as a financial advisor, I have been both literally and figuratively located on "Main Street"...