R
adio host and CNBC contributor
Larry Kudlow
is fond of saying, "Profits are the mother's milk of stocks, and for that matter business and the entire economy."
In that case, the bull market for equities—despite the myriad concerns on the minds of investors—may have plenty of room to run, at least for the next several quarters.
It is hard to believe that the Q3 2017 earnings season is about to get into full swing. Companies with fiscal quarters ending in August have already started reporting, and the bulk of S&P 500 companies will report in a few weeks. Wall Street analysts are anticipating a positive quarter for earnings, although the consensus is for single-digit earnings and revenue growth. This will not be as strong as the last two quarters' double-digit growth. However, the usual decline in earnings projections has been somewhat milder for Q3 than usual.
Barron's wrote recently,
"And despite some recent negative guidance associated with Hurricane Harvey, earnings revisions appear to be holding up well. Bank of America Merrill Lynch strategist Jill Hall notes that the three-month earnings estimate revision ratio—a measure of companies guiding higher versus those guiding lower—sat unchanged at 1.23 at the end of August, its highest level in six years. 'It suggests strong near-term S&P 500 returns,' she says.
"More importantly, that means earnings expectations aren't coming down. Andrew Slimmon, a portfolio manager at Morgan Stanley Investment Management, notes that earnings forecasts generally drop by about 7% from the start of the year. But with earnings coming in close to expectations, the market might start viewing next year's S&P 500 earnings estimate for $145 as achievable."
As of the end of last week, FactSet was projecting a Q3 2017 estimated earnings growth rate for the S&P 500 at 4.5% and revenue growth at 5.2%. Zacks Investment Research is calling for an overall Q3 earnings increase of 3.3% on revenues that are up 5.1%. Both firms see a significant boost for energy sector earnings, which will be rebounding from a very weak comparable period.
FIGURE 1: QUARTERLY EARNINGS GROWTH (YEAR OVER YEAR)—ACTUAL AND PROJECTED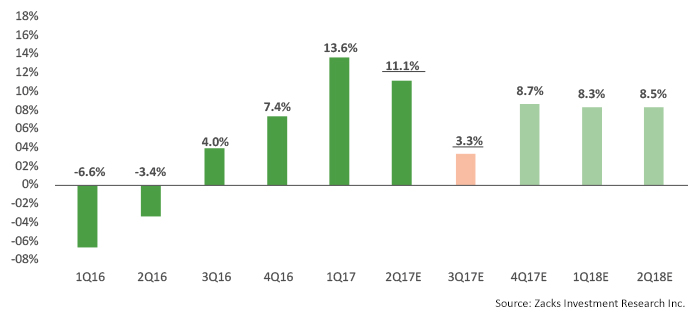 FactSet sees earnings taking off again with Q4 2017 and continuing into the following quarters, according to their evaluation of consensus analyst estimates. They have the following projections:
For Q4 2017, earnings growth of 11.2% and revenue growth of 5.7%.
For Q1 2018, earnings growth of 10.3% and revenue growth of 6.2%.
For Q2 2018, earnings growth of 10.2% and revenue growth of 5.9%.
For full-year 2017, FactSet sees earnings growth of 9.6% and revenue growth of 5.7% (Figure 2). Notably, FactSet states that given the strong anticipated earnings growth for the next 12 months, "the bottom-up target price for the S&P 500 Index is 2714.66," or roughly a 9% increase from current levels.
FIGURE 2: S&P 500 CALENDAR-YEAR BOTTOM-UP EPS ACTUALS AND ESTIMATES