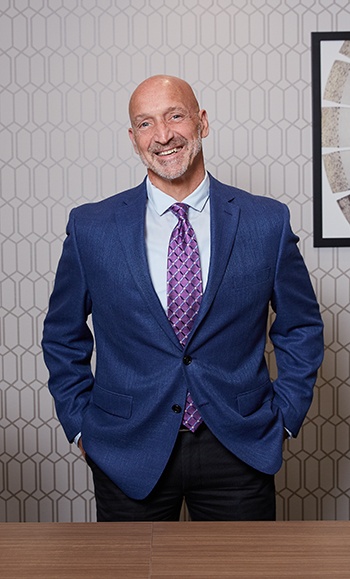 The majority of our clients are within 10 years of either side of retirement. Our mission is to help them navigate a changing and complex financial landscape, using our experience and base of knowledge to create tax-advantaged retirement-distribution and estate-planning strategies.
We strive to guide clients toward achieving a suitable level of growth for their assets both before and during their retirement years, helping them preserve and enhance what has taken a lifetime to accumulate. We want our clients to understand the opportunities and potential rewards that are available when they take a proactive approach to their personal financial situation.
We believe that this is a powerful message and like to communicate it as widely as possible—both to educate the public and to see if they might find it beneficial to meet with our firm. One of the ways we do this is by holding adult education classes at a local community college.
The class is called "Rethink Retirement." We held a two-day class this past June covering four hours and were very pleased with the number of people who signed up. While there is a modest fee for the class, we donate that fee to charity. We believe that when people pay for a class, they are serious about it and are there to learn.
We discuss all aspects of retirement planning—and how most people need to readjust their thinking versus commonly held perceptions. Many people, for example, are unaware of concepts such as the sequence of returns and the very real economic risk associated with longevity. People need to have a plan for taking on the challenges of retirement-income planning and contingency planning, especially for unforeseen medical issues.
The course covers five core sections:
Financial fundamentals—the basic financial factors of a retirement strategy.
Types of financial products—different options where people can put their money and how each of these function.
Sources of retirement income—the ins and outs of various sources for income in retirement.
Risk management—ways to help manage financial risk in retirement.
Basics of estate planning—a general overview of estate-planning strategies.
The course contains some very sophisticated concepts, but they are delivered in a way that people can easily grasp them. We provide detailed real-life examples for many of the concepts, so attendees can relate them to their own personal experience.
I take a lot of satisfaction in delivering financial education that enhances the overall retirement knowledge of the general public. We also invite people to schedule a no-obligation discussion with our firm to talk about where they currently are in their own retirement-planning process. This has proven to be an effective way to introduce our firm to prospective clients.

Financial education seminars for the general public can enhance a firm's standing in the community.
An overview of retirement-planning strategies provides valuable information for pre-retirees.
Seminars can be an effective way to secure initial appointments with serious prospective clients.
Disclosure: Total Wealth Enhancement Group is an independently owned and operated registered branch location of Garden State Securities Inc. (GSS). Securities are offered through GSS, member FINRA/SIPC. Advisory Services offered through Garden State Investment Advisory Services LLC, an SEC registered investment advisor. Insurance products offered through Garden State Insurance Agency Inc. CFP is a registered trademark of The Certified Financial Planner Board of Standards Inc. CLU, ChFC, and RICP are registered trademarks of The American College.
This article first published in Proactive Advisor Magazine on August 22, 2019, Volume 23, Issue 6.
Photography by Deirdre Ryan