According to many estimates, companies in the S&P 500 are expected to come close to or surpass a 60% growth rate in earnings per share (EPS) versus 2020's pandemic-influenced results.
The New York Times DealBook said earlier this week,
"After closing the books on the second quarter, executives are the most positive they have ever been about the profits their companies are generating. … And that might be a good sign that bottom-line growth will continue even after the expected rebound from the pandemic economic plunge. …
"Analysts predict that earnings for companies in the S&P 500 rose more than 60 percent in the second quarter compared with last year. That would be the strongest growth in more than 10 years, but it's less impressive than it sounds.
"Almost all of the growth is a result of the reopening of the economy as well as the fact that the same period a year ago was the depth of pandemic lockdowns. Strip out Covid's impact, and expected earnings growth for the S&P 500 in the second quarter, when compared to the prepandemic path of profits, isn't that much higher than long-term average growth rates."
That said, Zacks Investment Research points out that even though earnings comparisons to Q2 2020 provide relatively easy hurdles, absolute earnings are up versus the pre-pandemic results of Q2 2019.
Zacks says, regarding Figure 1, "You can see that 2021 Q2 earnings for the S&P 500 index are expected to be up +59.4% from the Covid-hit 2020 Q2 period. But even relative to the pre-Covid 2019 Q2 period, 2021 Q2 earnings are expected to be up +7.9%."
FIGURE 1: TOTAL S&P 500 QUARTERLY EARNINGS (BILLION $)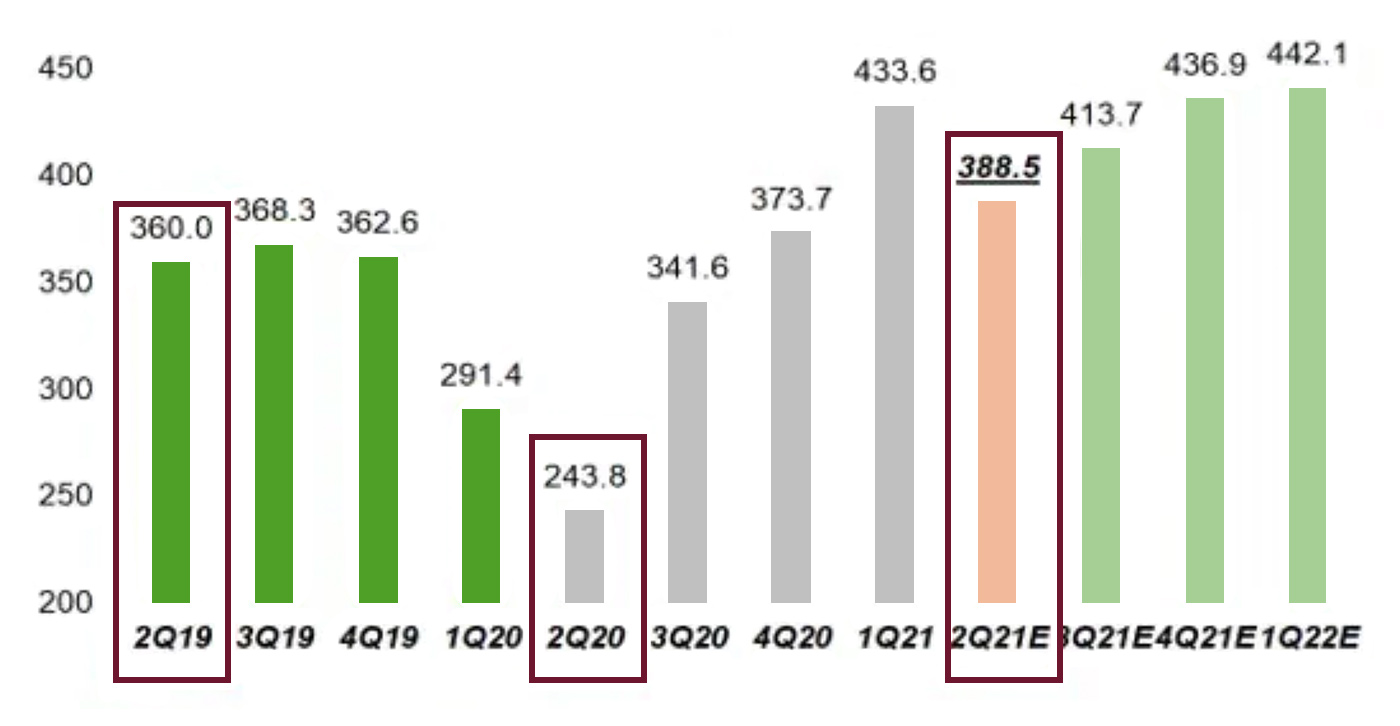 Source: Zacks Investment Research
FactSet provided its most recent outlook for Q2 2021 earnings on July 9, with the following key highlights:
"Earnings Growth: For Q2 2021, the estimated earnings growth rate for the S&P 500 is 64.0%. If 64.0% is the actual growth rate for the quarter, it will mark the highest year-over-year earnings growth rate reported by the index since Q4 2009 (109.1%).
"Earnings Revisions: On March 31, the estimated earnings growth rate for Q2 2021 was 52.1%. Nine sectors have higher earnings growth rates today (compared to March 31) due to upward revisions to EPS estimates.
"Earnings Guidance: For Q2 2021, 37 S&P 500 companies have issued negative EPS guidance and 66 S&P 500 companies have issued positive EPS guidance. If 66 is the final number, it will mark the highest number of S&P 500 companies issuing positive EPS guidance since FactSet began tracking guidance in 2006.
"Valuation: The forward 12-month P/E ratio for the S&P 500 is 21.4. This P/E ratio is above the 5-year average (18.1) and above the 10-year average (16.2).
"Earnings Scorecard: For Q2 2021 (with 18 S&P 500 companies reporting actual results), 15 S&P 500 companies have reported a positive EPS surprise and 17 S&P 500 companies have reported a positive revenue surprise."
FIGURE 2: S&P 500 CHANGE IN FORWARD 12-MONTH EPS VS. CHANGE IN PRICE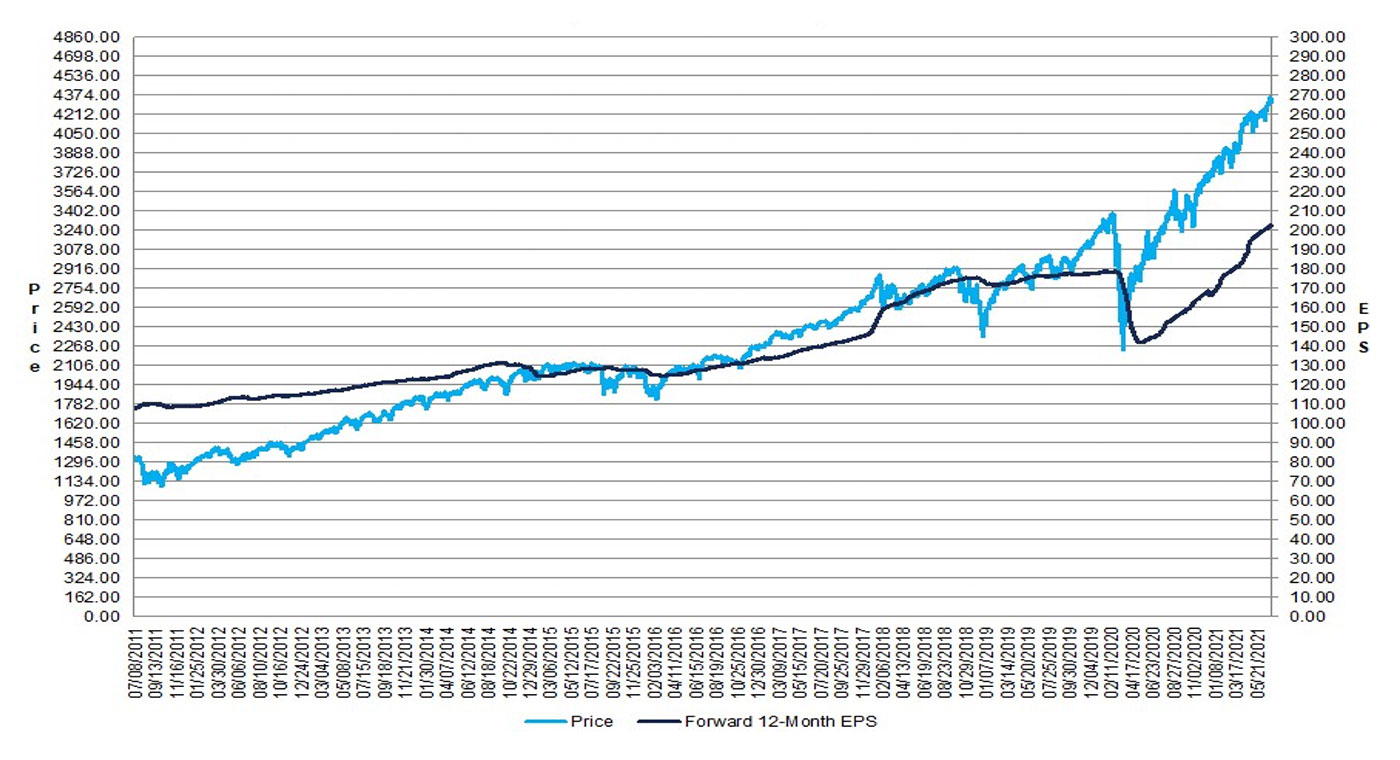 FactSet also notes that there is some likelihood that the year-over-year earnings growth rate could significantly exceed its estimate of 64%:
"Based on the 5-year average improvement in earnings growth during each earnings season due to companies reporting positive earnings surprises, it is likely the index will report earnings growth at or above 69% for the second quarter, which would be the highest earnings growth reported by the S&P 500 in more than 10 years. …
"However, during the past four quarters (Q2 2020 through Q1 2021), actual earnings reported by S&P 500 companies have exceeded estimated earnings by 19.7% on average. … If this average increase is applied to the estimated earnings growth rate at the end of Q2 (June 30) of 63.3%, the actual earnings growth rate for the quarter would be 80.8%."
In terms of specific sector earnings, FactSet sees the Energy, Industrials, Consumer Discretionary, Financials, and Materials sectors leading the way in terms of EPS growth (though they note that Energy is coming off a loss in Q2 2020, preventing a mathematical projection for growth).
However, the comeback in the Energy sector can be seen in projected revenue growth detailed in Figure 3. It should also be noted in Figure 3 that the Financials sector is trailing average S&P 500 revenue growth, despite EPS growth estimated to be the third-highest of all 11 sectors at 119.5%.
FIGURE 3: S&P 500 REVENUE GROWTH (Q2 2021)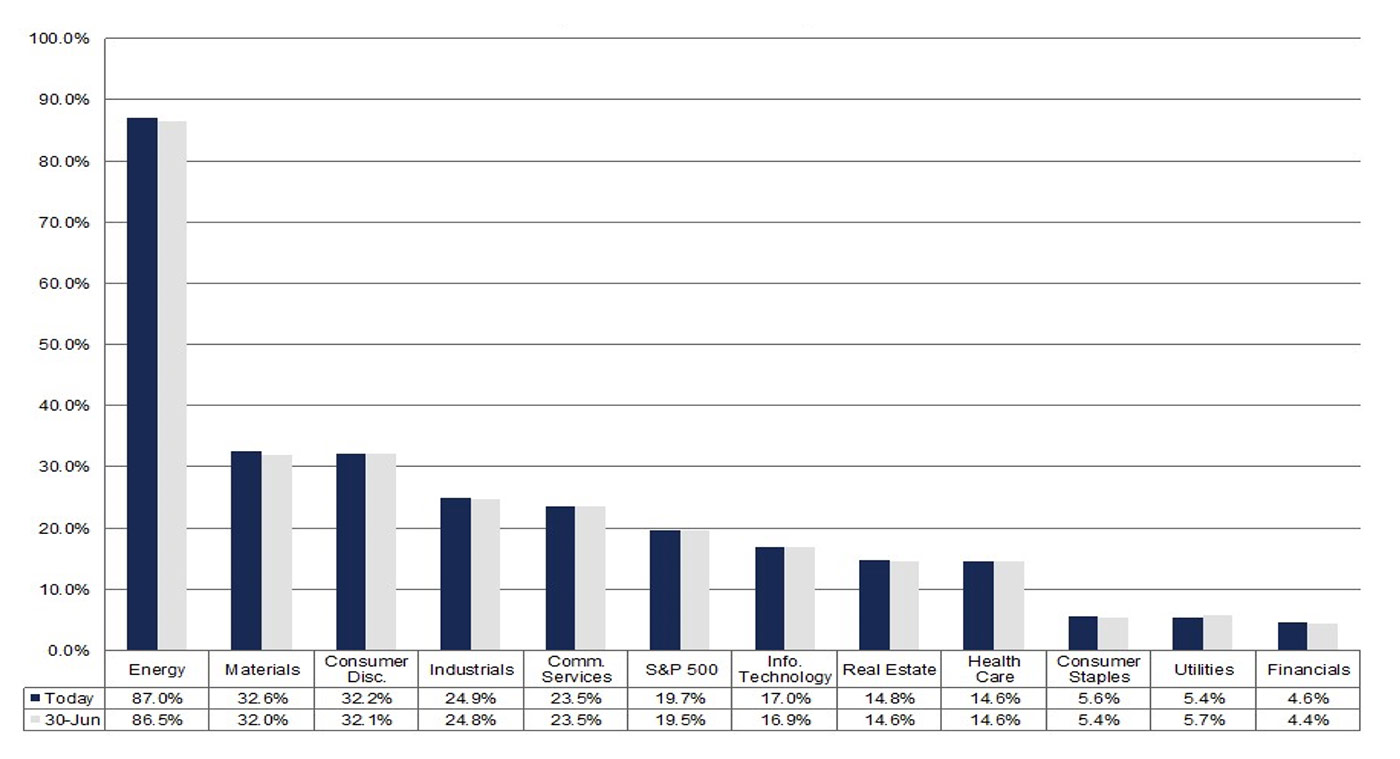 Joseph St. Pedro • Royersford, PASt. Pedro & Associates Inc. • Securities America Inc.Read full biography belowProactive Advisor Magazine: Joe, talk about your personal background and how your career has evolved. I was born and raised in the Azores islands, which...

In creating a portfolio, it is important to reflect varying frames of reference. This can be achieved by using diversified asset classes in multiple risk-managed strategies that focus on different time periods.[dropcap style="font-size: 60px; color:...

n the Proactive Advisor Magazine article "Bonds are not carrying their weight. Looking for an alternative?" from earlier in 2021, we pointed out that bonds contributed just 15% to the return of a traditional...

Chad Molitor, LUTCF • Parker Molitor • Murfreesboro, TNRAI Advisors • LPL FinancialParker (left) and Chad Molitor at their family's Tennessee farm. Editor's note: Chad and Parker Molitor are a father-son team specializing in wealth management and retirement planning...