Several economic data points on inflation came in below consensus last week for the month of April.
One notable reading was on overall wholesale prices, which saw relative declines in April versus the rate of change for March. The producer price index (PPI) for April came in with a headline increase of only 0.1%, well below the consensus range of 0.2%–0.5%.
Barron's points out that while steel and aluminum prices did rise steeply in April due to the ongoing tariff issue, the rate of overall year-over-year wholesale price increases declined from March. They wrote, "Year-on-year rates are at 2.8 percent overall and 2.1 percent ex-food ex-energy, which are down 6 and 7 tenths respectively from March in results that do not point to a repeat of March's big spikes in the PCE yearly rates."
FIGURE 1: PRODUCER PRICE INDEX, FINAL DEMAND, M/M % CHANGE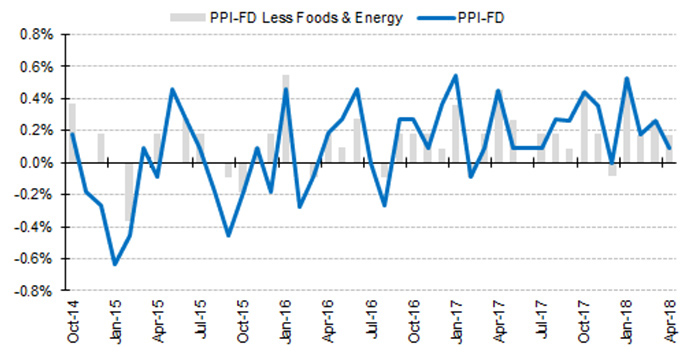 Source: Barron's, Haver Analytics, Bureau of Labor Statistics
Barron's further noted, "Tariffs may be adding some pressure at the base of the wholesale price pipeline, but there's no evidence of it moving higher. For a Federal Reserve that is increasingly conscious of an upward risk to inflation, today's results do not raise many alarms."
Last week's consumer price index (CPI) report also came in lower than expectations, showing an increase of only 0.1% versus expectations of a 0.3% gain. Gasoline prices were one of the exceptions, with a yearly rate of change of 13.4%. Overall, April showed a 2.5% rate of annual change in consumer prices, which matched forecasts.
The Fed's preferred measure of inflationary pressures, core personal consumption expenditures (PCE), came in at a rate of change versus a year ago of just under 1.9%. With a Fed target of 2% inflation, Barron's said, "Today's results don't point to any new threat, instead they reawaken concern, despite gasoline and housing, that inflation isn't up to speed."
FIGURE 2: FIVE-YEAR TREND FOR CORE PCE PRICE INDEX

FIGURE 3: CONSUMER PRICE INDEX, M/M % CHANGE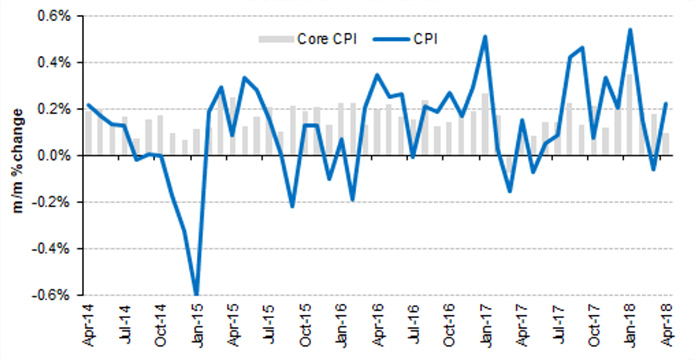 Source: Barron's, Haver Analytics
Bespoke Investment Group summed up last week's reports on wholesale and consumer price trend data in a positive fashion:
"Given the FOMC's policy stance, inflation has clearly become the number one issue that investors are focusing on. Over the last several months, inflation has started to pick up and push core measures (excluding food and energy) to levels consistent with the Fed's 2.0% core PCE target. But April data has been weaker. … Inflation is still accelerating, but maybe not quite as fast as some have feared. For investors, that equates to a headwind for the dollar, tailwind for bond prices, and tailwind for stock prices."

Telton Hall, CFP, RFC • Cedar City, UT Advanced Financial Planning LLC • Geneos Wealth Management Inc. Read full biography below Proactive Advisor Magazine: Telton, what motivated you to enter the financial-services industry? Coming out of college, I was blessed to...

"Every strategy works … until it doesn't." This market truism provides the rationale for diversification among dynamically risk-managed strategies in dealing with market uncertainty. ust read the financial...

o far this year, an estimated $1.2-plus trillion in corporate buybacks are scheduled, and this number may increase. Buybacks affect stock prices in several ways. Therefore, it is important for investors to...

Stephen Franklin, MBA, CFP, RICP, CFS, CEP • Louisville, KY Kentucky Planning Partners (KPP) • LPL Financial  have been an independent financial advisor since 1984 and have  always had a passion for...