Last week (the week of Jan. 6), the major market averages largely ignored missile strikes, oil market turmoil, and excessively bullish sentiment, keeping market prices marching higher in 2020.
But we have a major bearish divergence now in the CBOE VIX Index, which was not making lower lows to confirm those higher price highs.
FIGURE 1: S&P 500 VS. CBOE VOLATILITY INDEX (VIX)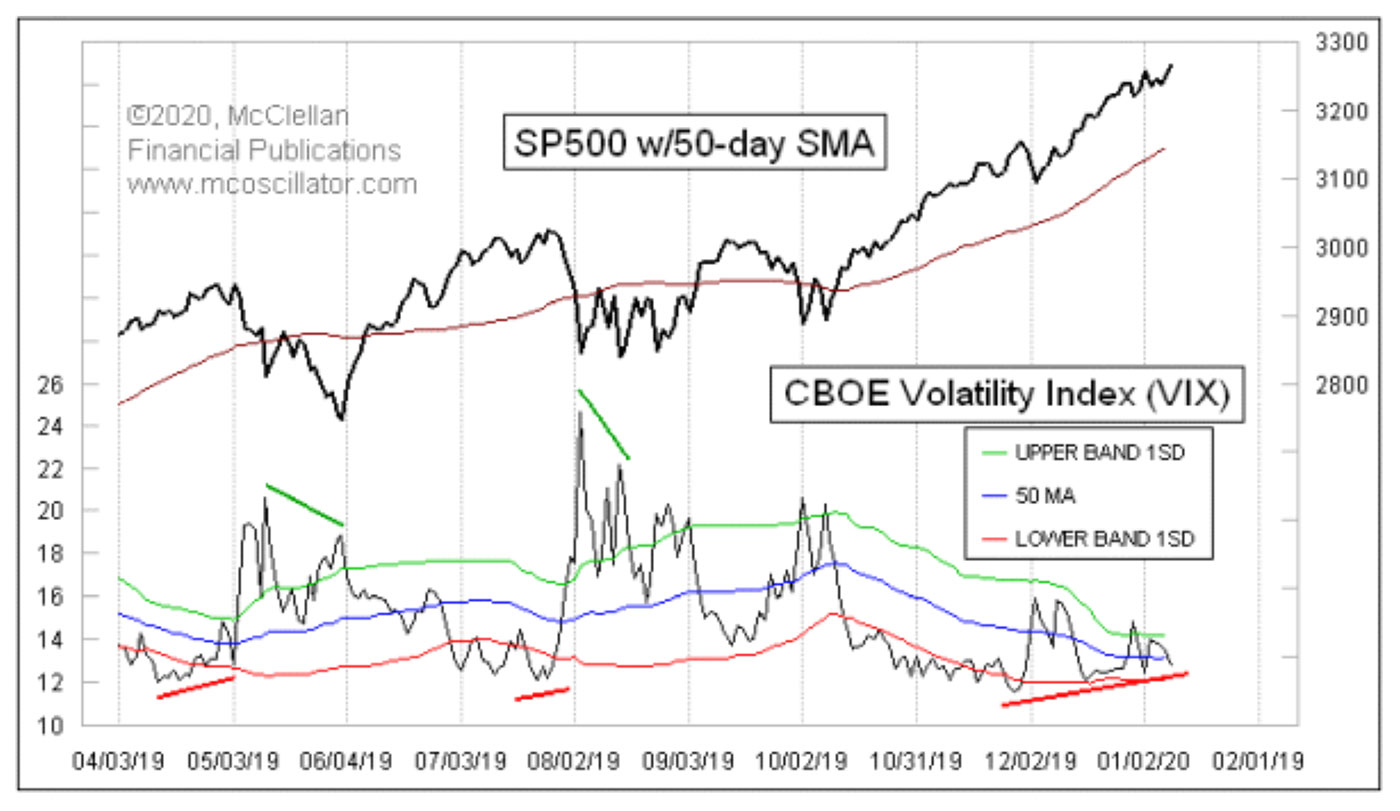 Source: McClellan Financial Publications
The VIX Index made its lowest closing low for this price uptrend back on Nov. 26, at 11.54. Since then, it has been making a succession of higher lows, even though market prices have continued higher. That sort of bearish divergence has meant a meaningful top was looming, based on past episodes.
In my long look back at this relationship, I find that the VIX does not always give us a divergence like this at every top where we might like to get such a message. But when it does show us a divergence like this, it is worth listening to. Typically, the time span of the divergences that matter is only a few weeks. Once we get a big VIX spike up toward 20 or higher, the clock resets in terms of tabulating a new divergence.
Even though the VIX is showing a slight upward cant, it has remained pretty quiet. Figure 2 shows a 50-day standard deviation of closing VIX values.
FIGURE 2: VIX 50-DAY STANDARD DEVIATION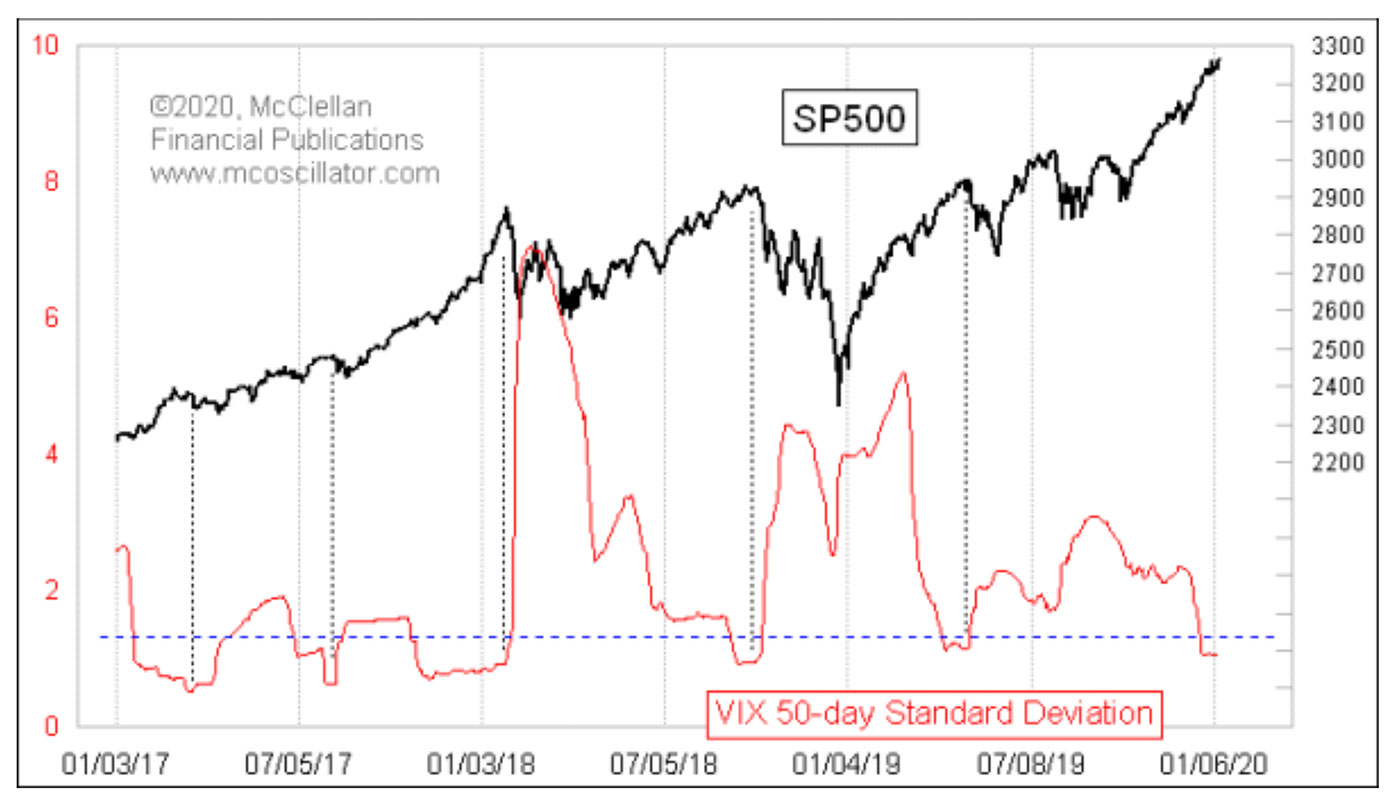 Source: McClellan Financial Publications
The generally quiet VIX Index readings over the past 50 trading days have produced a very low reading for this indicator. Such readings are reliably associated with meaningful price tops.
The problem is that this is a condition—not a "signal." The low readings can continue for a long time before they finally matter. A condition like this helps to inform us about what is coming, but it does not say when the final price top moment will get here.
Having said that, the moment when this VIX standard deviation starts to rise rapidly is a good tell that the price top is already in. But that tell usually comes via a big spike up in the VIX Index itself.
The opinions expressed in this article are those of the author and do not necessarily represent the views of Proactive Advisor Magazine. These opinions are presented for educational purposes only.
A version of this article was first published by McClellan Financial Publications on Jan. 9, 2020.

Tom McClellan is the editor of The McClellan Market Report newsletter and its companion, Daily Edition. He started that publication in 1995 with his father Sherman McClellan, the co-creator of the McClellan Oscillator, and Tom still has the privilege of working with his father. Tom is a 1982 graduate of West Point, and served 11 years as an Army helicopter pilot before moving to his current career. Tom was named by Timer Digest as the #1 Long-Term Stock Market Timer for both 2011 and 2012. mcoscillator.com

Behavioral scientists say people can form first impressions in mere seconds—and that those impressions can last longer than one might expect. First impressions are subjective and can affect beliefs about factors such as trustworthiness and competence. How can...

The topics of Fed interest-rate policy, inflation, and bond yields have been front and center for several years. How can proactive advisors guide their clients amid uncertainty in 2020 for the bond market—and other asset classes?[dropcap style="font-size: 60px; color:...

anuary has seen the threat of armed conflict in the Middle East, potential oil market disruptions, an ongoing presidential impeachment process, an aging bull market, and assorted other risk factors, and yet...

Mira Mizrahi, CFP • Whippany, NJ Diversified Financial Consultants LLC • LPL Financial hen starting out in the advisory field, I became involved with several clients who had immigrated to the United States....