A
ccording to
Business Insider
, 2016 saw U.S. wage growth rise at a faster rate than other post-recession years, "with average hourly earnings growing in a range of 2.2% to 2.6% year-over-year." Wage growth rate hit a post-recession high of 2.8% in October before coming in at 2.5% in November.
The U.S. Department of Labor employment report for December, released last Friday (Jan. 6), showed "average hourly earnings grew by 2.9%, a new post-crisis high and slightly beating the Bloomberg economists' consensus expectation of 2.8%."
FIGURE 1: AVERAGE HOURLY EARNINGS GROWTH (2007–2016)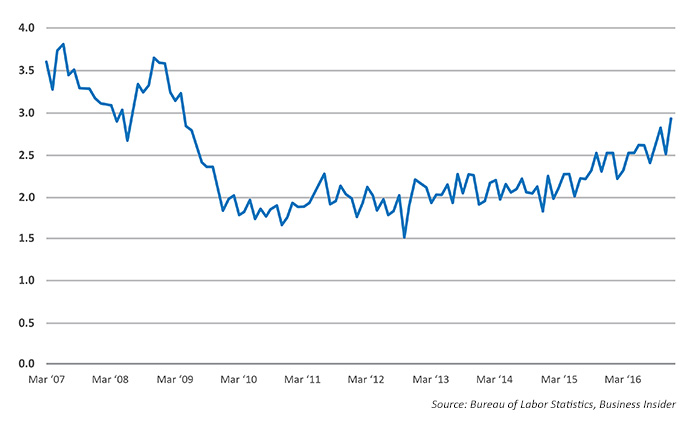 Despite a mildly disappointing job creation number of 156,000 for December, the lengthy post-recession job creation streak continued, and the unemployment rate remained in its current range at 4.7%. CNNMoney noted, "[December] marked the 75th consecutive month of job gains, the best on record. For all of 2016, the U.S. added over 2 million new jobs."
FIGURE 2: CHANGE IN NONFARM PAYROLLS ('000s)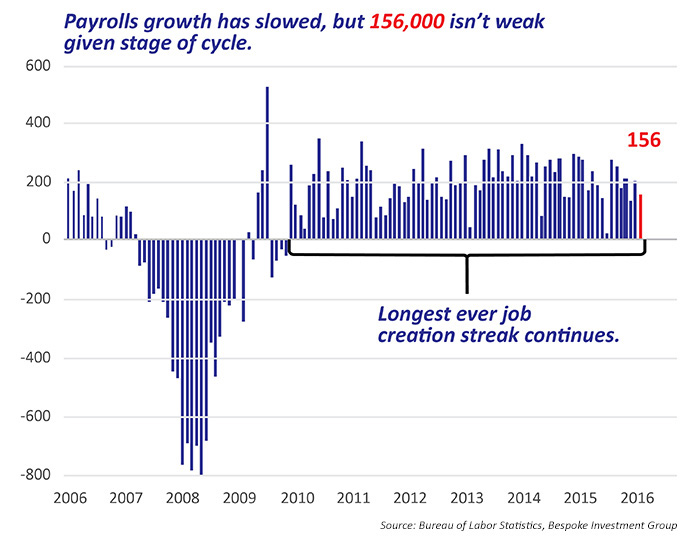 However, Bespoke Investment Group points out that the employment and earnings picture for U.S. workers still has considerable room for improvement: (1) the labor participation rate remains near multi-decade lows at 62.7%, (2) average weekly hours worked for those employed "remains quite soft…at three-year lows," and, (3) for production and nonsupervisory employees, "the growth of weekly pay YoY is down to 1.93%."
FIGURE 3: WEEKLY PAY—HOURS WORKED x HOURLY WAGES (YoY%)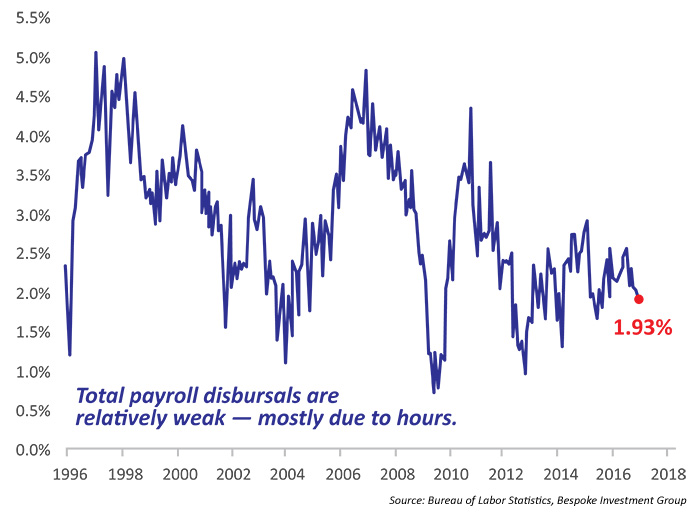 In related labor news last week, Statista reported that 4.3 million American workers were affected at the beginning of January 2017 by an increase in the minimum wage across 19 states. It will be of great interest to see if the movement toward higher minimum wages continues under the new Republican administration and Congress.
Statista reports,
"In total, 29 U.S. states (and the District of Columbia) have now set a minimum wage level higher than the $7.25 an hour federal standard. Local districts aside, D.C. has the highest minimum wage in the U.S. at $11.50, with Massachusetts and Washington following with $11 each.
"Arizona's low wage workers saw the largest leap in their minimum wage, which went up by $1.95 to $10.00 in total. Many cities have higher local minimum wages. San Francisco and Seattle are notable examples, and both will see their minimum wage hit $15 by 2018 and 2021, respectively."
FIGURE 4: 10 STATES (DISTRICTS) WITH HIGHEST MINIMUM WAGES (JANUARY 2017)