Since the Trump administration first announced that the U.S. would strongly consider raising tariffs on Chinese goods from 10% to 25%—and significantly expand the list of goods covered—the U.S. equity market has seen a jump in volatility and significant losses.
Research firm Statista outlined on May 10 the lead-up to this particular chapter in the U.S.–China trade relationship:
"… Today, a tariff hike from 10 to 25 percent on US$200 billion worth of goods that had been put off since January took effect. After a truce and renewed talks between Beijing and Washington, which brought about no resolution, the Trump administration followed through with their plan to hike up the tariffs. Chinese officials were quick to reply that they would follow suit.
"The back-and-forth between the two nations began in early 2018 when President Trump announced tariffs on solar panels and later on steel and aluminum for all countries. China, a top player in the solar panel and steel industries, retaliated with $3 billion worth in tariffs on U.S. imports. Fifty billion-dollar tariffs announced in June 2018 were periodically rolled out over the summer. After a first round of failed negotiations, a second round of tariffs hit in September, then at the lower percentage rate of 10 percent in the case of the U.S. and 5-10 percent in case of China."
FIGURE 1: HOW THE U.S.-CHINA TRADE WAR ESCALATED
Cumulative tariffs between the U.S. and China in 2018–2019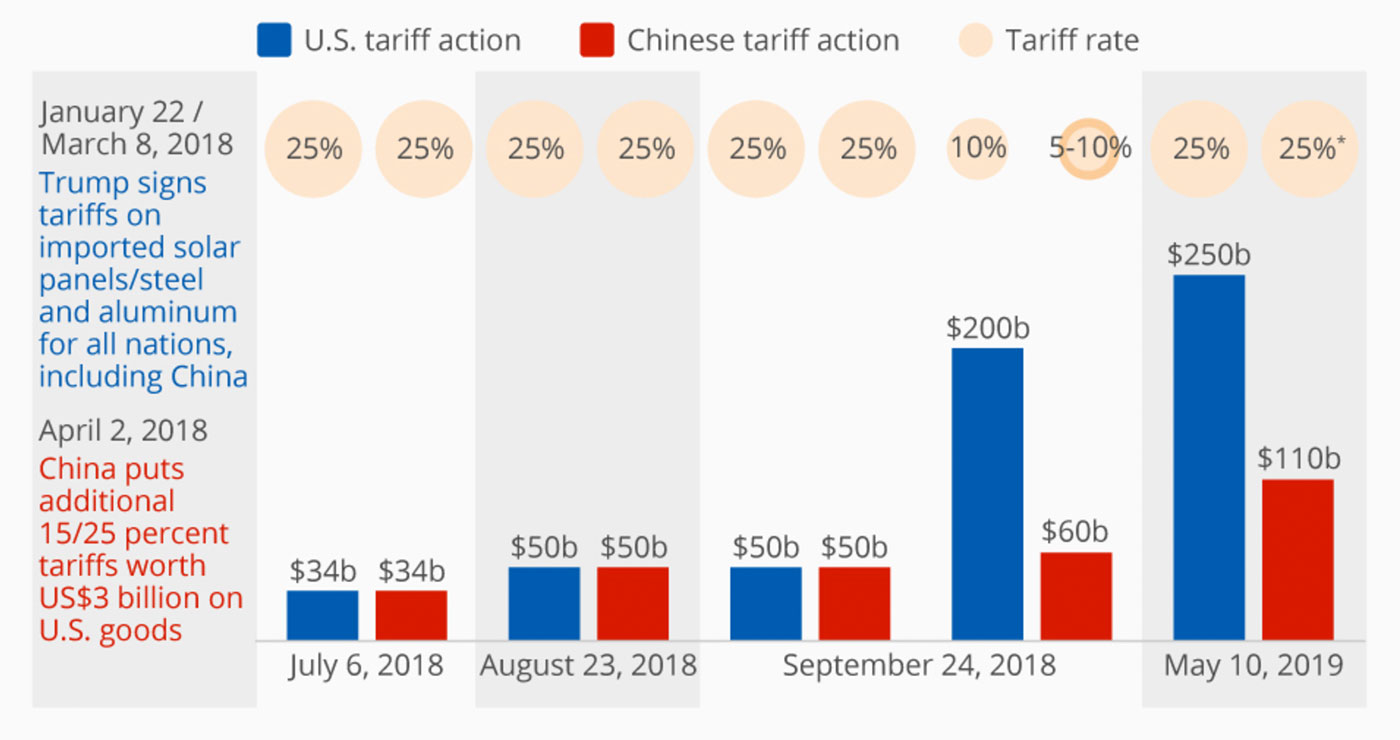 Source: Statista, based on information from Bloomberg, CNN.
On Monday, May 13, 2019, news broke of China's most recent retaliatory action. MarketWatch wrote,
"China said it would raise tariffs on roughly $60 billion worth of U.S. imports, in response to the U.S. increasing tariffs on $200 billion worth of Chinese goods. Starting from June 1, China will raise tariffs to as high as 25% on products it currently taxes at 5% to 10%, the State Council said in a statement late Monday Beijing time.
"The move comes after the U.S. raised punitive tariffs to 25% from 10% for $200 billion in goods leaving China last Friday and thereafter. It also comes as the U.S. is expected to release details on fresh levies for more than $300 billion worth of everything else China sells to the U.S. Beijing had threatened last week to retaliate."
With the exception of 2009, the dollar volume of trade goods imported from China has increased steadily over the past 11 years, making this a negotiation with increasingly higher stakes.
FIGURE 2: VOLUME OF U.S. IMPORTS OF TRADE GOODS FROM CHINA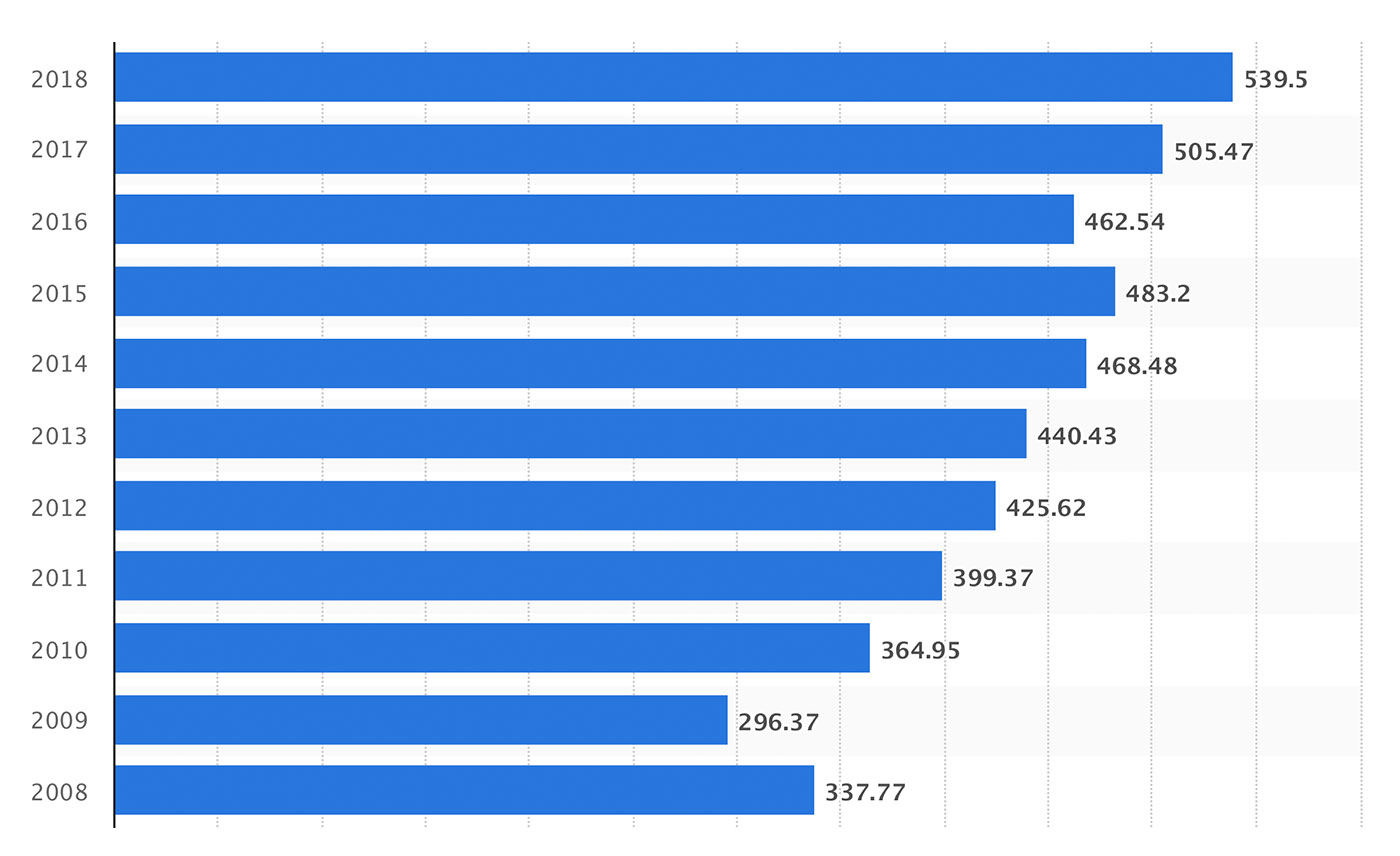 Source: Statista, based on data from the U.S. Census Bureau and U.S. Department of Commerce
The New York Times noted last week that U.S. consumers, who so far have largely not felt the direct impact from the tariffs on Chinese goods, will probably notice the results of the most recent escalation. The Times reports,
"The more President Trump escalates his trade war with China, the more American shoppers will notice higher prices in their favorite grocery stores, hardware shops and big-box retailers. … The official $200 billion tariff list starts with 'frozen retail cuts of meat of swine' and ends with 'monopods, bipods, tripods and similar articles of aluminum.' In between are 194 pages of products that you can find on store shelves across the country.
"Economists and business owners expect the tariff increases to hit consumers in two ways. Stores that were already passing on the cost of the 10 percent tariffs will now pass on a higher cost. And businesses large and small that previously tried to shield customers from the smaller tariffs will now find it almost impossible to avoid passing some or all of that tax on to Americans who buy their products."
While consumers will likely find a noticeable price increase on certain grocery store items originating from China, the largest categories of goods to be hit, according to the BBC, are various types of hard goods and technology and industrial products.
FIGURE 3: TOP 10 U.S. IMPORTS FROM CHINA FACING A TARIFF INCREASE FROM 10% TO 25%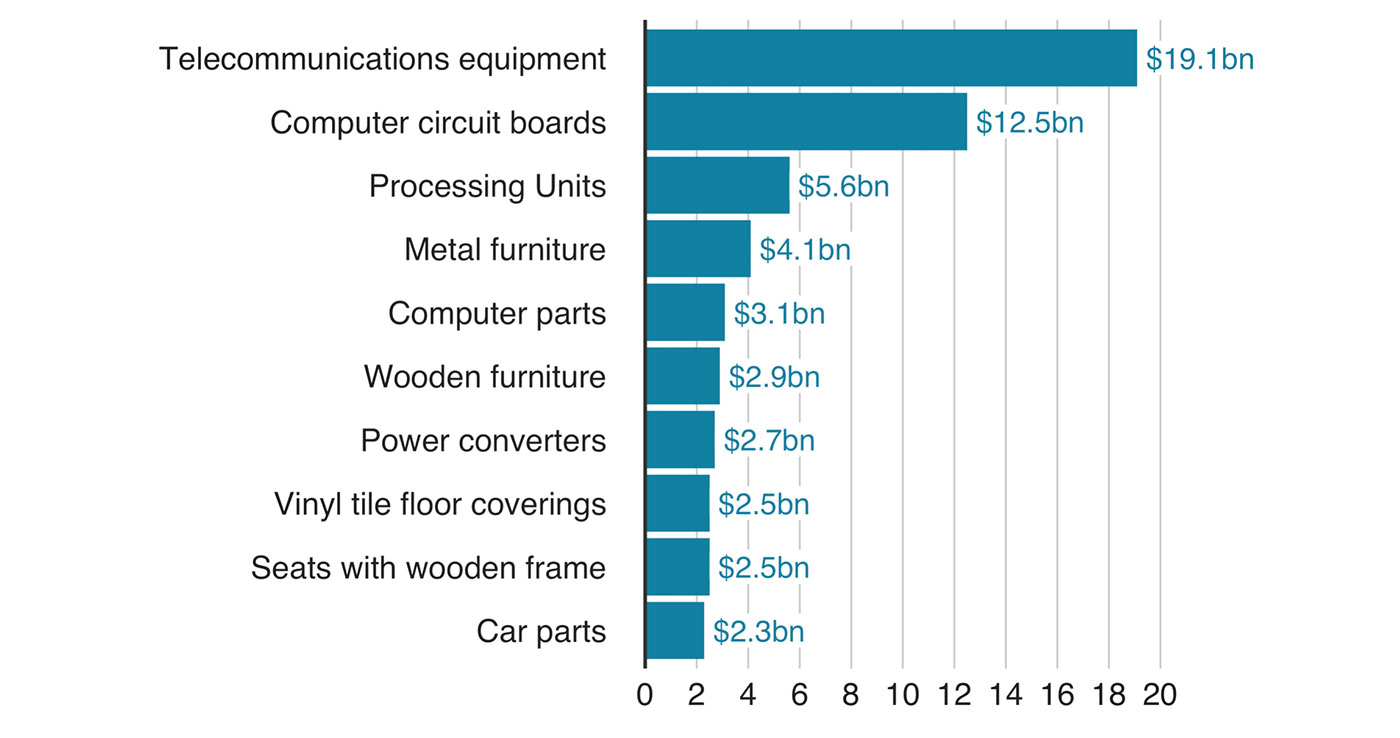 Source: BBC, based on data from the U.S. International Trade Commission
The BBC also notes that while the U.S.–China trade war has "weighed on investor confidence around the world," the indexes of the major China equity exchanges suffered more than U.S. equity markets—at least up until the most recent action this week.
According to CNBC, "President Donald Trump and Chinese President Xi Jinping are likely to meet at the June G-20 summit in Japan, White House Economic Advisor Larry Kudlow said in a Fox News interview on Sunday. Kudlow said the chances of such a meeting 'were pretty good,' but he said there are 'no concrete, definite plans' for when U.S. and Chinese negotiators will meet again."
Figure 4: U.S AND CHINA MARKET PERFORMANCE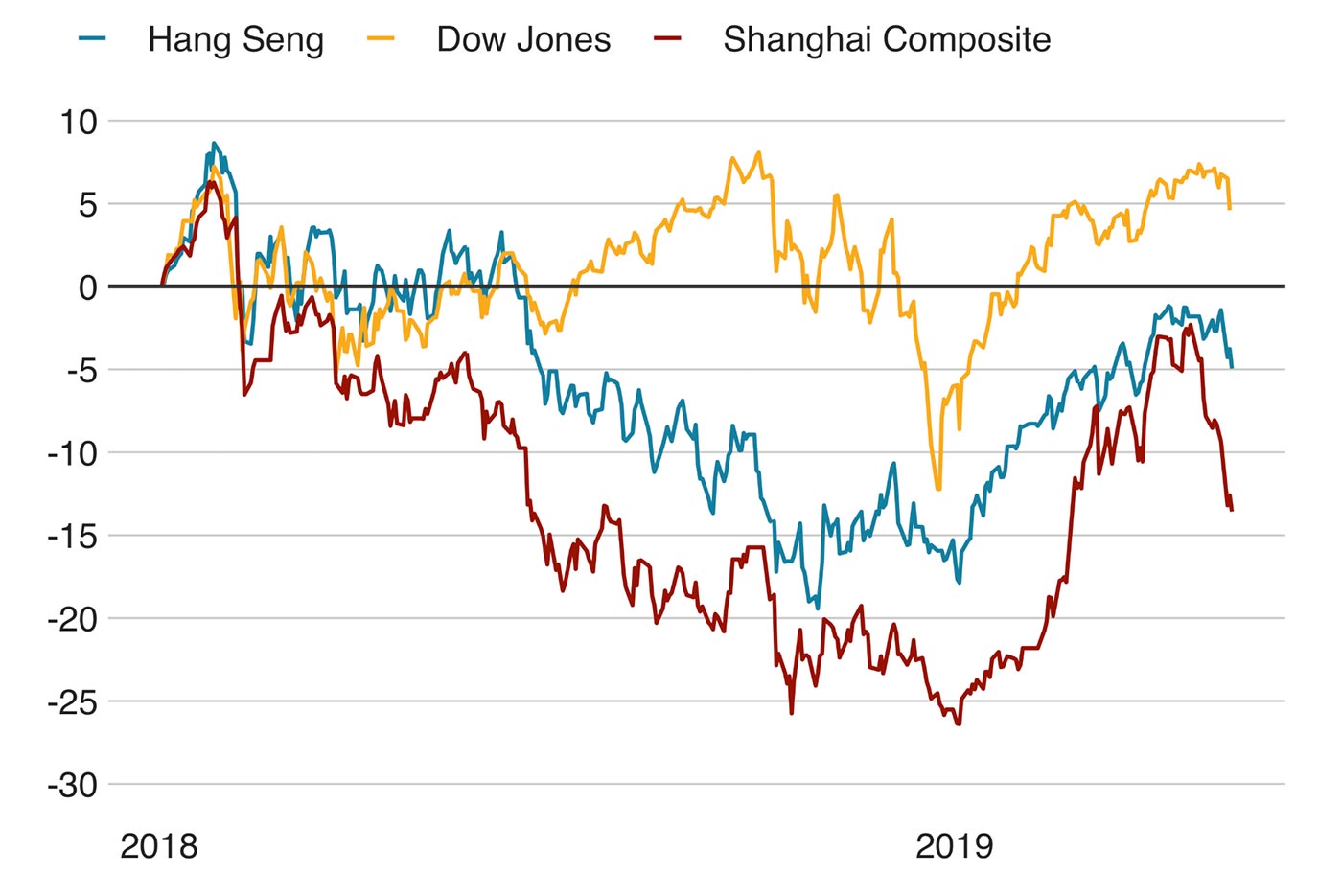 Source: BBC, based on Bloomberg data compiled the week of May 6, 2019.

The combination of niche targeting and active portfolio management provides many advisors with a competitive edge. dvisors who endorse active portfolio management have carved out a distinctive niche for...

A "kids market" has been defined as an investment environment in which the traders making the most money are those too young to remember the last bear market—thereby lacking a healthy appreciation for risk.As someone who began applying computerized research to the...

hina is the biggest driver of global growth so this [coronavirus] couldn't have started in a worse place," said Alec Young, managing director of global markets research at FTSE Russell, to CNBC at the end...

William Romeo • Coconut Creek, FL FinestPlan LLC • Securities America lnc.  founded FinestPlan LLC in 2002 with another advisor, who was my partner in the firm for about 10 years. Getting our practice headed...