While many of the headlines for the U.S. auto industry this year were focused on the innovative story of Tesla and its ambitious growth goals, the automaker remains a minor player in terms of unit sales—at least for now.
The rest of the U.S. market experienced a somewhat lackluster 2019—though better than some earlier estimates—according to a preliminary look at the year's total sales.
The Wall Street Journal wrote on Jan. 3,
"The multiyear boom in U.S. auto sales showed signs of easing in 2019 with major car companies reporting softer results and industry executives predicting the slowdown would continue in 2020.
"Auto makers reported year-end U.S. sales Friday. Analysts expect the car industry to post a decrease of 1% to 2% in U.S. auto sales for the year, once final numbers are compiled, to around 17 million vehicle sales, defying earlier predictions of a sharper decline."
"Total 2019 auto sales fell 1.3% to 17.05 million vehicles, Autodata said, with truck sales up 2.6% and passenger car sales down 10%. Last year, 69% of new vehicles sold last year were trucks or SUVs. Electric vehicle sales jumped 37% to top 236,000."
Of the major automakers selling vehicles in the U.S., preliminary data shows that Honda fared the best in 2019 on a year-over-year percentage basis, and Nissan had the most disappointing year with a decrease of almost 10%.
TABLE 1: MAJOR AUTOMAKER DEC. 2018/TOTAL 2019 ESTIMATED SALES IN UNITS

Source: Investors.com, Wall Street Journal, Autodata Corp., Edmunds, Cox
The Wall Street Journal offered several observations on the auto market for 2019, paraphrased here:
A strong U.S. economy, low gas prices, attractive interest rates, and many new SUV options led to relatively stable sales and overall more expensive average vehicle prices in 2019.
Overall, U.S. industry sales have been hovering at an annual rate of 17 million units since setting a record of 17.6 million in 2016. This came following steady increases from a low of 10.4 million units in 2009.
The average price of a new vehicle hit $33,656 in 2019, up 4% from 2018.
According to J.D. Power, purchasing incentives rose to 11% of sticker prices, the highest percentage level since 2008.
Automakers continue to make significant investments in new technologies, especially electric vehicles, and continue to form new partnerships and alliances.
Related to new technologies, Tesla surprised many with a strong end to 2019.
Says Investors.com,
"Tesla delivered a record 112,000 vehicles globally during Q4, handily beating Wall Street estimates and reaching a lofty sales goal of CEO Elon Musk. Musk had expected to deliver 360,000-400,000 vehicles in all of 2019 and would have needed to hit 104,500 in Q4 to reach the low end of that range. The analyst consensus had called for more than 106,000 deliveries in the quarter. Tesla stock hit an all-time high Friday (1/3/2020)."
For 2020 and beyond, the outlook for U.S. auto sales is mixed. Many analysts are predicting a decline to an annual rate of 16.4–16.8 million units, says The Wall Street Journal.
Research firm Statista sees the trend for sub-17 million units extending until 2023.
FIGURE 1: ANNUALIZED LIGHT VEHICLE SALES PROJECTIONS FOR U.S. MARKET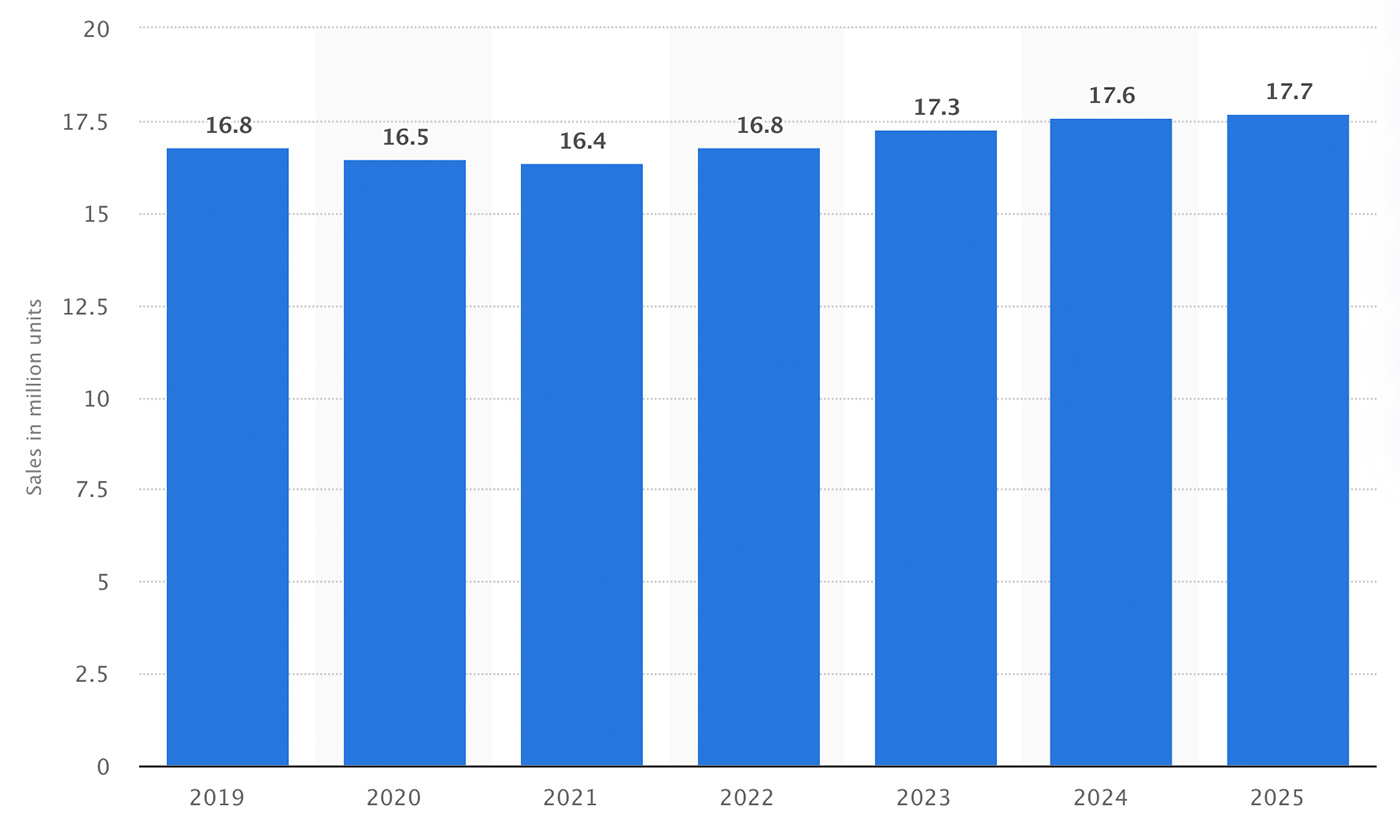 Source: Statista based on industry data.
However, according to econometric models from Trading Economics, total U.S. light vehicle sales are trending toward reaching 17.3 units in 2020.
FIGURE 2: ECONOMETRIC PROJECTIONS FOR U.S. LIGHT VEHICLE SALES
Source: Trading Economics, Autodata Corp.

Behavioral scientists say people can form first impressions in mere seconds—and that those impressions can last longer than one might expect. First impressions are subjective and can affect beliefs about factors such as trustworthiness and competence. How can...

The topics of Fed interest-rate policy, inflation, and bond yields have been front and center for several years. How can proactive advisors guide their clients amid uncertainty in 2020 for the bond market—and other asset classes?[dropcap style="font-size: 60px; color:...

Since we are at the inception of a new year and a new decade (if you adhere to the notion that the decade begins with 2020 and not 2021), it is sometimes useful to see how the patterns of previous market years have played out.Years ending in '9' and '0' Figure 1 is a...

Mira Mizrahi, CFP • Whippany, NJ Diversified Financial Consultants LLC • LPL Financial hen starting out in the advisory field, I became involved with several clients who had immigrated to the United States....