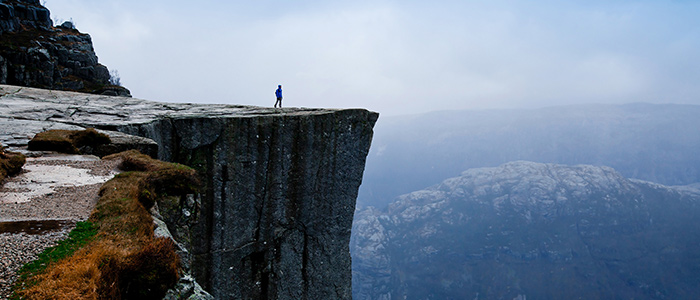 I
ntercept Pharmaceuticals (ICPT) was crushed on Sept. 22, 2017, falling 24 points after the U.S. Food and Drug Administration issued a warning on an ICPT liver drug.
(Editor's note: ICPT opened on Sept. 21 at $98.59 and closed on Sept.22 at $61.59, a 37.6% drop in two days.)
The stock had previously been in a
negative technical pattern
, having recently broken down below support established multiple times at $104. It had tried to rally back, but couldn't overcome resistance. Stock volume patterns are terrible. There is resistance at $86–$90.
FIGURE 1: 5-YEAR PRICE TREND FOR INTERCEPT PHARMACEUTICALS (ICPT)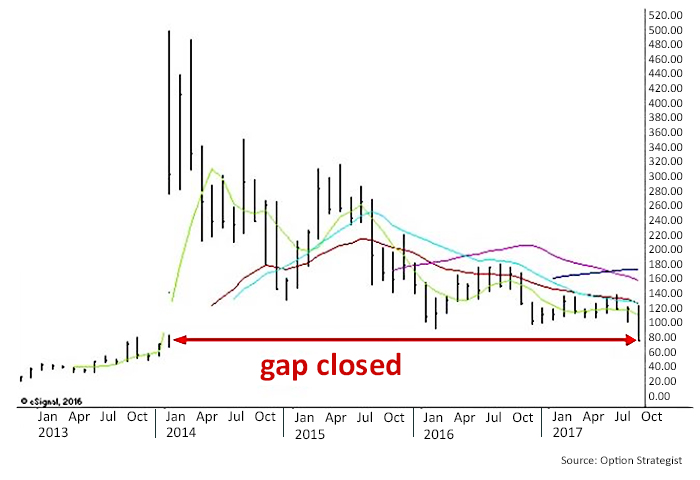 Now it has fallen so far that it has closed the gap from January 2014 when the stock spurted from $76 to $305 in one day! The next day it traded up to nearly $500.
I have no way of knowing how many investors held on for the entire ride, but I'm betting there were quite a few. On that day almost four years ago, there was probably zero expectation that the stock could trade all the way back down to $76 again, but here it is. A simple trailing stop would have gotten you out at some point—not at the top certainly, but if you had just used the simple 20-day (not month, but day) moving average as a trailing stop, you would have gotten out somewhere just above $400. Nothing is certain. Use trailing stops or limit your risk by buying options.
Editor's note: Update on Intercept Pharmaceuticals (ICPT).
A columnist at Motley Fool wrote on Oct. 5, 2017:
"Intercept Pharmaceuticals stock rose 6%, regaining some of the ground it has lost in the past several weeks. Shares have suffered recently because of concerns about the drugmaker's Ocaliva liver disease drug, because both the company itself and the U.S. Food and Drug Administration have come out with warnings regarding deaths from improper dosing of the drug. Yet with the stock having plunged by more than a third in just a single month, Intercept now has value investors thinking that its prospects are better than its stock price would indicate. If medical professionals can move past the warning issues, then Intercept could continue to climb back if Ocaliva is successful when taken properly."
From a stock price perspective, ICPT has not yet made any real comeback, continuing to trade last week under $70.
FIGURE 2: INTERCEPT PHARMACEUTICALS (STOCK PRICE OVER LAST MONTH)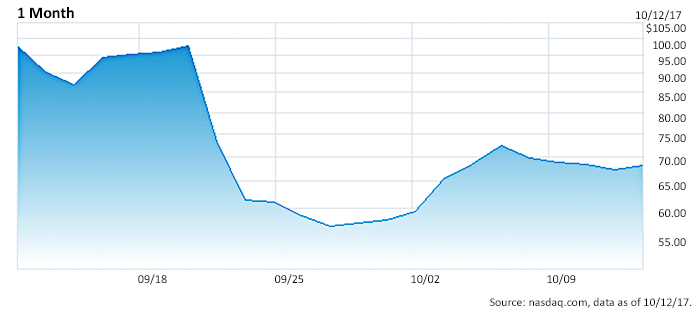 The opinions expressed in this article are those of the author and do not necessarily represent the views of Proactive Advisor Magazine. These opinions are presented for educational purposes only.
This article first appeared at optionstrategist.com on Sept. 22, 2017.

Professional trader Lawrence G. McMillan is perhaps best known as the author of "Options as a Strategic Investment," the best-selling work on stock and index options strategies, which has sold over 350,000 copies. An active trader of his own account, he also manages option-oriented accounts for clients. As president of McMillan Analysis Corporation, he edits and does research for the firm's newsletter publications. optionstrategist.com