T
esla announced in early July that "the first certified production Model 3 that meets all regulatory requirements will be completed this week, with a handover of approximately 30 customer cars at our Fremont factory on July 28."
This was a much-anticipated launch, as it represents the first Tesla production model that will be sold at a somewhat affordable price, "starting at only $35,000 before incentives." According to Tesla's website, cars reserved now will have a delivery date in 12 to 18 months (though cars have already been preordered and will be delivered as available). Tesla says, "Model 3 production has started with low volumes but will grow exponentially until we achieve full production. A similar production ramp will follow with each new available option."
FIGURE 1: MODEL 3 PRODUCTION TIMELINE (2017)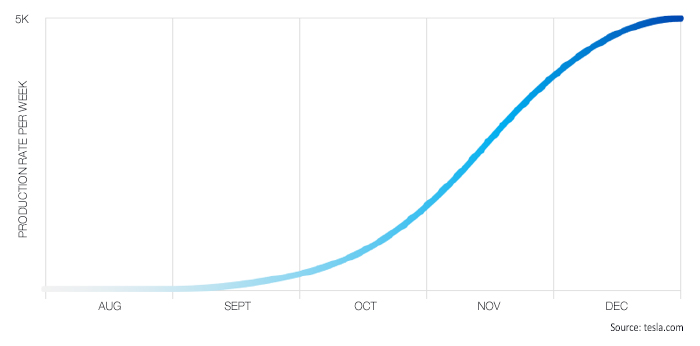 Tesla highlights some of the following aspects of the Model 3:
"Model 3 is a smaller, simpler, more affordable electric car. Although it is our newest vehicle, Model 3 is not 'Version 3' or the most advanced Tesla. Like Model S, it is designed to be the safest car in its class. … Designed and built as the world's first mass-market electric vehicle, it is a critical step in Tesla's mission to accelerate the world's transition to sustainable energy."
It has 220–310 miles of range per full charge, though, unlike the Model S "free supercharging," the Model 3 will have "Pay Per Use Supercharging." The Model 3 will be initially offered with a "long-range battery" only (premium Model 3), with the standard battery going into production in November 2017. "The high-efficiency powertrain provides zero to 60 mph acceleration in as little as 5.1 seconds."
The Model 3 has an impressive array of safety features, including eight cameras, forward radar, and 12 ultrasonic sensors that enable active safety technologies, including collision avoidance and automatic emergency braking, eight airbags, and electronic stability and traction control. All-wheel drive will become available in 2018. The vehicle also includes "full LED exterior lighting" and "voice activated controls."
Business Insider reported on the official launch event held last Friday, where many more details around the Model 3 were clarified, including that the car will "come equipped with a new suite of hardware that supports Tesla's second-generation autopilot system, Enhanced Autopilot." This will "eventually allow the car to match its speed to traffic conditions, automatically change lanes without driver input, merge on and off highways, and park itself."
According to Car and Driver magazine, back in April, 115,000 people had supposedly put down deposits on the Model 3 "before the car was even shown to the public." They more recently said reservations were up to at least 400,000. Car and Driver considers this to be a monumental new product launch for Tesla:
"This is the car that will either save Tesla or kill it. To tool up for the expected volumes, which could be in the range of 75,000 a year the first couple of years, Tesla will risk a lot of capital on ramping up production, retail, and service capacity, making the Model 3 Tesla's do-or-die moment. Everything will be bigger."
The Wall Street Journal noted this past weekend, "Excitement for the car and for Mr. Musk's vision of personal transportation has helped Tesla shares soar more than 50% this past year, lifting its market value past that of Ford Motor Co." However, according to WSJ, second-quarter sales for existing Tesla models fell short of analyst expectations, "fueling concerns that demand for those models was softening." Despite this outlook, shares of Tesla rose after its Q2 earnings report on August 2, when the automaker's quarterly loss was smaller than expected and revenue exceeded previous estimates.
FIGURE 2: TESLA (TSLA) STOCK PERFORMANCE (PAST YEAR)