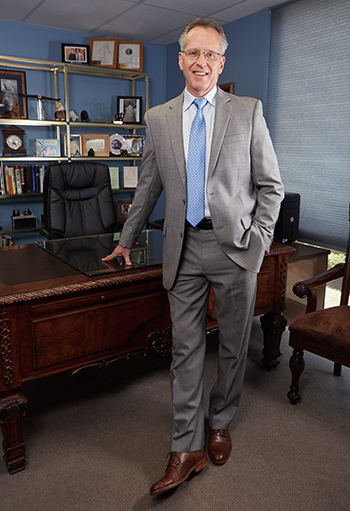 I think the early stages of our process are a little different from those of most advisors. First, I strongly encourage all prospective clients or client couples to attend one of our financial-planning seminars. This allows them to sit back and hear about our firm's credentials and our approach to financial and investment planning without feeling any pressure. In effect, I am allowing them to interview me by hearing my overview of the many issues that may affect their financial lives.
Once they have attended the seminar, I send them what I call a "pre-fit letter." The pre-fit letter outlines what we're looking for in a client and what the client might be looking for in an advisor. It also covers elements of a strong advisor-client relationship and the values that will hopefully exist in that relationship, such as integrity and transparency on both sides. It also explains why planning and strategy are so important.
When we have our initial meeting, we should hopefully have some common expectations established. But I tell prospective clients that we should both be interviewing each other, since relating well will be a very important factor in establishing a long-term and productive relationship.
Assuming that all goes well, and it usually does, I like to start the new client relationship with a personalized and interactive process. It is very important that both spouses be there. During this process, I review the three cornerstones of what we would like to help them achieve: peace of mind, freedom, and impact for their legacy. I then conduct a session using a whiteboard. We dig into their concerns in all three of those areas. What keeps them up at night? Where do they feel they are doing well financially? What have their experiences been in the past with money and investing? What are the unique circumstances of their professional and personal lives?
On the board, we will rank their major financial concerns, and I will outline some big-picture planning thoughts. I like to ask clients to then imagine themselves in a Norman Rockwell painting. What is the image they would like to see for themselves in the future? How should that picture turn out? This is a projection exercise trying to get them to imagine their ideal lifestyle going forward. We can't always promise they will get there, but it is a goal to shoot for and says a lot about their dreams and aspirations.
The rest of the process gets down into the details of their current financial affairs, identifying liabilities, assets, and potential income streams moving forward. Our team then works through financial-planning options. After we present a plan to the client, we want to make sure we educate them as much as possible on the thinking and rationale behind our recommendations. Execution of the plan, tracking progress versus objectives, and having regular follow-up review sessions are critical next steps in the process. At the end of the day, I want clients to feel they have received real value from our relationship.
Disclosure: Securities offered through TFS Securities, Inc., member FINRA/SIPC, a full-service broker-dealer located at 437 Newman Springs Road, Lincroft, New Jersey, 07738, (732) 758-9300. Investment advisor services offered through TFS Advisory Services, a division of TFS. G. Douglas Financial Group is not affiliated with TFS Securities, Inc., or registered as a broker-dealer.
Photography by Deirdre Ryan