While it is always a little hard to say farewell to summer, the fall season brings cooler and more pleasant temperatures to many parts of the U.S., as well as the kick-off of a new earnings season. Unfortunately, peak hurricane season for the Eastern Seaboard tends to run from August to October each year, often bringing deadly storms and tremendous property damage.
Hurricane Florence has done so in 2018. Last year, says FactSet, the S&P 500 insurance industry "witnessed a substantial decline in earnings for the third quarter after Hurricanes Harvey and Irma."
With many companies having fiscal years that do not align exactly with quarter-end closes, some important results for companies with August quarterly closes are already starting to be released. But the bulk of reports for Q3 2018 will come in early October and slowly wind down through mid-November.
The early outlook for the third quarter remains very positive, according to data from FactSet. Last week they issued the following broad metrics covering the Q3 earnings outlook:
Earnings growth: For Q3 2018, the estimated earnings growth rate for the S&P 500 is 19.9%. If 19.9% is the actual growth rate for the quarter, it will mark the third-highest earnings growth since Q3 2010 (34.1%).
Earnings revisions: On June 30, the estimated earnings growth rate for Q3 2018 was 21.1%. Eight sectors have lower growth rates today (compared to June 30) due to downward revisions to earnings estimates.
Earnings guidance: For Q3 2018, 74 S&P 500 companies have issued negative EPS guidance and 24 S&P 500 companies have issued positive EPS guidance.
Valuation: The forward 12-month price-to-earnings (P/E) ratio for the S&P 500 is 16.8. This P/E ratio is above the five-year average (16.3) and above the 10-year average (14.4).
FIGURE 1: S&P 500 EPS TREND VS. PRICE TREND (10 YEARS)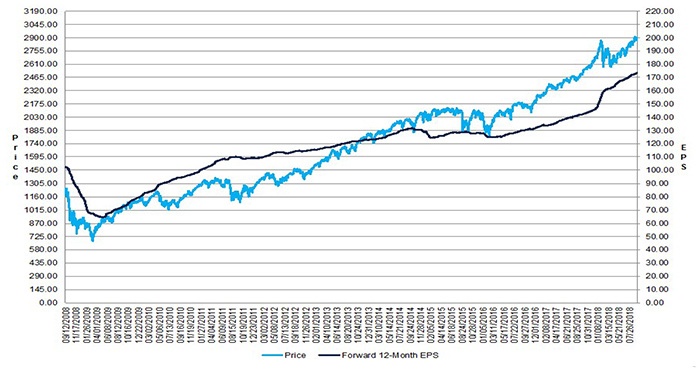 In terms of specific sectors, FactSet notes that all 11 sectors are expected to report year-over-year growth in earnings. Seven sectors are projected to report double-digit earnings growth for the quarter, led by the Energy, Financials, Telecom Services, and Materials sectors.
FIGURE 2: S&P 500 PROJECTED EARNINGS GROWTH BY SECTOR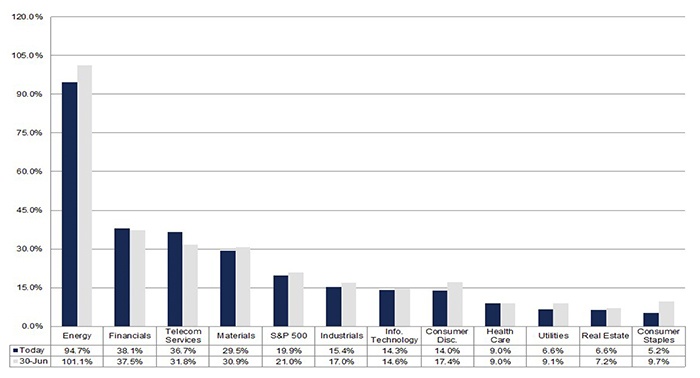 Source: FactSet. Projections as of 9/14/18.
As can be seen in Figure 2, the financial sector is anticipated to be one of the leading sectors for earnings growth in Q3 2018. FactSet notes that the insurance industry was anticipated to be the largest contributor to earnings growth for the financial sector, due to its rebound from the hurricane damage incurred in 2017. With the impact from Hurricane Florence, the industry may suffer large losses again, bringing down the lofty estimate of 38% earnings growth for the financial sector. The earnings growth estimate for the sector without the insurance industry is 22%.
Looking forward, most analysts see the total calendar-year earnings growth for 2018 coming in around an impressive 20% figure. For calendar year 2019, FactSet is currently projecting earnings growth around 10%.
Bespoke Investment Group projects a similar outlook for 2019, calling for "high single-digit growth off of a high 2018 base."
FIGURE 3: S&P 500 ESTIMATED EARNINGS GROWTH (NEXT 4 QUARTERS)

Source: Bespoke Investment Group

The combination of niche targeting and active portfolio management provides many advisors with a competitive edge. dvisors who endorse active portfolio management have carved out a distinctive niche for...

A "kids market" has been defined as an investment environment in which the traders making the most money are those too young to remember the last bear market—thereby lacking a healthy appreciation for risk.As someone who began applying computerized research to the...

hina is the biggest driver of global growth so this [coronavirus] couldn't have started in a worse place," said Alec Young, managing director of global markets research at FTSE Russell, to CNBC at the end...

William Romeo • Coconut Creek, FL FinestPlan LLC • Securities America lnc.  founded FinestPlan LLC in 2002 with another advisor, who was my partner in the firm for about 10 years. Getting our practice headed...