Over the past two weeks there have been a number of important reports on the health of the U.S. consumer. In general, the data has been strong on employment and retail sales, giving credence to hopes for a strong third-quarter GDP report later in the year.
However, despite the positive trends, consumer sentiment came in below consensus estimates last month, according to the University of Michigan tracking. Also, housing market indicators are generally trending in the wrong direction.
Here are some of the recent data points:
1. Jobless claims in the U.S. fell back near their post-recession low. According to MarketWatch, new claims declined by 2,000 to 212,000 in the seven days from Aug. 5 to Aug. 11. This was better than consensus estimates for 215,000 and was near the lowest levels since the recession.
FIGURE 1: INITIAL JOBLESS CLAIMS
Sources: MarketWatch, U.S. Dept. of Labor
2. Retail sales increases outpaced expectations. Barron's reported, "Demand for autos has cooled but not overall retail sales, which rose 0.5 percent in July to easily top Econoday's consensus range where the high forecasts were only at 0.3 percent." As can be seen in Figure 2, the annualized trend for retail sales is on a positive slope.
FIGURE 2: U.S. RETAIL SALES TREND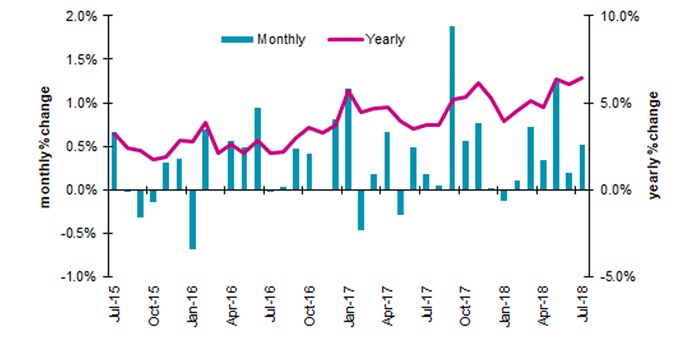 Source: Barron's/Econoday, Haver Analytics, U.S. Bureau of the Census
Sales in food-services and drinking places were particularly strong.
FIGURE 3: SALES IN FOOD-SERVICES AND DRINKING PLACES
12-month change, seasonally adjusted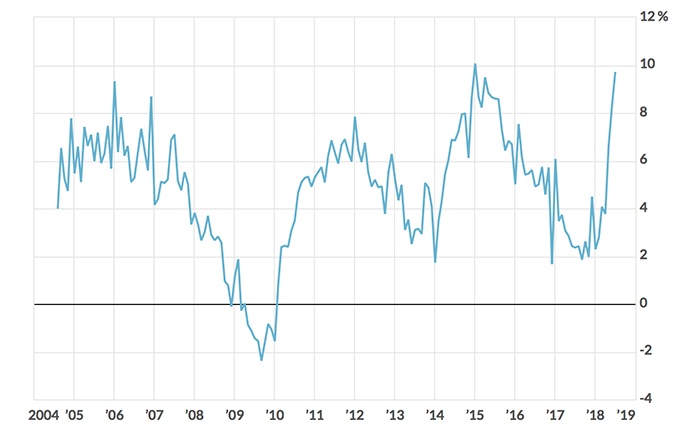 Sources: MarketWatch, Haver Analytics, U.S. Bureau of the Census
3. The number of mortgage applications continues to decline.
Barron's wrote of the latest report:
"Purchase applications for home mortgages fell a seasonally adjusted 3 percent in the August 10 week, posting the fifth consecutive weekly decline in a row and taking the unadjusted purchase index to a level 3 percent lower than in the same week a year ago."
They noted about the prior week's report, "Higher interest rates are taking their toll on mortgage activity and the 2 percent year-on-year decline in purchase applications does not bode well for a housing market already showing little life."
FIGURE 4: MBA MORTGAGE APPLICATIONS (WEEK-OVER-WEEK CHANGE)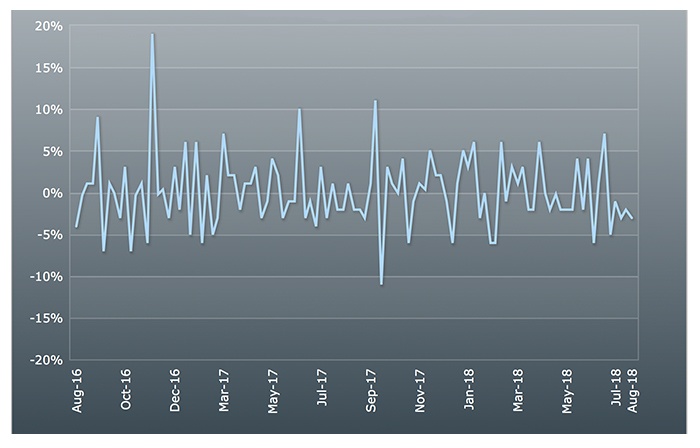 Sources: Barron's, Mortgage Bankers Association (MBA)
4. Consumer sentiment is below expectations, though still in the high end of the range.
Consumer sentiment fell to levels last seen in September 2017 and was below both consensus expectations and the lowest estimate. On a historical basis, consumer sentiment remains relatively strong.
Richard Curtin, Surveys of Consumers chief economist at the University of Michigan, commented in part,
"Consumer sentiment slipped to its lowest level since last September, with the decline concentrated among households in the bottom third of the income distribution. The dominating weakness reflected much less favorable assessments of buying conditions, mainly due to less favorable perceptions of market prices. … Home buying conditions were viewed less favorably in early August than any time in the past ten years, with home prices judged less favorably than any time since 2006."
TABLE 1: UNIVERSITY OF MICHIGAN CONSUMER SENTIMENT (AUGUST 2018)

Source: University of Michigan, preliminary August 2018 data
FIGURE 5: UNIVERSITY OF MICHIGAN CONSUMER SENTIMENT (PAST YEAR)
Sources: Trading Economics, University of Michigan
The opinions expressed in this article are those of the author and do not necessarily represent the views of Proactive Advisor Magazine. These opinions are presented for educational purposes only.

Clyde Cleveland • Fort Lauderdale, FL Impact Wealth Group • IWG Investment Advisors LLC Read full biography belowProactive Advisor Magazine: Clyde, you have had a fascinating career. Please talk about some of the highlights.I think three themes have run throughout my...

Portfolio drawdowns are a fact of life for professional investment managers and financial advisors—and the clients who depend on both of them. Understanding the nature of drawdowns—and the relationships of various investment vehicles on a risk-adjusted basis—is a...

Editor's note: Tony Dwyer, U.S. portfolio strategist for Canaccord Genuity, and his colleagues author frequent overviews of market conditions, technical factors, and their future market outlook. The following provides an edited excerpt from their April 11, 2019,...

Michael Mandarino • Apollo Beach, FL 123 Investing • G.A. Repple & Companyn 2012, I rededicated my life to the Christian faith, which has been a huge blessing. Our firm strives to empower our clients to...