The Conference Board Leading Economic Index (LEI) for the U.S. increased 0.4% in August to 111.2. This came after a 0.7% increase in July and 0.5% increase in June, continuing the Index's impressive run over the past two years.
The Conference Board said in its press release on September 20, 2018,
"'The leading economic index is now well above its previous peak (March 2006, 102.4). The leading indicators are consistent with a solid growth scenario in the second half of 2018 and at this stage of a maturing business cycle in the US, it doesn't get much better than this," said Ataman Ozyildirim, Director of Business Cycles and Growth Research at The Conference Board. 'The US LEI's growth trend has moderated since the start of the year. Industrial companies that are more sensitive to the business cycle should be on the lookout for a possible moderation in economic growth in 2019. The strengths among the LEI's components were very widespread, further supporting an outlook of above 3.0 percent growth for the remainder of 2018.'"
FIGURE 1: THE CONFERENCE BOARD LEADING ECONOMIC INDEX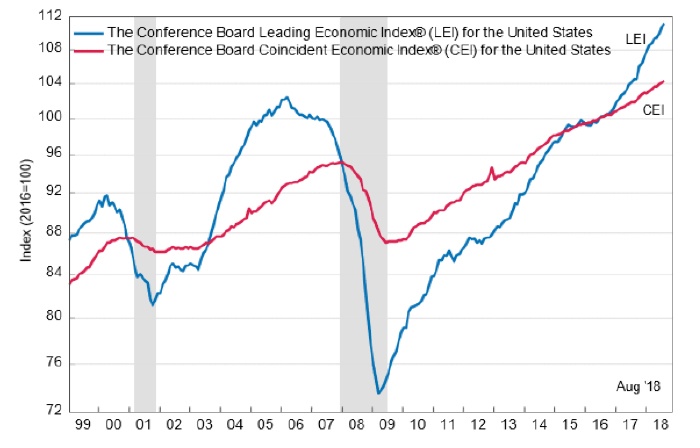 Note: Shaded areas represent recessions.
Source: The Conference Board.
Although some recent economic indicators and reports have been mixed in terms of performance versus consensus outlook, the U.S. economic picture remains solid. The second quarter GDP revisions released on September 29 beat expectations, with Q2 GDP now estimated at 4.2%. The Atlanta Fed currently has a forecast of 4.1% for Q3 GDP, although consensus estimates are in the 3.0% to 3.5% range.
However, several analysts have noted that global growth appears to be exhibiting some signs of a slowdown. Fidelity Investments wrote recently, "Global activity remains solid, but the pace of growth has deteriorated. Manufacturing activity (PMIs) in 87% of the world's largest economies are in expansionary territory; however, only 10% are improving on a 6-month basis."
Bespoke Investment Group said last week, "While the global trade volume backdrop saw some bounce-back in July, global industrial output growth continues to slow. … The 3m/3m annualized pace of growth for industrial production is the weakest since December of 2016."
FIGURE 2: GLOBAL INDUSTRIAL PRODUCTION GROWTH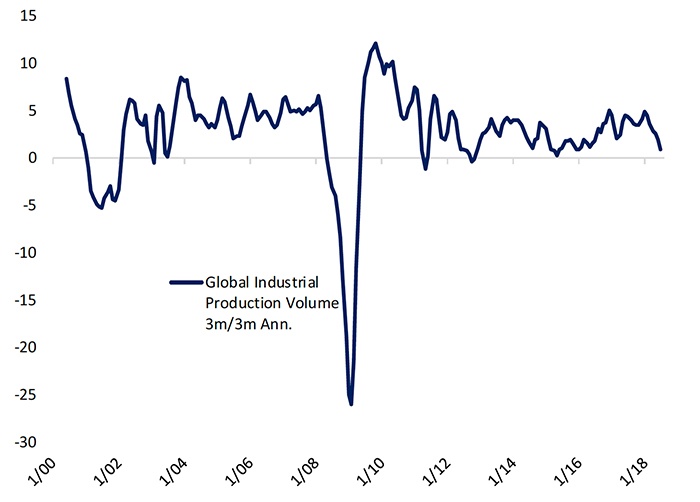 Source: Bespoke Investment Group
FIGURE 3: INDUSTRIAL PRODUCTION GROWTH ANNUALIZED BY REGION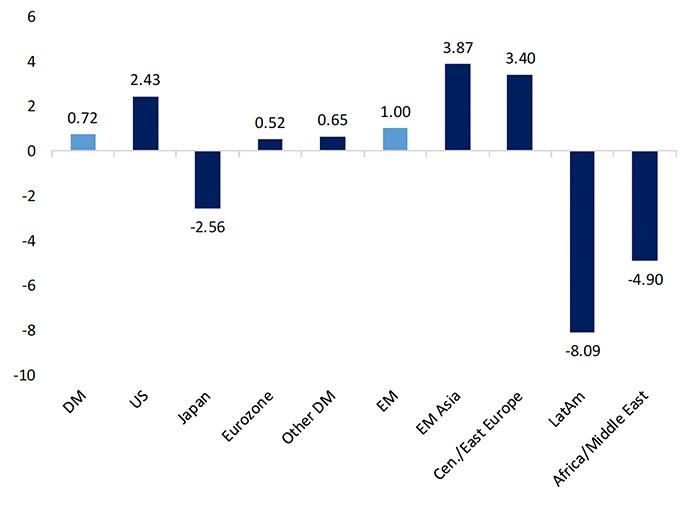 Note: DM = Developed Markets; EM = Emerging Markets
Source: Bespoke Investment Group

The opinions expressed in this article are those of the author and do not necessarily represent the views of Proactive Advisor Magazine. These opinions are presented for educational purposes only.

Mary Lyons • Dallas, TX The Wealth Woman • Personal Economics Group Read full biography below Proactive Advisor Magazine: Mary, talk about your background and how you became a financial advisor. I grew up in a supportive family that had strong role models and...

The old Wall Street adage "Sell in May and go away" has some strong support in the data, but probably not in the way most investors think. An excerpt from the book "Why Bad Things Happen to Good Investments," by William T. Hepburn, explains why and shows that November...

Editor's note: Tony Dwyer, U.S. portfolio strategist for Canaccord Genuity, and his colleagues author a widely respected monthly overview of market conditions, technical factors, and future market outlook called the "Strategy Picture Book." The following provides an...

Stephen Baldino • Warwick, NY Baldino & Perry Associates Inc. • Cetera Advisor Networks LLC or most of my career as a financial advisor, I have been both literally and figuratively located on "Main Street"...