A
fter years of lackluster market returns, Japan's Nikkei index reached a major milestone last week, closing at its highest level since 1996. The Nikkei 225 Stock Average is the oldest and one of the most-followed indexes in Japan and around the world. It's a price-weighted index containing 225 of the nation's largest blue-chip companies listed on the Tokyo Stock Exchange.
Reuters wrote last week:
"Japan's Nikkei share index closed at its highest in 21 years on Wednesday (Oct. 11), with gains mainly led by defensive shares, though exporters benefitted from solid global growth. … The Nikkei rose 0.3 percent to 20,881.27, its highest close since December 1996. The broader Topix rose 0.1 percent to 1,696.81, its highest finish in a decade. The Nikkei's advance mirrored other major stock indexes notching record highs, thanks to healthy growth prospects for the major economies in North America, Europe and Asia."
FIGURE 1: NIKKEI 225 STOCK AVERAGE (1995–2017)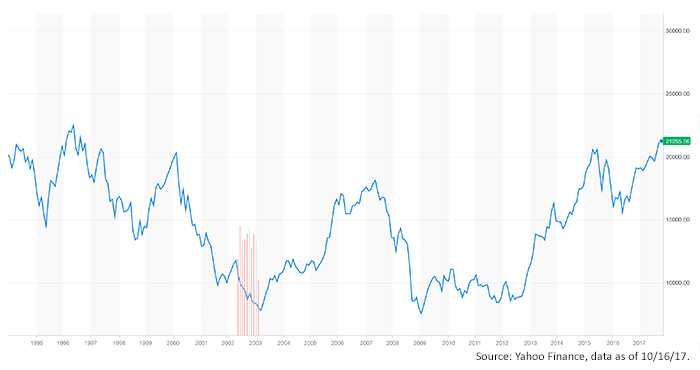 As Reuters points out, however, very long-term investors in Japan might still be underwater on their holdings, since "the Nikkei is still a long way off its all-time peak of 38,915, touched in December 1989."
FIGURE 2: NIKKEI 225 STOCK AVERAGE (1983–2017)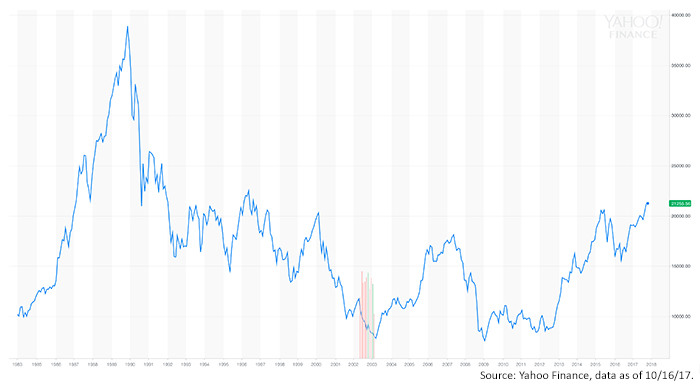 On a year-to-date basis, Japan's overall equity market has slightly outperformed the S&P 500 through Friday, October 13, up 18.2% versus the S&P's gain of 15.7%. Compared to some other major industrialized countries, according to data from Bespoke Investment Group, Japan's strong performance is roughly in the middle of the pack for 2017.
FIGURE 3: RELATIVE EQUITY MARKET PERFORMANCE OF SELECTED COUNTRIES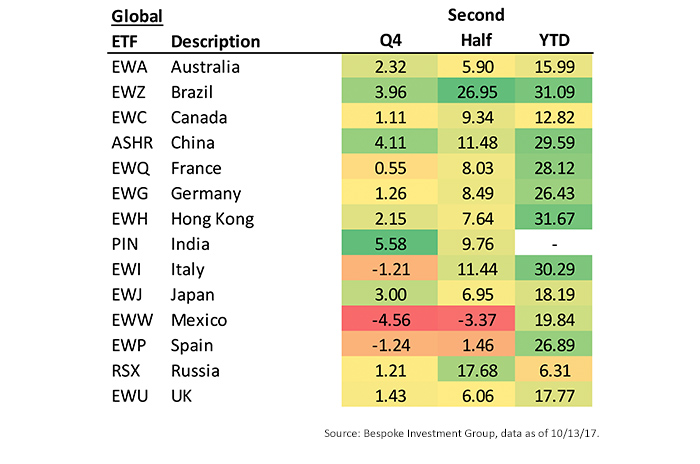 One of the best-performing stocks anywhere has been Japan's diversified telecom and internet company SoftBank Group. Barron's says the stock has outperformed three of four U.S. "FANG" stocks (Facebook, Amazon, Netflix, Google), with the exception being Netflix. Due in part to high-profile deal-making, the company's stock is up "27% year-to-date and 140% from the lows of 2016."
Bloomberg noted recently that SoftBank surged to a 17-year high but is still at less than half of its peak in the dot-com years. They point out that SoftBank is "part of a group of investors in talks for a 14-17 % stake in Uber Technologies" and also "in the final stages of working out terms" for a merger of Sprint and T-Mobile. Among SoftBank's holdings, says Bloomberg, are significant stakes in Alibaba and Yahoo Japan.
FIGURE 4: SOFTBANK STOCK PERFORMANCE (2000–2017)