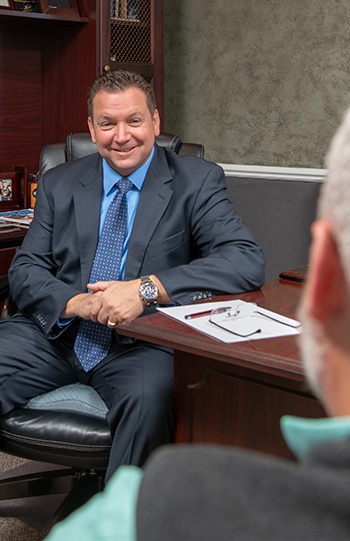 When clients engage with our firm, they are truly involved in a holistic financial-planning process. Our goal is to make sure they are educated and served across the full range of their financial needs. We think our business model is different in that we bring together separate professional firms under one roof—we work with individual clients, families, and businesses using a team approach.
We think this enables clients to integrate their financial planning and decision-making without the difficulty and inconvenience of putting together a team of trusted advisors on their own. We are used to working together on behalf of clients, communicating constantly with each other. We can also communicate with clients effectively on day-to-day matters and their account reviews. If clients have other advisors that they would like to continue to work with, that is fine. We take the initiative to consult with our clients' other advisors, such as legal and tax professionals.
Our independent firms provide guidance in the areas of financial planning, investment management, retirement planning, estate and legacy planning, life insurance, individual and business property and casualty insurance, budget counseling and tax preparation, Medicare supplemental insurance and long-term-care planning, identity protection, and legal and other professional business services. We sincerely care about helping clients make important life decisions that can affect them now and in the future. We believe that a team approach is an effective and efficient business model to help clients make those decisions in a disciplined, integrated, and well-informed manner.
The common thread that tends to define our clients is they have strong values and are family-oriented. They're hard workers and honest people. They want to live comfortably in retirement, and they want to give something to their family when they're gone. They want to manage their tax exposure and preserve their hard-earned assets. They want to be responsible stewards of their money, and they recognize that they could use some experienced guidance.
I think an important factor in building successful and long-term relationships is that we value people as more than just clients. Our offices are welcoming, more like a home than an office, and we consider our clients to be part of our family. This carries through to our event planning for current and potential clients. We focus on creating occasions that people really enjoy and where they can bring their family or friends.
Rather than having an event at some impersonal restaurant, we ask our clients to recommend things they would like to experience for the first time. We call this our "bucket list" approach to client events. One of our recent events included hot-air ballooning. We have a list of interesting experiences that our clients have helped us formulate, and we look forward to hosting many such events over the coming years.

Educate clients about a full range of financial services.
Create a welcoming office environment.
Take a "bucket-list" approach to client events.
Disclosure: Securities offered through J.W. Cole Financial Inc. (JWC). Member FINRA/SIPC. Advisory services offered through J.W. Cole Advisors Inc. (JWCA). Integrated Investment Systems Inc. and JWC/JWCA are unaffiliated entities. Tax services are not offered by JWC/JWCA. Non-securities-related services offered by Integrated Investment Systems Inc. are not provided in their capacity as registered representatives and/or investment advisor representatives of JWC/JWCA.
Photography by Deverman

Lem Kornegay, AAMS, RFC • Glendale, CO Paladin Financial Services Inc. • Money Concepts Capital Corporation Read full biography belowProactive Advisor Magazine: Lem, talk about your overall philosophy of helping clients plan for retirement. I tell clients from the...

Clients who have become suddenly wealthy—whether through an inheritance, a windfall profit from a real estate deal or IPO, proceeds from selling a business, a lucrative new contract, or even the lottery—present a unique mind-set and specific financial-planning...

he real estate sector had a difficult 2018, though from a sector-investing basis it was not as bad as one might have expected. While the S&P 500 was down 4.38% on a total-return basis, the real estate...

Editor's note: Tony Dwyer, U.S. portfolio strategist for Canaccord Genuity, and his colleagues author a widely respected monthly overview of market conditions, technical factors, and future market outlook called the "Strategy Picture Book." The following provides an...