Two early holiday shopping trends appear to be emerging based on preliminary sales data, reports Reuters. While "Black Friday store traffic and sales data [are] not necessarily grim as consumers continue to spend," online sales were the clear winner.
Reuters says the data indicates (1) online sales were up 19.6% on Black Friday to $7.4 billion and up 14.5% to $4.2 billion on Thanksgiving; and (2) there was a trend toward more Thanksgiving evening shopping, with physical store traffic up 2.3% year-over-year—but down 6.2% on Black Friday.
According to research and data analytics firm Statista, the overall 2019 holiday season for retail sales looks to continue the trend for steady annual increases since 2008–2009. The increase for brick-and-mortar retailers is expected to be about 4%. Statista wrote recently,
"In 2019, holiday retail sales in the United States were forecast to amount to about $729.3 billion. Holiday retail sales have risen substantially since the turn of the century, with holiday retail sales amounting to approximately $400 billion back in 2000. … Holiday season e-commerce is also on the rise, with increasing numbers of retailers and consumers going digital."
FIGURE 1: U.S. HOLIDAY RETAIL SALES (2000–2019)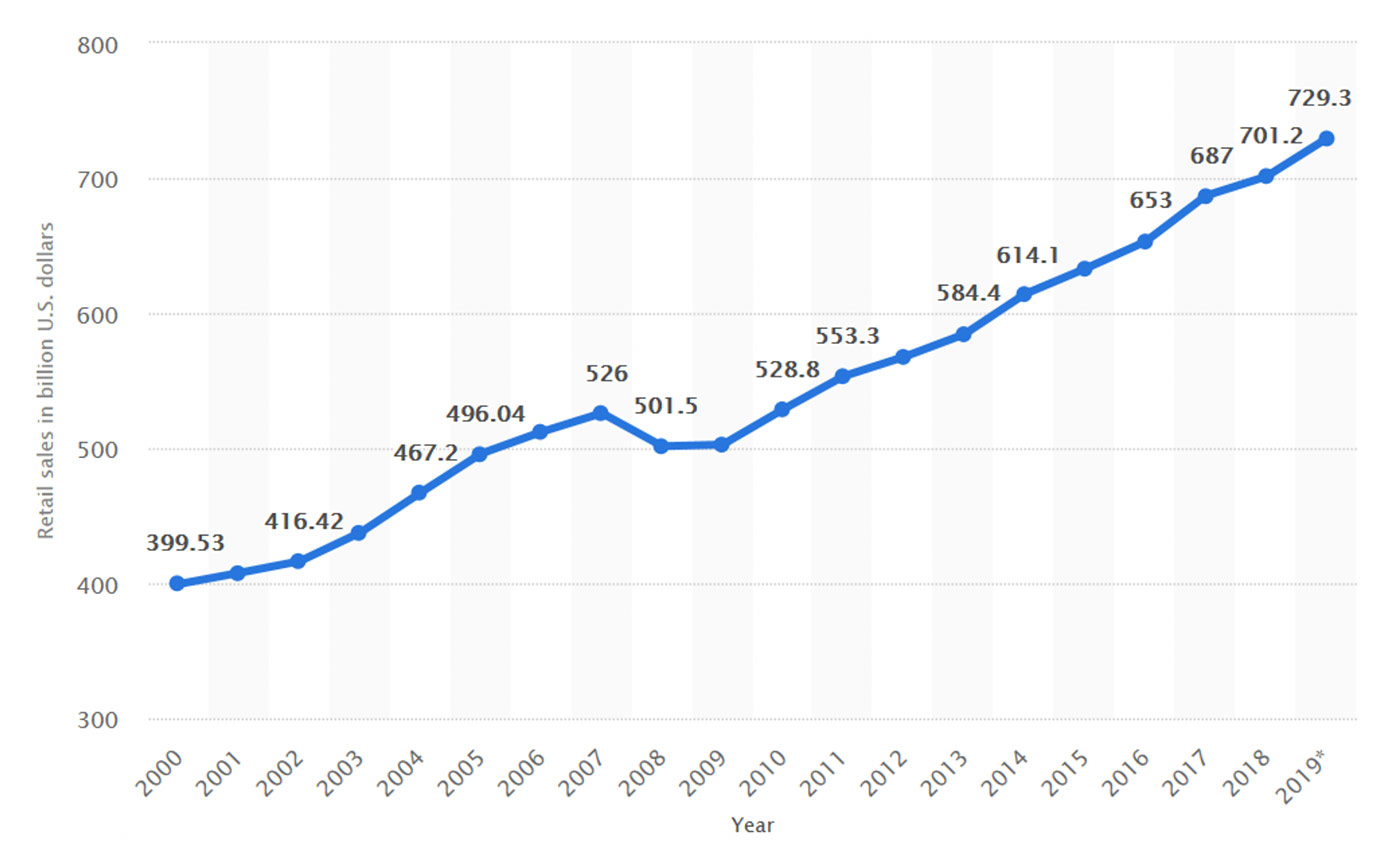 The National Retail Federation (NRF) conducts an annual survey of consumers in October related to their shopping plans for the holiday season. This year's survey found that "consumers say they will spend an average of $1,047.83 this holiday season, up 4 percent from the $1,007.24 they said they would spend last year. … Shoppers between the ages of 35 and 44 plan to spend the most at $1,158.63."
"Consumers are in good financial shape and willing to spend a little more on gifts for the special people in their lives this holiday season," NRF President and CEO Matthew Shay said. "Retailers are fully prepared to meet the needs of holiday shoppers looking for that perfect mix of sales, quality and selection."
Shay also noted that "retailers are expected to import near-record volumes of merchandise ahead of the tariffs that are scheduled to take effect on a wide range of consumer goods from China on December 15."
Statista added perspective on the prospects for online shopping for the 2019 season:
FIGURE 2: 2019 E-COMMERCE HOLIDAY SEASON PROJECTIONS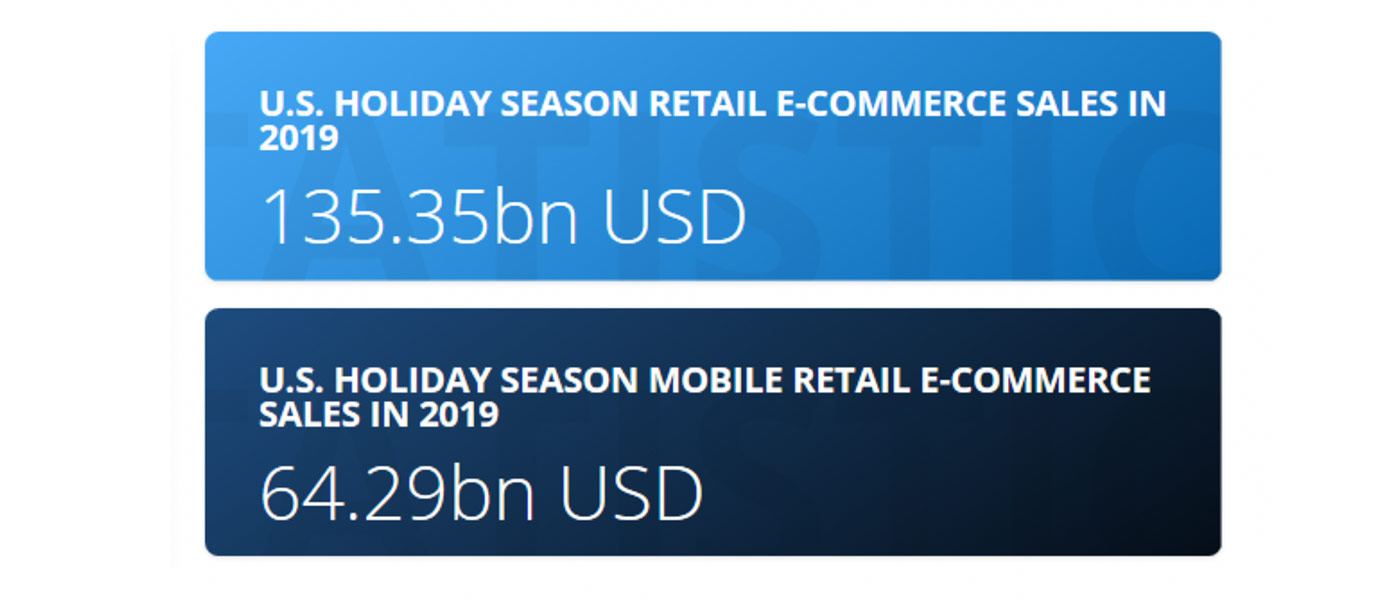 It is expected that visits to retail websites via mobile devices will grow further in 2019. CNBC reports that "Cyber Monday shoppers spent a record $9.4 billion online, up 19.7% from a year ago, according to data released by Adobe Analytics." For companies with a technology heritage such as Apple and Amazon, mobile visits to their websites in 2018 were far greater as a percentage than those for more traditional retailers.
FIGURE 3: SHARE OF MOBILE VISITS TO LEADING RETAIL WEBSITES (NOV.–DEC. 2018)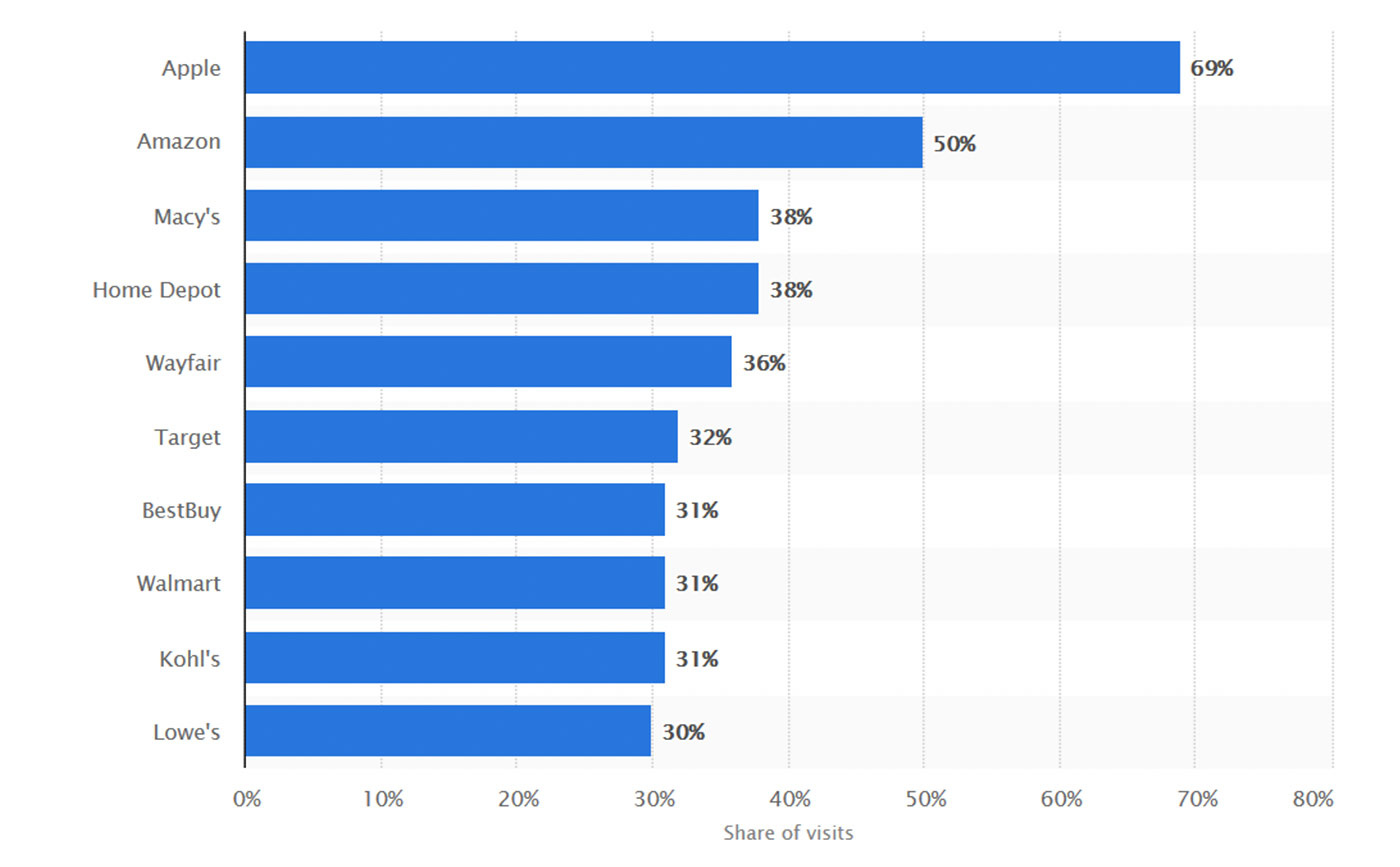 Behavioral scientists say people can form first impressions in mere seconds—and that those impressions can last longer than one might expect. First impressions are subjective and can affect beliefs about factors such as trustworthiness and competence. How can...

The topics of Fed interest-rate policy, inflation, and bond yields have been front and center for several years. How can proactive advisors guide their clients amid uncertainty in 2020 for the bond market—and other asset classes?[dropcap style="font-size: 60px; color:...

Since we are at the inception of a new year and a new decade (if you adhere to the notion that the decade begins with 2020 and not 2021), it is sometimes useful to see how the patterns of previous market years have played out.Years ending in '9' and '0' Figure 1 is a...

Mira Mizrahi, CFP • Whippany, NJ Diversified Financial Consultants LLC • LPL Financial hen starting out in the advisory field, I became involved with several clients who had immigrated to the United States....