The narrative of "synchronized global growth" has not played out in equity markets around the world in 2018, as the S&P 500 notched new all-time highs last week and other nations' equity markets continued their lackluster performance.
FIGURE 1: S&P 500 (LAST 12 MONTHS)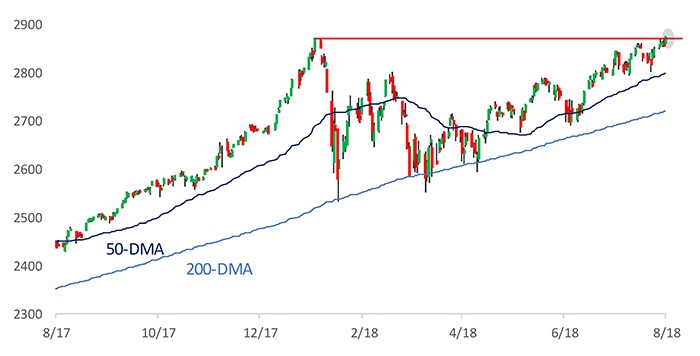 Source: Bespoke Investment Group
Figure 2 examines the dollar-adjusted 12-month performance of the MSCI World ex USA Index, which captures large-cap and mid-cap representation across 22 of 23 developed-markets (DM) countries—excluding the United States. While the Index rallied into the end of last week, Bespoke Investment Group notes that is has been trending to the downside on its 50-day moving average, with a series of lower highs.
FIGURE 2: MSCI WORLD EX USA INDEX, $ ADJUSTED (LAST 12 MONTHS)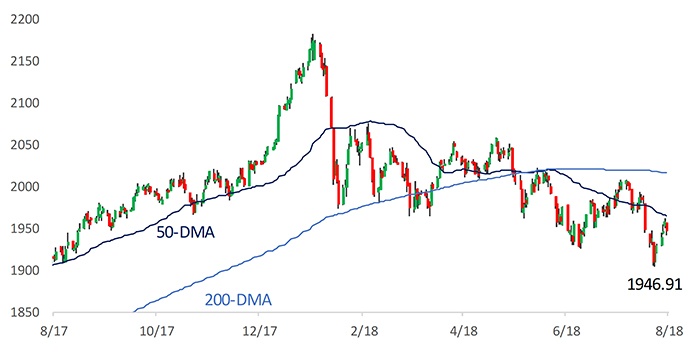 Source: Bespoke Investment Group
Table 1 looks at some individual country performance through Friday, August 24, including selected developed and emerging-market countries. The year-to-date (YTD) column can be evaluated in comparison to the YTD performance of the S&P 500 (+8.7%), the NASDAQ 100 (+17.6%), the Dow Jones Industrial Average (+5.6%), and the Russell 2000 (+13.2%).
TABLE 1: INDIVIDUAL COUNTRY 2018 YTD EQUITY MARKET PERFORMANCE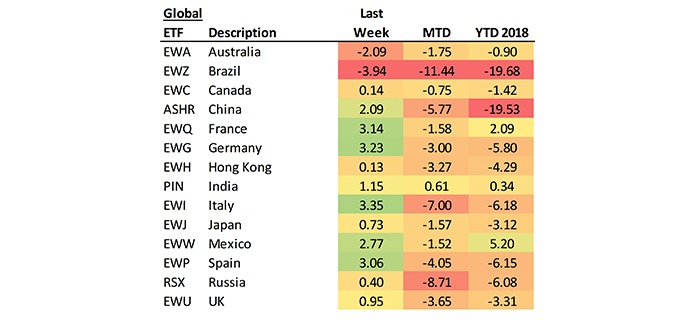 Source: Bespoke Investment Group
The financial press has attributed the disparity between global markets and the U.S. to many issues, including the following:
A slowing of GDP expectations outside the U.S.
Global currency relationships.
Trade/tariff concerns.
The ongoing effects of Brexit and a politically weaker European Union.
Rising energy prices.
Political and policy uncertainty.
Unfavorable debt-to-GDP ratios in various countries.
In April 2018, Putnam Investments noted a significant drop in their global GDP outlook for the first half of 2018 versus the end of 2017. They cited a downturn in momentum for industrial production and several key business indicators, including those for several G10 countries.
FIGURE 3: PUTNAM GLOBAL GDP NOWCAST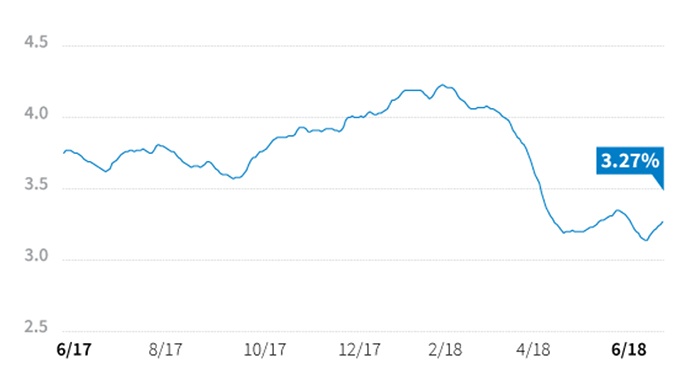 Source: Putnam Global GDP Nowcast, April 2018
"Global growth is projected to reach 3.9 percent in 2018 and 2019, in line with the forecast of the April 2018 World Economic Outlook (WEO), but the expansion is becoming less even, and risks to the outlook are mounting. The rate of expansion appears to have peaked in some major economies and growth has become less synchronized.
"In the United States, near-term momentum is strengthening in line with the April WEO forecast, and the U.S. dollar has appreciated by around 5 percent in recent weeks. Growth projections have been revised down for the euro area, Japan, and the United Kingdom, reflecting negative surprises to activity in early 2018."
The IMF provided this infographic in its report: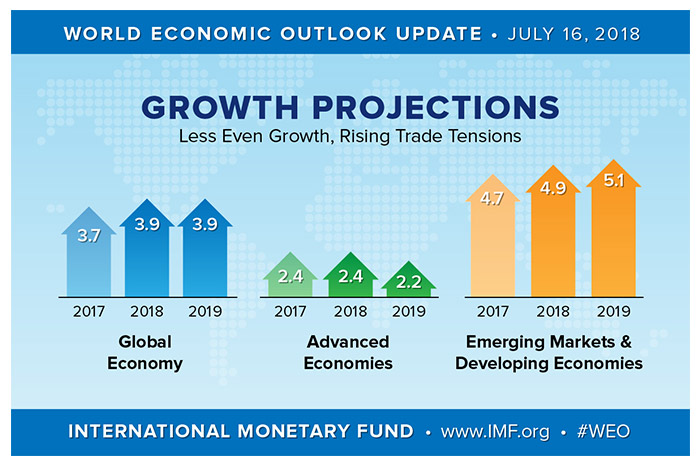 Source: International Monetary Fund
The opinions expressed in this article are those of the author and do not necessarily represent the views of Proactive Advisor Magazine. These opinions are presented for educational purposes only.

Telton Hall, CFP, RFC • Cedar City, UT Advanced Financial Planning LLC • Geneos Wealth Management Inc. Read full biography below Proactive Advisor Magazine: Telton, what motivated you to enter the financial-services industry? Coming out of college, I was blessed to...

"Every strategy works … until it doesn't." This market truism provides the rationale for diversification among dynamically risk-managed strategies in dealing with market uncertainty. ust read the financial...

o far this year, an estimated $1.2-plus trillion in corporate buybacks are scheduled, and this number may increase. Buybacks affect stock prices in several ways. Therefore, it is important for investors to...

Stephen Franklin, MBA, CFP, RICP, CFS, CEP • Louisville, KY Kentucky Planning Partners (KPP) • LPL Financial  have been an independent financial advisor since 1984 and have  always had a passion for...