Against the backdrop of the G-7 summit this past weekend in France, economic data from Germany has continued its recent weak trend. Most recently, Bloomberg reported that the Ifo Business Climate Index, which is a leading indicator for economic activity in Germany, fell "to the weakest level in almost seven years, as a deepening manufacturing slump put Europe's largest economy on the brink of recession."
FIGURE 1: GERMAN BUSINESS CONFIDENCE WEAKENS AMID RECESSION RISKS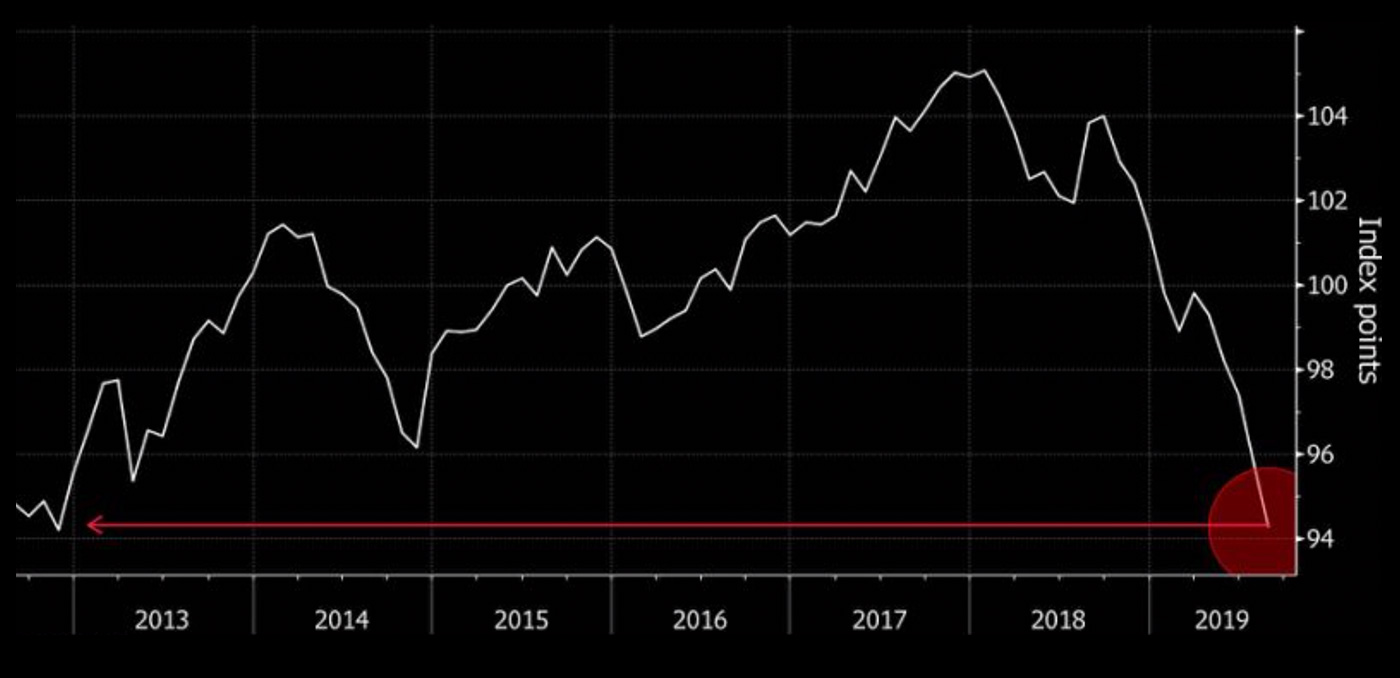 Source: Ifo Institute for Economic Research, Yahoo Finance, Bloomberg
"The euro zone's GDP barely grew in the second quarter of 2019, data showed on Wednesday, as economies across the bloc lost steam and the largest, Germany, contracted thanks to a global slowdown driven by trade conflicts and uncertainty over Brexit. … The annual growth rate in Europe's largest economy slowed to 0.4% in the second quarter from 0.9% in the first. A global slowdown has affected growth across western Europe, but Germany's traditionally export-reliant economy has been particularly vulnerable."
"It's hard to imagine European markets getting off the mat without a substantial move higher from cyclical and high value-add activities like auto manufacturing. … German auto production has fallen to the lowest levels since 2009 as the country adjusts to new emissions standards, a flush out of sales to China, and weaker demand in other markets."
Through August 23, Germany's equity market, as represented by the iShares MSCI Germany ETF, EWG, is still up about 4% for the year. In the recent quarter, however, it is down more than 8%. The market performance of the auto and parts sector has been particularly weak.
FIGURE 2: STOXX 600 AUTOS & PARTS—PAST YEAR PRICE TREND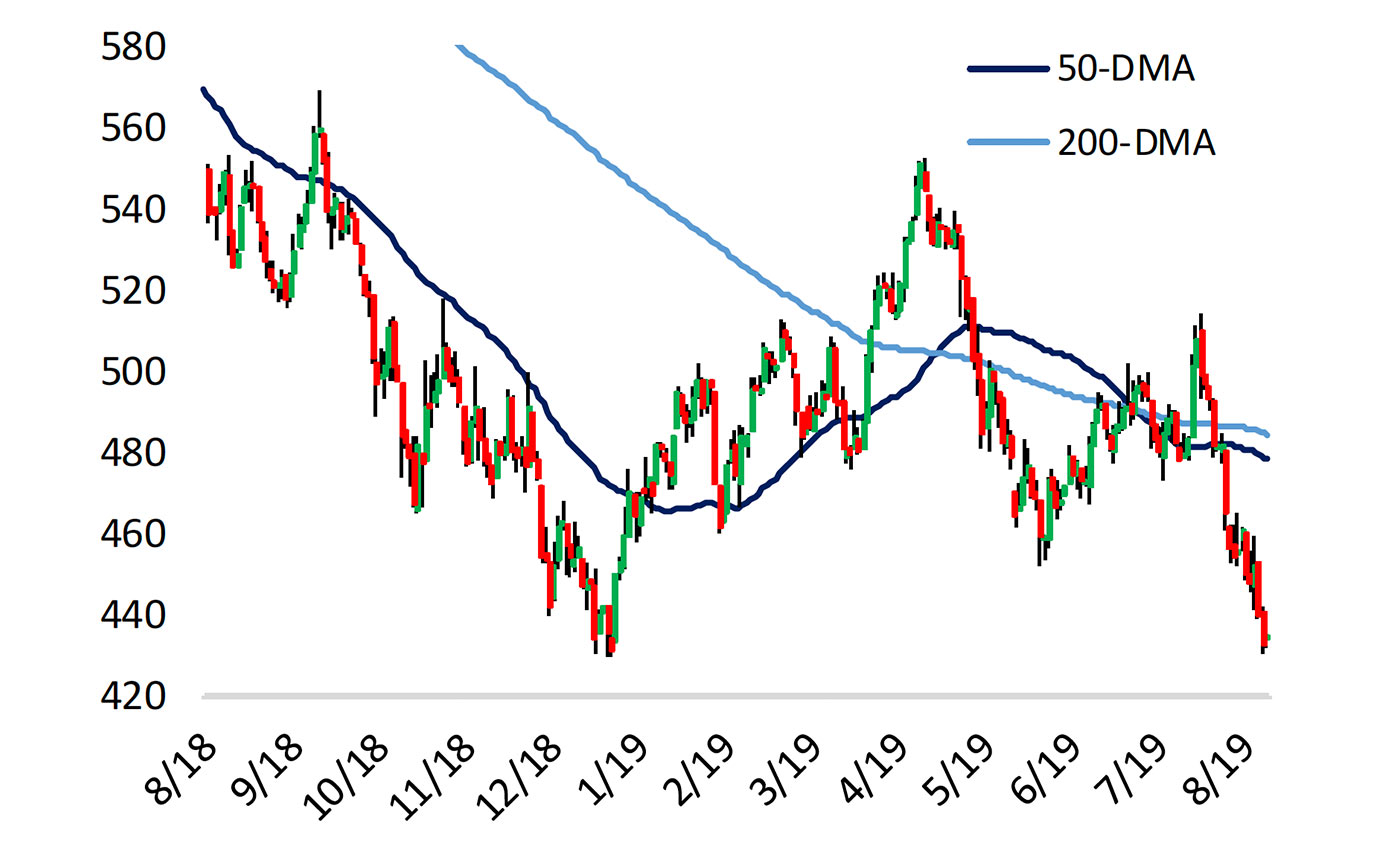 Source: Bespoke Investment Group; data as of Aug. 16, 2019.
Industrial production in the eurozone area fell by 1.6% in June compared with the previous month, and by 2.6% from the same month in 2018, according to Reuters. Germany's data, says Trading Economics, was particularly weak, decreasing "5.2 percent in June of 2019 over the same month in the previous year."
FIGURE 3: GERMANY'S INDUSTRIAL PRODUCTION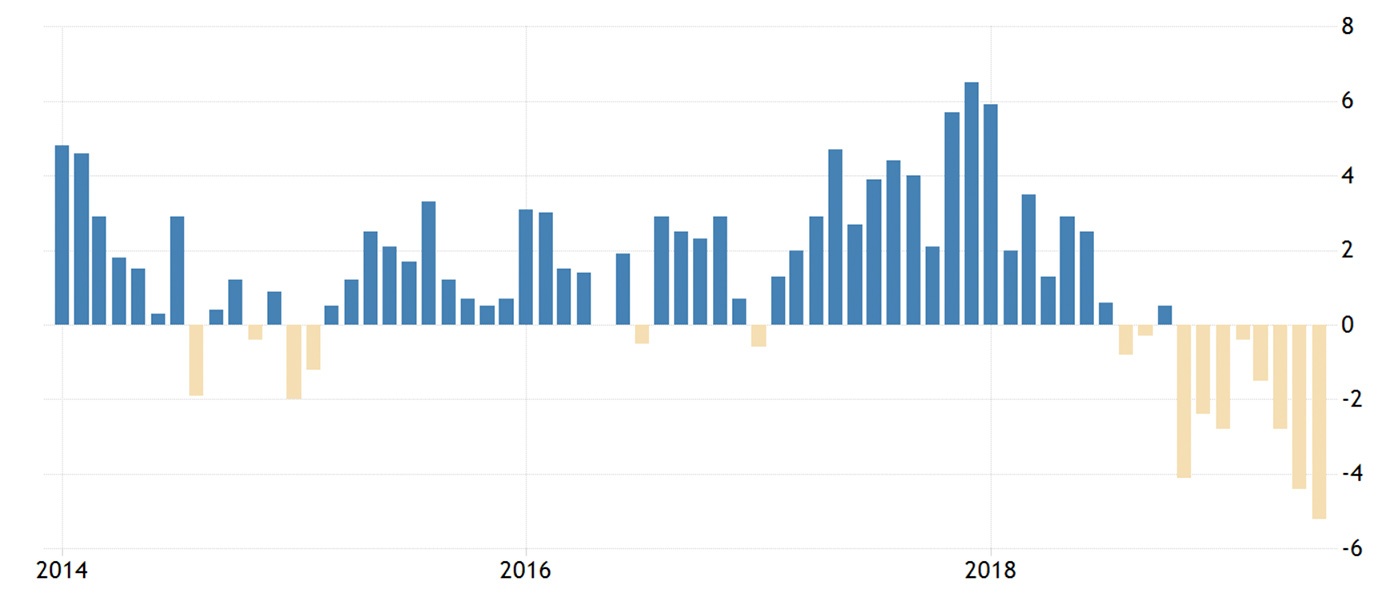 Source: Trading Economics, Federal Statistics Office (Germany)
On a somewhat brighter note, Reuters reports that unemployment in Germany is just above 4.9%. But, "economists say the employment outlook for the euro zone's two largest economies (Germany and France) is uncertain given their broader economic slowdowns and exposure to the impact of global trade disputes."
While the economic situation in Germany bears monitoring and "has amplified calls for fiscal stimulus," Bloomberg says, "The Bundesbank doesn't see any urgent need. Unemployment is near record lows, companies continue to invest and domestic demand remains resilient."
But they add, "The European Central Bank has all but committed to another boost as early as next month … sparking speculation a broad stimulus package is in the cards." IMF projections for GDP in the euro area were at 1.3% growth for 2019 and 1.6% for 2020, according to their July outlook. This was weaker than estimates for the average of "advanced economies" for 2019 and roughly in line with 2020 estimates.
FIGURE 4: GLOBAL ECONOMIC GROWTH PROJECTIONS

Source: IMF World Economic Outlook, July 2019.

Behavioral scientists say people can form first impressions in mere seconds—and that those impressions can last longer than one might expect. First impressions are subjective and can affect beliefs about factors such as trustworthiness and competence. How can...

The topics of Fed interest-rate policy, inflation, and bond yields have been front and center for several years. How can proactive advisors guide their clients amid uncertainty in 2020 for the bond market—and other asset classes?[dropcap style="font-size: 60px; color:...

Since we are at the inception of a new year and a new decade (if you adhere to the notion that the decade begins with 2020 and not 2021), it is sometimes useful to see how the patterns of previous market years have played out.Years ending in '9' and '0' Figure 1 is a...

Mira Mizrahi, CFP • Whippany, NJ Diversified Financial Consultants LLC • LPL Financial hen starting out in the advisory field, I became involved with several clients who had immigrated to the United States....