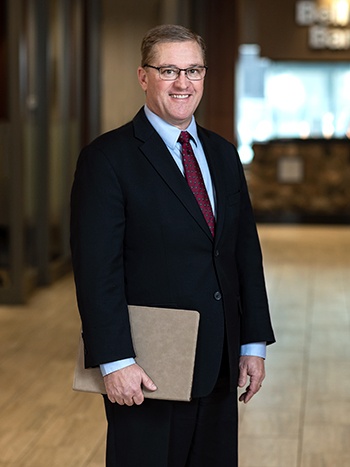 As a wealth advisor, I place a great deal of emphasis on financial education for clients, especially on how having a full financial plan can identify key financial objectives and how to effectively address them. I also talk to clients a lot about risk management and the various tools across a financial and investment plan that seek to mitigate risk.
I think it is helpful in financial education to use stories or analogies that fit the background of the types of clients you are working with. I work in a community where many people have a strong agricultural background. In high school, for example, I helped deliver milk door to door in the summer and worked on a small grains farm. Even the people that are running high-end companies in the Fargo area, from the manager at a tech company to the president of this bank, tend to have an agricultural background of some type.
So, I think using lessons from farming that tie into investments can be an effective communications practice. Every morning when a farmer looks toward the west, they can see what type of weather is coming. Sometimes it's good and sometimes it's very bad, but they know they must be prepared for every eventuality and manage risk in their daily farming lives.
Here are two specific stories that illustrate my point:
I was meeting with a retired farmer who had sold his farm. He let me know that he had diversified his money in bank CDs in eight different banks. I asked him if he put all his fields in one crop, like barley, when he was farming. He said, "Of course not. You can't make much money with just one crop like barley." I compared his CD investments to barley and his eight banks as different fields. I let him know that when I worked on a farm, they raised several different types of row crops, like corn and sugar beets. These are a little more expensive to plant and harvest, but they can be profitable. Learning to farm your money, I told him, is like farming your land in terms of risk and reward and diversification.
In a conversation with another farmer, I discussed the pros and cons of putting money into bonds to generate income. The question was the risk of interest rates moving up and down and how that would impact the investment. I said it was similar to the cash rent he earns from farmland that he owned. Like bonds, the value of the land can move up and down over time, but the fixed investment remains in place, and cash rent is similar to bond income. If the objective is income, not appreciation, and the time frame is appropriate, a bond investment makes sense even if bonds show some short-term volatility. The volatility of bonds prior to maturity looked an awful lot like fluctuating farmland prices, and the cash rent sure looked like a dividend.
Once that concept was established, we could move the discussion to a different level, comparing the after-tax merits of a long-term bond investment to that of holding on to land and renting it out for many years.
I have used these types of analogies many times over the years as a supplement to more traditional financial education. In a broad sense, the most direct analogy between investing and farming is diversification. Diversification plays a big role in running a successful farming operation, whether it is different crops or different dates of maturity of the same crop. This concept translates very easily into the world of investing.

Educate clients on how having a full financial plan can identify key financial objectives.
Talk about the various tools that can help mitigate risk across a financial and investment plan.
Supplement traditional financial education with examples that are relevant to your clients' background.
Disclosure: The opinions voiced in this material are for general information only and are not intended to provide specific advice or recommendations for any individual. No strategy assures success or protects against loss. Securities and advisory services offered through LPL Financial, a registered investment advisor, member FINRA/SIPC. Insurance products offered through LPL Financial or its licensed affiliates. Bell Bank and Bell Investments are not registered broker-dealers and are not affiliated with LPL Financial. The investment products sold through LPL Financial are not insured. Bell Bank deposits are not FDIC insured. These products are not obligations of Bell Bank and are not endorsed, recommended, or guaranteed by Bell Bank or any government agency. The value of the investment may fluctuate, the return on the investment is not guaranteed, and loss of principal is possible. There is no guarantee that a diversified portfolio will enhance overall returns or outperform a nondiversified portfolio. Diversification does not protect against market risk. Bonds are subject to market and interest rate risk if sold prior to maturity. Bond values will decline as interest rates rise and bonds are subject to availability and change in price.
Photography by Dan Koeck

Mira Mizrahi, CFP • Whippany, NJ Diversified Financial Consultants LLC • LPL Financial Read full biography belowProactive Advisor Magazine: Mira, talk about your background and how you became a financial advisor.I was born and raised in Lebanon and had a great family...

No matter where markets are in the long-term cycle, risk is always present for all asset classes. Frequent evaluation of portfolio allocations and market exposure—and using tools such as volatility stabilization, trend following, and leverage—can significantly help in...

Prices for West Texas Intermediate crude oil (WTI) dipped back below $60 at the end of last week, reversing trend on a rally that had started in mid-December 2019. Bespoke Investment Group writes, "With regards to WTI, we've now had three failed rallies in the past...

Last week (the week of Jan. 6), the major market averages largely ignored missile strikes, oil market turmoil, and excessively bullish sentiment, keeping market prices marching higher in 2020. But we have a major bearish divergence now in the CBOE VIX Index, which was...