Prices for West Texas Intermediate crude oil (WTI) dipped back below $60 at the end of last week, reversing trend on a rally that had started in mid-December 2019.
Bespoke Investment Group writes,
"With regards to WTI, we've now had three failed rallies in the past year following spikes driven by Iran headlines; talk about classic 'sell the headline' news!"
FIGURE 1: FRONT-MONTH WTI (PAST YEAR)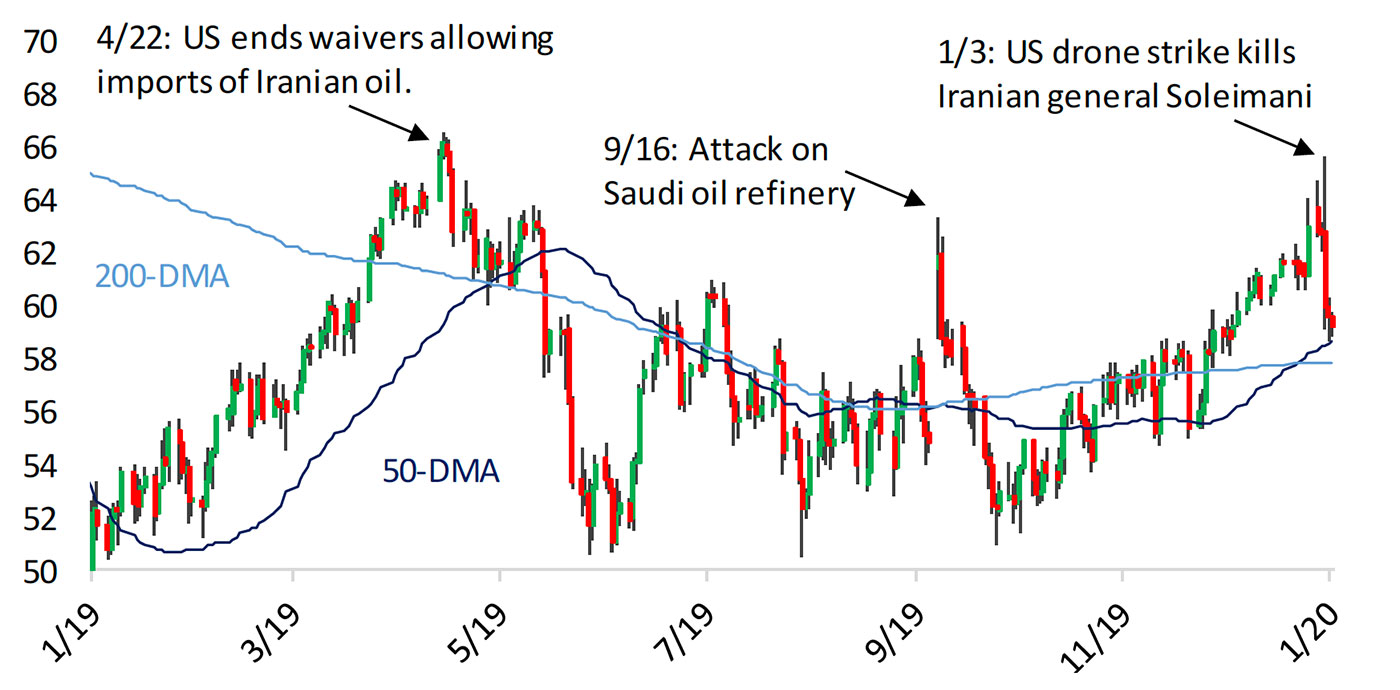 Source: Bespoke Investment Group
Oil's decline continued Monday, Jan. 13, as MarketWatch points out:
"Oil futures moved lower on Monday, extending recent losses as Middle East tensions helped trigger the U.S. benchmark's biggest weekly drop in more than five months.
"'Traders seem convinced that Iran will not block the Strait of Hormuz or carry out attacks on [oil] shipments,' said Hussein Sayed, chief market strategist at FXTM, in daily commentary. 'That's because Iranian exports to China are a significant source of the government's revenue and without it, the economic crisis will only exacerbate.'
"President Donald Trump has 'also backed away from military confrontation, as increased tensions in the Middle East and higher Oil prices will hit both consumers and businesses which is the last thing he wants before the November Presidential election,' he said."
The Wall Street Journal added over the weekend that "contained fuel prices have been a boon for U.S. consumers that have kept economic growth steady despite trade uncertainty."
However, they point out that despite the United States' status now as the world's largest oil producer and relatively stable global oil reserves, risk still exists regarding Middle East tensions:
"Analysts caution that the Strait of Hormuz remains a vital choke point for oil markets. … The U.S. still imports sizable amounts of oil, and the Organization of the Petroleum Exporting Countries (OPEC) and its allies remain the main source of supply that can be quickly turned on in an emergency. … There has been little evidence of such disruption so far, though. … There is plenty of crude available (in the U.S.). … Inventories in other developed nations have also remained well supplied."
"Crude oil is expected to trade at $64.91 by the end of this quarter, according to Trading Economics global macro models and analysts' expectations. Looking forward, we estimate it to trade at $69.88 in 12 months' time."
FIGURE 2: WTI PRICES SINCE 1900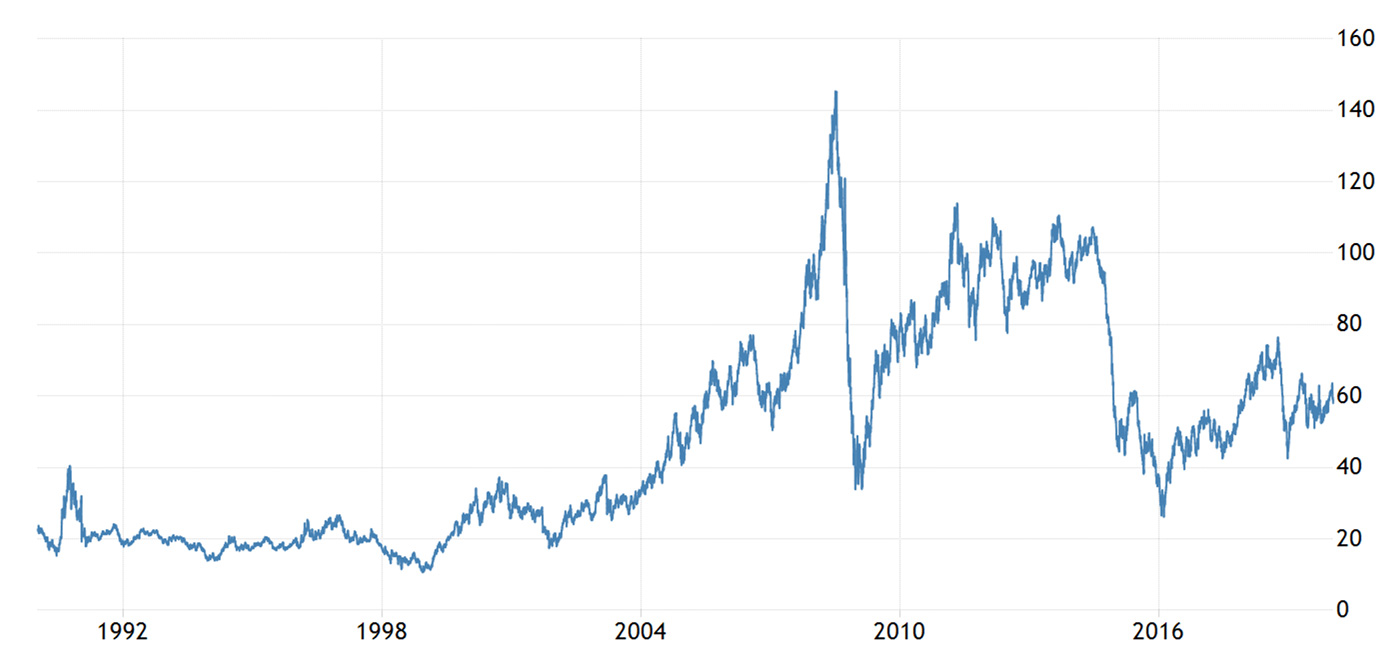 Source: Trading Economics
Bespoke Investment Group points out, however, that sentiment for crude oil remains poor, based on technical price action over the past year:
"Crude oil is just about as popular or maybe even less popular than tobacco these days. … Just the fact that crude only managed to rally 3% in the lead up to what many thought to be a full-blown war with Iran shows just how out of favor crude is. …
"When a stock consistently opens at one price and then closes lower than it opened, it's considered a negative as it signals that investors are selling into strength. Applying that logic to crude oil confirms just how out of favor it has become. This week alone (w.o. 1.6.2020), the daily closing price has been lower than its open on all five days."
"The chart below [Figure 3] shows daily streaks where crude oil closed below its opening price going back to the start of 2009.
"While the current five-day streak isn't anything to write home about, we would note that even before this past week's tensions in the Middle East, in late September/early October there was a streak of 13 trading days where the commodity closed lower than it opened, and that was the longest losing streak since at least the early 1980s! Before that, there was another streak of 7 trading days in July. In other words, two of the five longest streaks since 2009 where crude oil closed below its open both occurred in the last six months."
FIGURE 3: WTI—CONSECUTIVE DAYS WITH DECLINES FROM OPEN TO CLOSE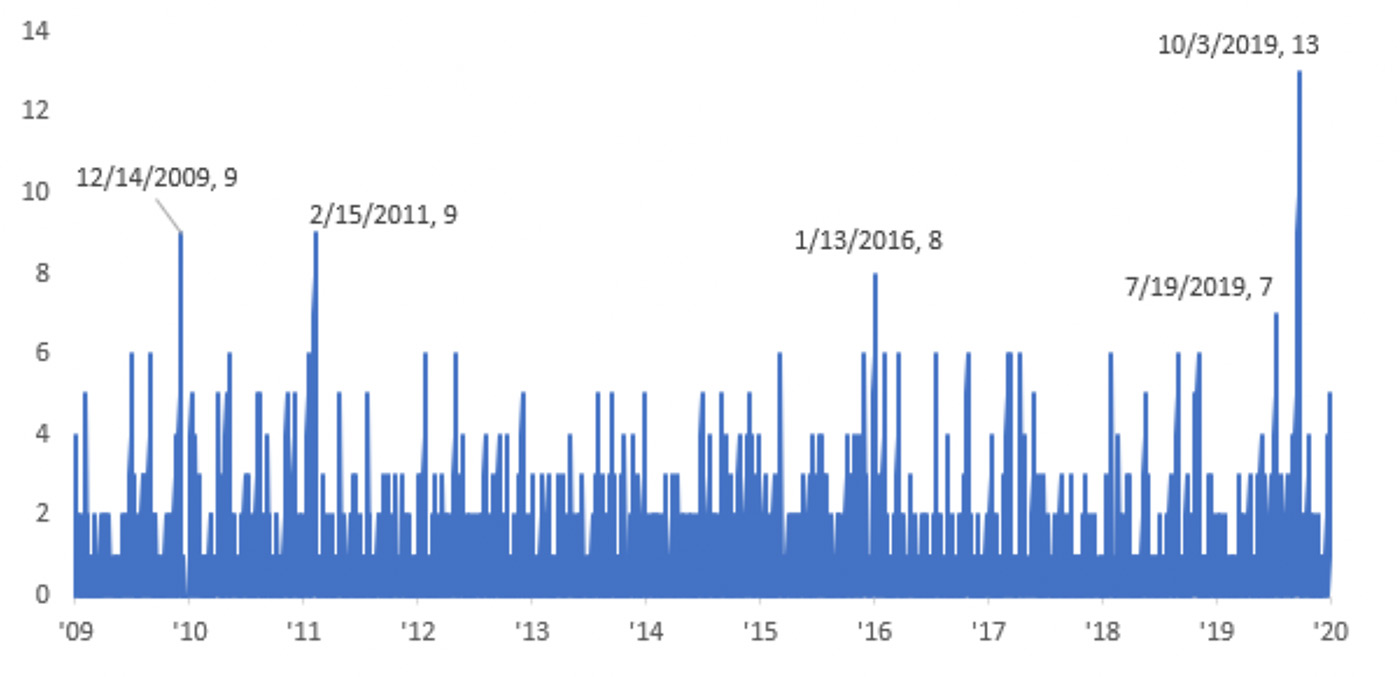 Source: Bespoke Investment Group

Behavioral scientists say people can form first impressions in mere seconds—and that those impressions can last longer than one might expect. First impressions are subjective and can affect beliefs about factors such as trustworthiness and competence. How can...

The topics of Fed interest-rate policy, inflation, and bond yields have been front and center for several years. How can proactive advisors guide their clients amid uncertainty in 2020 for the bond market—and other asset classes?[dropcap style="font-size: 60px; color:...

Since we are at the inception of a new year and a new decade (if you adhere to the notion that the decade begins with 2020 and not 2021), it is sometimes useful to see how the patterns of previous market years have played out.Years ending in '9' and '0' Figure 1 is a...

Mira Mizrahi, CFP • Whippany, NJ Diversified Financial Consultants LLC • LPL Financial hen starting out in the advisory field, I became involved with several clients who had immigrated to the United States....