While the July 2018 monthly employment report from the Bureau of Labor Statistics missed estimates on a topline basis (157,000 nonfarm payroll additions versus 190,000 expected), there were still several impressive facts to take away from the report.
1. There have been 94 months of continuous job creation.
FIGURE 1: U.S. NONFARM PAYROLL ADDITIONS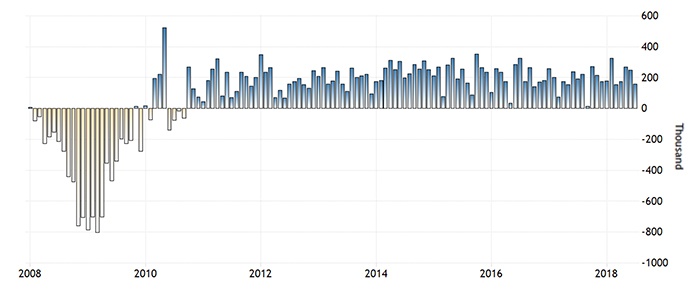 Sources: tradingeconomics.com, U.S. Bureau of Labor Statistics
2. The 12-month growth in manufacturing jobs is the best annualized period in 23 years.
MarketWatch notes that 327,000 new jobs have been created in the manufacturing sector over the last year, attributed largely to overall global economic growth. The auto industry has been a major contributor to the trend, though annualized auto sales have slipped from the peaks seen in 2016 and 2017.
FIGURE 2: MANUFACTURING EMPLOYMENT MONTHLY GROWTH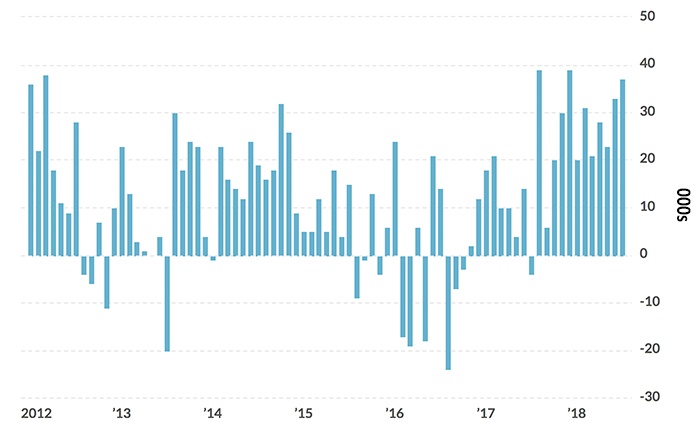 Sources: Haver Analytics, Bureau of Labor Statistics
The U.S. growth story has been reflected in the overall strength of companies' earnings and revenue performance for Q2 2018. While the percentage of companies beating estimates is slightly weaker than in the past two quarters, it remains very healthy, especially for revenues.
FIGURE 3: % OF COMPANIES BEATING REVENUE ESTIMATES BY QUARTER (1999–PRESENT)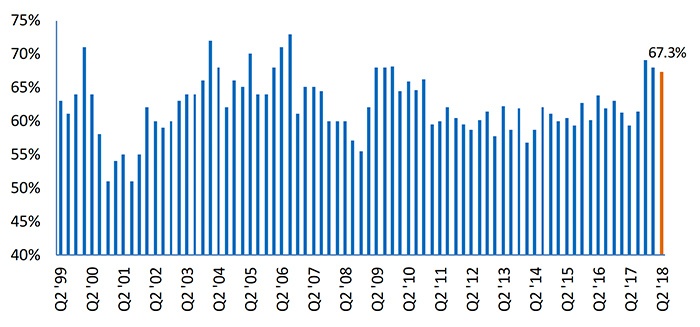 Source: Bespoke Investment Group
3. Significant upward revisions for May and June have produced an average monthly jobs gain of approximately 215,000 for 2018.
"The change in total nonfarm payroll employment for May was revised up from +244,000 to +268,000, and the change for June was revised up from +213,000 to +248,000. With these revisions, employment gains in May and June combined were 59,000 more than previously reported. After revisions, job gains have averaged 224,000 per month over the last 3 months."
FIGURE 4: TOTAL NONFARM EMPLOYMENT GAINS BY MONTH
Seasonally adjusted, in thousands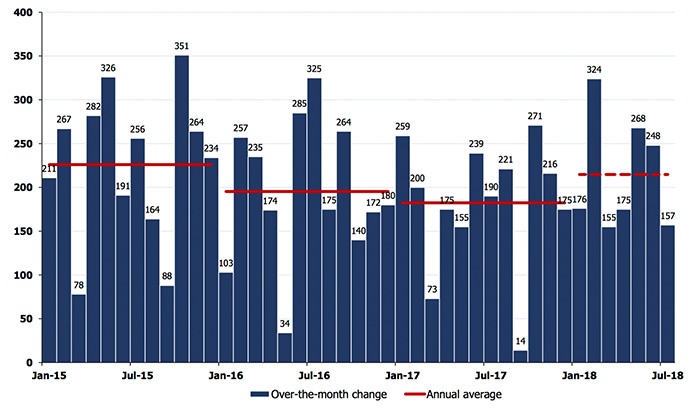 Source: Bureau of Labor Statistics
4. The employment rate for the 25-34-year-old age group continues to move higher.
Bespoke Investment Group observed last Friday (8/3), "While it's popular in the media to deride Millennials as lazy basement dwellers, July data shows their employment-population ratio at the same rate as the broader prime-age population. Furthermore, the 25–34 employment rate is above the 1990–2008 average."
FIGURE 5: PERCENTAGE EMPLOYED (25–34 AGE GROUP VS. 25–54 AGE GROUP)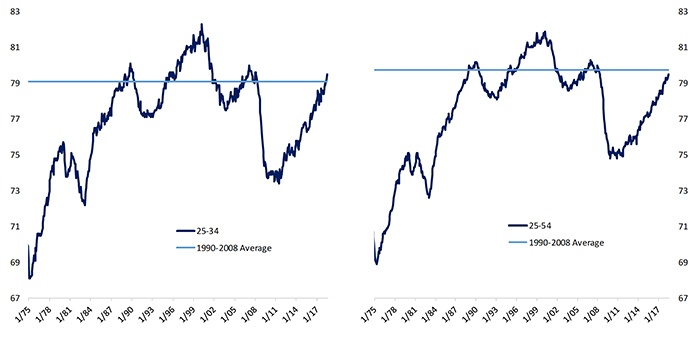 Source, Bespoke Investment Group, Bureau of Labor Statistics
However, for the population at large, wage growth remains a distinctly lackluster element of recent employment reports. Says the Bureau of Labor Statistics, "Average hourly earnings for all private sector employees rose by 7 cents or 0.3 percent in July. Hourly earnings have risen 2.7 percent over the year."
MarketWatch quoted William Spriggs of the AFL-CIO, who "noted the year-over-year growth in average hourly earnings of 2.7% and said it confirmed it was a 'good idea' for the Fed to pause on raising interest rates at its meeting."

Mary Lyons • Dallas, TX The Wealth Woman • Personal Economics Group Read full biography below Proactive Advisor Magazine: Mary, talk about your background and how you became a financial advisor. I grew up in a supportive family that had strong role models and...

The old Wall Street adage "Sell in May and go away" has some strong support in the data, but probably not in the way most investors think. An excerpt from the book "Why Bad Things Happen to Good Investments," by William T. Hepburn, explains why and shows that November...

Editor's note: Tony Dwyer, U.S. portfolio strategist for Canaccord Genuity, and his colleagues author a widely respected monthly overview of market conditions, technical factors, and future market outlook called the "Strategy Picture Book." The following provides an...

Stephen Baldino • Warwick, NY Baldino & Perry Associates Inc. • Cetera Advisor Networks LLC or most of my career as a financial advisor, I have been both literally and figuratively located on "Main Street"...