With the stock market's volatility in December, the U.S. government shutdown, and a weakening housing market, it is little wonder that consumer sentiment took a hit in the report released on Feb. 1.
The University of Michigan Surveys of Consumers showed a retreat in consumer sentiment for January back to levels last seen prior to the presidential election in 2016. The overall Index of Consumer Sentiment was down 7.2% from December and the Index of Consumer Expectations was off 8.2%.
TABLE 1: FINAL JANUARY RESULTS FOR UNIVERSITY OF MICHIGAN CONSUMER SURVEY

Source: University of Michigan
"The late-month end of the government shutdown, or at least temporary end, had only limited impact on the consumer sentiment index which ended January at 91.2, up 5 tenths from mid-month but down a very steep 7.1 points from December.
"The shutdown's effect on sentiment is having the greatest strain on expectations where confidence is sliding, with this component likewise down 7.1 points in the month to 79.9. Also sliding, however, is the assessment of current conditions, down 7.3 points to 108.8. All these readings, whether the composite or the two components, are at their lowest levels since October 2016."
FIGURE 1: PERSONAL FINANCIAL EXPECTATIONS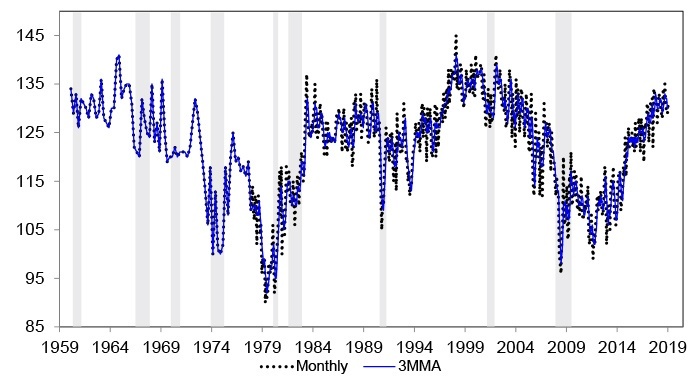 Source: University of Michigan
"The end of the shutdown caused only a modest boost in the Sentiment Index. The typical impact of such 'crisis' events is short lived, with consumers quickly regaining lost confidence. That is unlikely to occur this time as the deadline for resolution has only been extended until mid-February. If the standoff continues into late February, it could foster sustained declines in economic optimism among consumers. Even small spending cutbacks, occurring simultaneously across the majority of consumers, could push the economy into a recessionary downturn."
The decline in consumer sentiment was one of just a few weakening economic indicators over the last month, though the shutdown has disrupted the normal flow of reports from government agencies. Also released on Feb. 1 were the Purchasing Managers' Manufacturing Index (PMI) and the Institute for Supply Management's Manufacturing Index (ISM). According to Barron's, "Both the manufacturing PMI and the ISM are telling the same story, that growth was solid in January and accelerated from what was a soft December."
And despite recent signs of weakness in global growth, the U.S. economy, according to an article in this past weekend's Wall Street Journal, has some very positive trends in place:
The 100th straight month of job gains, with January's addition of 304,000 jobs in the nonfarm payrolls report exceeding expectations by a wide margin.
Workforce wages rising at least 3% on a year-over-year, seasonally adjusted basis for the sixth straight month.
A continuation of growth in corporate earnings, with WSJ estimates of an overall 14.9% increase in earnings for Q4 versus the prior year.
A tight labor market that is "drawing workers off the sidelines" and shows hiring increases in "nearly every major category."
While the manufacturing sector in the U.S. has been uneven due to "a strong dollar and retaliatory tariffs," it has been "propped up by solid domestic demand."

Clyde Cleveland • Fort Lauderdale, FL Impact Wealth Group • IWG Investment Advisors LLC Read full biography belowProactive Advisor Magazine: Clyde, you have had a fascinating career. Please talk about some of the highlights.I think three themes have run throughout my...

Portfolio drawdowns are a fact of life for professional investment managers and financial advisors—and the clients who depend on both of them. Understanding the nature of drawdowns—and the relationships of various investment vehicles on a risk-adjusted basis—is a...

Editor's note: Tony Dwyer, U.S. portfolio strategist for Canaccord Genuity, and his colleagues author frequent overviews of market conditions, technical factors, and their future market outlook. The following provides an edited excerpt from their April 11, 2019,...

Michael Mandarino • Apollo Beach, FL 123 Investing • G.A. Repple & Companyn 2012, I rededicated my life to the Christian faith, which has been a huge blessing. Our firm strives to empower our clients to...