Although U.S. equity markets notched very solid gains last week, especially the Dow Jones Industrial Average (+2.3%), the most recent measure of consumer sentiment showed some rare weakness.
The University of Michigan's Surveys of Consumers showed that preliminary readings for July 2018 were off 1.1% (month over month) for its "Index of Consumer Sentiment" and down 2.2% versus June for its measure of "Current Economic Conditions."
FIGURE 1: UNIVERSITY OF MICHIGAN INDEX OF CONSUMER SENTIMENT
Preliminary July 2018 report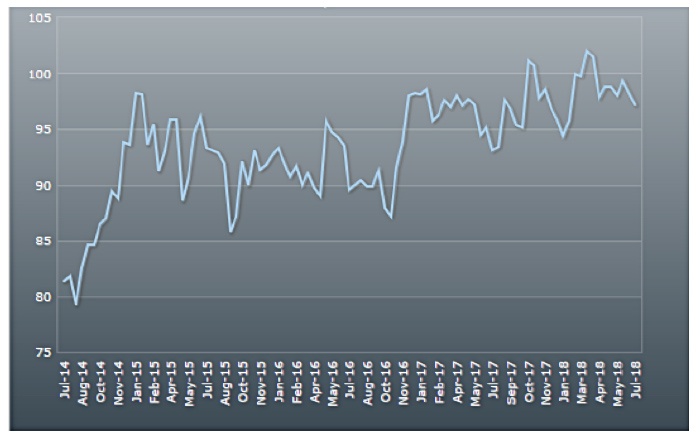 Sources: University of Michigan, Barron's, Econoday
Surveys of Consumers chief economist, Richard Curtin, said in the preliminary report's release on July 13,
"Consumer sentiment slipped in early July but remained nearly equal to the average in the prior twelve months (97.7) and since the start of 2017 (97.4). The continuing strength has been due to favorable job and income prospects, with consumers under age 45 anticipating the largest income gains since July 2000. So far, the strength in jobs and incomes has overcome higher inflation and interest rates.
"The darkening cloud on the horizon, however, is due to rising concerns about the potential negative impact of tariffs on the domestic economy. Negative concerns about the impact of tariffs have recently accelerated, rising from 15% in May, to 21% in June, and 38% in July. Among those in the top third of the income distribution (who account for half of consumer spending), 52% negatively mentioned the impact of tariffs on the economy in early July. The primary concerns expressed by consumers were a decline in the future pace of economic growth and an uptick in inflation."
FIGURE 2: NEGATIVE REFERENCES TO POTENTIAL IMPACT OF TARIFFS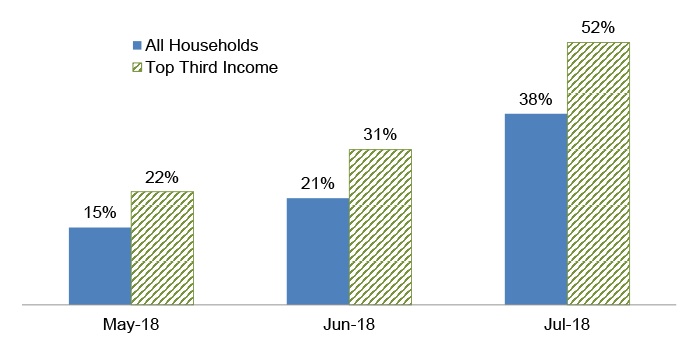 Source: University of Michigan
While consumer sentiment may be fading a bit in July, retail sales for June were reported on Monday, July 16, and came in about on expectations (+0.5%). However, May 2018 retail sales were revised sharply higher, primarily due to strength in automobile and restaurant sales.
FIGURE 3: U.S. RETAIL SALES (JUNE 2018 REPORT)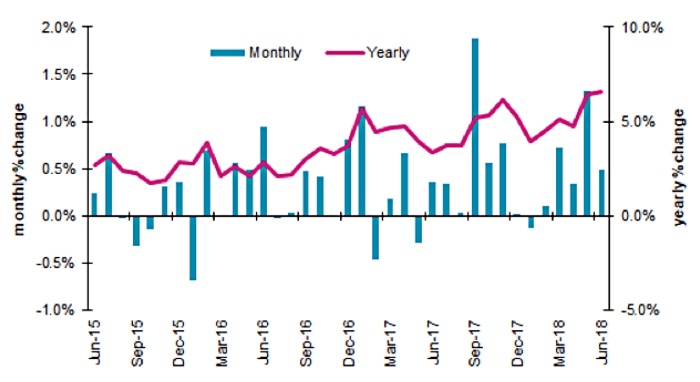 Sources: U.S. Census Bureau, Barron's, Econoday
The question is, to paraphrase Barron's weekly column, "Up and Down Wall Street," "Will a trade war counter economic gains from regulatory relief and tax cuts?"
The Barron's column quotes Steven Blitz, chief U.S. economist at TS Lombard, who says, "If firms lose confidence in future earnings because of tariffs and trade disruptions, pay hikes may be less than what rising margins would typically imply." This would obviously have an impact on household income, the pace of future retail sales, and, ultimately, U.S. GDP growth.

James J. Hoogasian, MBA • Worcester, MAIntegrated Financial Partners • LPL FinancialRead full biography below Edward J. Gay • Worcester, MAIntegrated Financial Partners • LPL FinancialRead full biography below Proactive Advisor Magazine: Talk about your paths to...

Financial advisors need to be more relevant than ever in the lives of their clients, know who they serve and why, and design a total solution to meet client needs. Understanding the current "framing" of your practice by clients is an important first step in this...

ith the calendar moving from October to November, the U.S. equity market has entered its "Best Six Months," a typically bullish seasonal period. The "Best Six Months" tendency was first published by Yale...

Ron Hoyle • Peoria, ILIntegrated Investment Systems Inc. • J.W. Cole Financial Inc. hen clients engage with our firm, they are truly involved in a holistic financial-planning process. Our goal is to make...