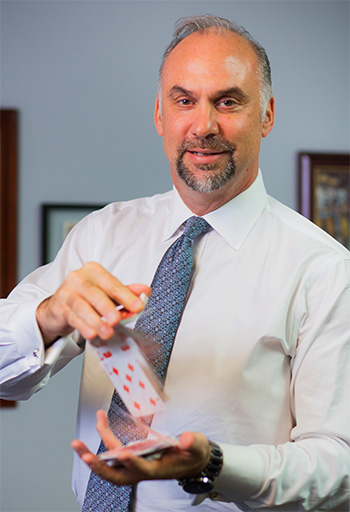 In addition to working as a financial advisor for more than two decades, I have been a professional magician since the 1980s. I fell in love with magic as a teenager, worked on my skills throughout college and in the military, and have gone on to have a part-time second career as a mentalist and comedic magician. I have a pretty unusual show, and a lot of what I do is self-created. I have played major venues such as resort hotels, and I customize my show for various types of audiences.
I have performed at conferences and sales events for companies such as Merrill Lynch, Canon, Southland Industries, Allianz, and Questar Capital Corporation. I have had the good fortune to pursue a passion, meet new people all over the country, and have a lot of fun along the way. While my performing career is quite separate from my advising work, it is frequently an interesting conversation piece and has expanded my professional network in many ways.
Back in the early 2000s, after the dot-com market bust, I found that many prospective clients were not very interested in discussing investments. Many had been burned in the market crash and were hesitant to approach the equity markets, even with professional guidance. I decided to place more emphasis on the life insurance side of the business.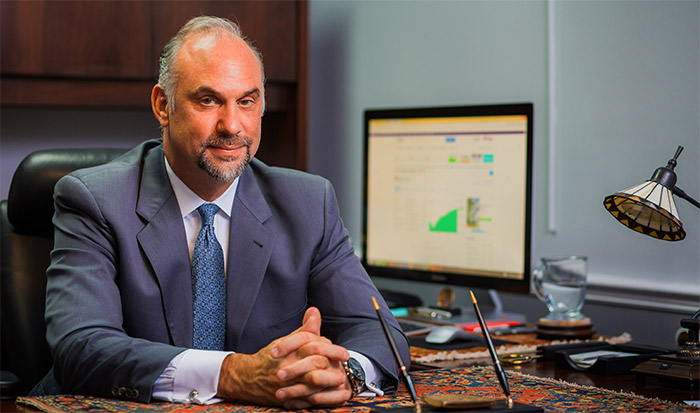 Two things then happened that changed my insurance sales technique with prospective clients. Someone who had attended one of my shows some 10 years before approached me and pulled a card out of his wallet that I had used in my act. He said, "That was one of the most amazing tricks that I have ever seen."
I was also inspired by a TV commercial I saw around the same time. I adapted a key concept from the commercial, and it helped me create a "selling system" that eventually made me the top national insurance producer for my organization. This inspired me to engage my love of magic to create a custom card, called "The Gift," that is used in a trick that anyone can do (with a little practice of course). The card also provides online access to my detailed selling system.
I think the custom card is a very novel marketing piece. You can carry it in your wallet or purse and perform the magic trick for anyone at any time. It can also be used to deliver a fully customizable sales message on the spot. Just about everyone enjoys seeing magic performed right in front of them. I am now in the process of developing a marketing plan to make this custom card, the trick that accompanies it, and the selling system available to a broad audience of financial professionals.
Disclosure: Securities offered through Questar Capital Corporation (QCC). Member FINRA, SIPC. Advisory services offered through Questar Asset Management (QAM), a registered investment advisor. Sears Group, Inc., is independent of QCC and QAM.
Photography by Jake Bibler