Stephen Baldino • Warwick, NY
Baldino & Perry Associates Inc. • Cetera Advisor Networks LLC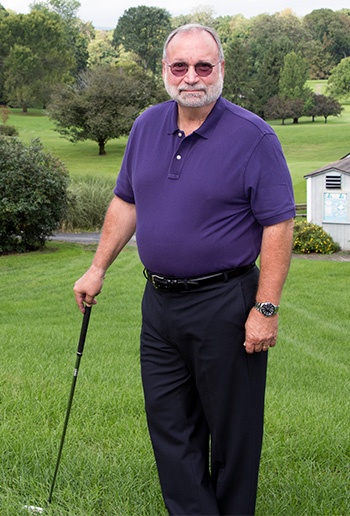 For most of my career as a financial advisor, I have been both literally and figuratively located on "Main Street" in Warwick, New York. Our physical location has been accessible to people in our area, and I like to think our attitude as a firm has been very welcoming as well.
We get the majority of our clients through referrals. There are several factors that I think have driven our long-term ability to bring on new clients.
First, we strive to build deep personal relationships with our current clients, provide a service standard that goes "above and beyond," and seek to provide a holistic financial-planning and implementation experience. I see our model as being the conductor of the orchestra, putting together a team of professionals that we may call upon for assistance on a wide variety of issues in the financial realm, whether that involves investments, insurance, retirement plans, college planning, Medicare and Social Security planning, legacy planning, or employee benefits, to mention just some.
We have much of this capability in-house, but we also can work with a client's current outside advisors or facilitate their engagement with our team such that clients feel confident that their financial needs and concerns are being addressed in a coordinated fashion. We think this confidence translates to a willingness by clients to provide referrals to our firm among their friends, family, and associates. We conduct an annual review with each client and will often ask if they know of anyone who might benefit from a no-obligation review or "second opinion" of their financial situation and investment strategy.
We also work with our team of outside professionals to mutually assist each other in the area of referrals. These might be attorneys, accountants, property and casualty agents, or other specialists. For example, we work very closely with several bankruptcy attorneys and provide information on annuities and other financial instruments that they can use in settlements they are working on. They feel confident in and appreciate this information, and if there is an appropriate opportunity, they may refer one of their clients to our firm.
Another indirect element to our strategy is simply being out there in the community, the "Main Street" idea. I have always enjoyed volunteering across a number of organizations for the personal satisfaction of helping to make a difference in the community. I have been a volunteer fireman, member of the volunteer ambulance corps, a member of the school board, officer of the local Rotary Club, and a very active leader in my church. I am currently president of the Orange County Legal Aid Society. These activities have been personally gratifying and have also helped me build a strong personal network and visibility throughout our community.

Create a holistic financial-planning and implementation experience.
Build personal relationships with clients.
Work with outside professionals to assist with mutual referrals.
Volunteer in the community.
Disclosure: Investment advisor representative offering securities and advisory services through Cetera Advisor Networks LLC, member FINRA/SIPC. Cetera is under separate ownership from any other named entity. Branch: 10 Oakland Ave., 2nd Floor, Warwick, NY 10990. All investing involves risk, including the possible loss of principal. There is no assurance that any investment strategy will be successful.
Photography by Tom LaBarbera

Mira Mizrahi, CFP • Whippany, NJ Diversified Financial Consultants LLC • LPL Financial Read full biography belowProactive Advisor Magazine: Mira, talk about your background and how you became a financial advisor.I was born and raised in Lebanon and had a great family...

No matter where markets are in the long-term cycle, risk is always present for all asset classes. Frequent evaluation of portfolio allocations and market exposure—and using tools such as volatility stabilization, trend following, and leverage—can significantly help in...

Prices for West Texas Intermediate crude oil (WTI) dipped back below $60 at the end of last week, reversing trend on a rally that had started in mid-December 2019. Bespoke Investment Group writes, "With regards to WTI, we've now had three failed rallies in the past...

Last week (the week of Jan. 6), the major market averages largely ignored missile strikes, oil market turmoil, and excessively bullish sentiment, keeping market prices marching higher in 2020. But we have a major bearish divergence now in the CBOE VIX Index, which was...